I am sure most of you are feeling the same as I am. Where has 2013 gone? I must be getting old, because everything seems to be passing by so quickly. Here are my empties for December 2013. I haven't used up a full size product this month as I am really trying to tackle my mountain of samples.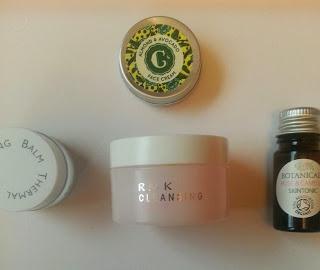 Omorovicza Thermal Cleansing Balm (5ml) is just wonderful, but out of my price range. See my review here This is definitely on my wish list.
RMK Cleansing Balm (15ml) was Ok, but nothing special. It's rather pricey to buy the full size, and for the money I would expect better results. I won't be buying the full size.
Sweet Cecily Almond & Avocado Face Cream (10ml). I loved this little sample from my SoukSouk box. Rich, luxurious and very moisturising without being heavy or greasy. Very affordable products and I will definitely be exploring the brand more in 2014.
Botanicals Rose & Camellia skin tonic (5g). This was from a little try me set, and the whole range is lovely. Another brand I will be looking to try more products from.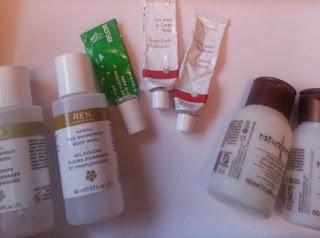 Ren Neroli and Grapefruit Body Wash and Body Cream (50mls each). I have loved everything I have tried by Ren so far and these were no exception. I loved the light, citrus scent. They are nice and gentle on the skin. Santa has since bought me a gift set with these and the rose fragrance in mini sizes. I am really looking forward to using them. Weleda Skin Food (10ml). This is a much heavier hand cream and you do need to allow longer for it to be absorbed, but it really is worth it. Applied before bed and under cotton gloves this really does transform my hands overnight. Love this and am half way through the full size tube. Dr Hauschka Rose Body Moisturiser and Hand Cream (10mls each) are the last samples I had from a gift set. These are light creams but are very moisturising, they smell beautiful. I will come back to these in the future, but I really need to tackle my stash before I buy anything more. Naturalmente Citrus Shampoo and Fennel and Geranium Intensive Hydrating Treatment (50mls each). I loved these samples and reviewed them here I will be coming back to this brand again.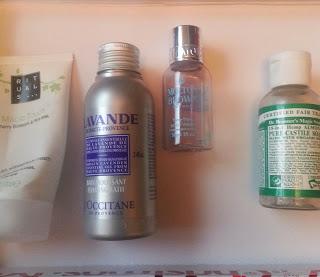 Rituals Magic Touch Cherry Blossom & Rice Milk (Body Cream, 70mls). This was a sample from a beauty box ages ago and I am not even sure if you can still buy this particular fragrance any more. I enjoyed using this. It is a whipped body cream and so the texture feels super light. I really liked the fragrance too. Would buy other things from the Rituals range in the future. L'Occitane Lavender Foaming Bath (100mls). This was nice but it wasn't anything special in my opinion. I wouldn't buy this again. Molton Brown Ylang-Ylang Body Wash (30ml) another luxury product that was nice to try, but not something I would buy again. Dr Bronner's Magic Soap (50mls). I love these and use them regularly. See my review here The little mini ones are great for work and I have a couple of full size bottles to use at home