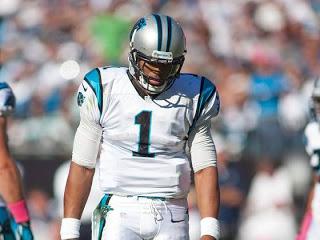 Jeremy Brevard - US Presswire
- Troy Ballard
I love Warren Moon. I really do.
But in regards to his
latest comments with Yahoo! Sports
about Cam Newton and the racial undertone of his critics — I was baffled.
Basically, Moon called-out the pundit who compared Newton to Vince Young. He boldly stated that analysts only compare black athletes to other black athletes.
Instead, Moon offered the comparison of Newton to Jay Cutler (strictly in terms of demeanor, which was the topic of conversation).
It didn't take long for Moon to trackback and redirect from racism to stereotypes. In fact, he felt the need to clarify his comments almost immediately, but he still remained firm in his belief that black athletes aren't compared to white ones.
I have no trouble confronting the racial issue head-on — as I, unlike many writers, do believe there is a race issue in sports. In fact, one could expand that to a race issue in all of the United States, but that's for another time and another place. Narrowing it down to Moon and Newton is difficult, but I'll do my best.
The kicker is this: I agree with Moon in the fact that there is that race problem in professional sports.
However, I strongly disagree in the case of Newton specifically.
The conversation was a comparison of Newton's maturity and demeanor on the field in losing situations. And while he could be compared to Cutler, I do believe that Young is a more accurate representation of him.
Color aside. Think about it.
While Newton is on the sideline being pouty by himself, it's not hard to think back and imagine Young doing the exact same thing in Tennessee. Do we recall Young tearing up his jersey after he was benched? Do we remember Newton throwing his helmet into the ground after being benched?
Similar, are the two not?
Just for kicks, I went to Google Images and searched 'Vince Young sulking,' 'Jay Cutler sulking' and 'Cam Newton sulking.' I'll give you one guess what the result was — all three looked exactly the same.
But the biggest difference, and largely the reason the two were compared in the first place, is that Young more closely matches Newton in terms of playing style and career path. Think about their incredibly similar college careers. Don't be quick to forget Young's mind-blowing rookie season, either. And, along with the other connections, Newton and Young do have similar attitudes when losing — something neither of them had done much of in their pre-NFL careers.
Could Don Banks, the writer at
Sports Illustrated
who first compared Young to Newton, expanded his efforts to a more wide range of athletes? Sure. Did he have to? No. Because this article wasn't intended to be a jab at black-black or white-white comparisons.
Again, I agree with Moon in the issue of race. But in his defense of Newton, it simply doesn't make sense to disagree with the comparison of him to Young. The trend is there. The facts are there. Moon could have made an excellent case based off of his opinion of Newton as a player, not as a person, but he instead took a stance that didn't deliver his point.
Instead, Moon lost an immense amount of credibility and he put Newton in a difficult spot with the media. The only person who (might) have won out of this is Young, as on my last count, is still trying to drum up any interest he can for a job.
Be Sure to follow Beard and Stache on Twitter 

@BeardAndStache

, and also Troy 

@TroyBallards

, like our Facebook page 

HERE

!