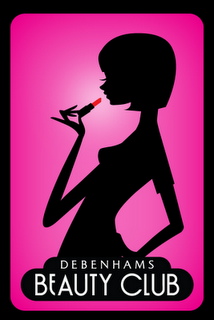 After the excitement of ordering my Urban Decay Naked Palettes shortly after the release was announced via Debenhams Beauty Club Facebook Page (one for my giveaway which closes on 31 Jan 2012) - I was keen to sign up for the Beauty Club Card to earn points and enjoy free delivery and special offers.  Unfortunately when I saw the link to 'activate your card' I assumed you had to pick up a card in store (I live in the sticks and very rarely get to a Debenhams store).
 I asked via their Facebook page when we'd be able to register online and received the wonderful news that I could do so via their App and also points from my recent spend could be credited to my virtual card account.  I grabbed my trusty iPhone and immediately downloaded the Free app.  You register you details and it issues you with a card number that is automatically stored. I sent an email through to
[email protected]
with my new card number to request they credit my points and set about exploring the App.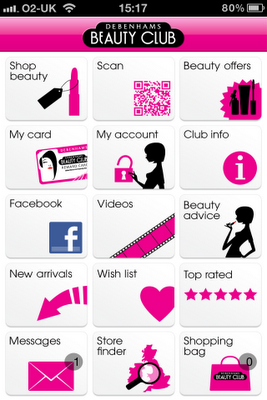 The Homescreen looks like this and has lots of options to explore, you can
even order directly from your phone - although you'll also have to set up an account at
www.debenhams.com
before this is fully functional.  Your Beauty Card Account is not the same as your Debenhams account - I only know this as it took me a few futile attempts at doing a test check out with my Beauty Account details!
Of course I immediately hit 'shop beauty' and was presented with this screen -
Oo look Benefit make up kit on offer!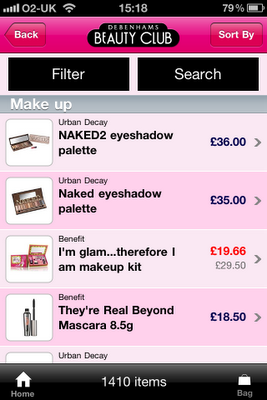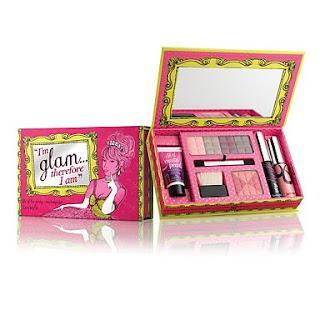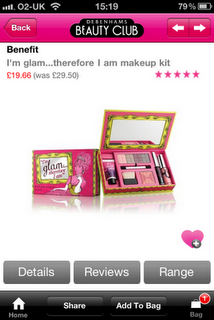 Nope!! Too much expense already this month - hit the back button!!! Turn the screen to landscape view and the screen switches to a grid view - nice!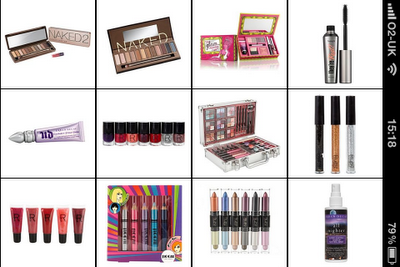 Next I thought I'd try some Beauty Advice and selected 'Paint your nails' - you're then presented with several brands I chose Illamasqua - turned the skin tone selector all the way down and 'tried on' a shade.  Not too sure of the name of the shade (would you want to apply Bacterium??) or the realism of the presentation but hey it's fun!! You can also play with the other options of Skincare and Fragrance Finder.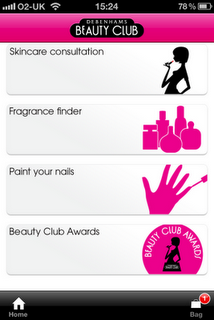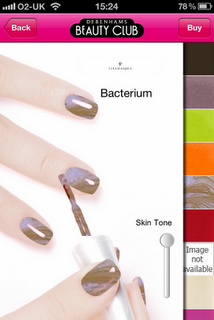 There's also a great little scan function and if you've forgotten your card you can produce your account on your phone instore too!
Whilst I was taking some screen shots for you my mobile rang and it was David from Debenhams!!!! (cue Twighlight Zone Music....if you have no clue to what I'm referring then please send all your anti-wrinkle products to me imediately as you don't need them!).  David was calling  in response to my email sent just 15 minutes earlier!!! He confirmed the points from my Urban Decay Naked 2 Palettes  would be added to my account (if you'd like a chance to win one free click my giveaway here). I clarified how long points are valid via their very responsive Facebook team who informed me:
 "once points are converted to £rewards (conversions

...

happen monthly in increments of £5 at a time) the £rewards remain on the card for 6 months and then they expire... any points not converted over to £rewards don't expire as long as the card is used within a 12 month period - but we send emails to cardholders letting them know that the £rewards are due to expire"
Get it? Got it? Good!
Debenhams Beauty Club are also currently looking into options for redeeming points online. 
Great Customer Service or what??
All in all a nice little App! You can find more details online at
Debenhams.comhttp://www.debenhams.com/beauty
What do you think? What are your favorite Apps? Have your recieved excellent customer service from Debenhams or another retailer? 
Laters Peeps
Lainey xx