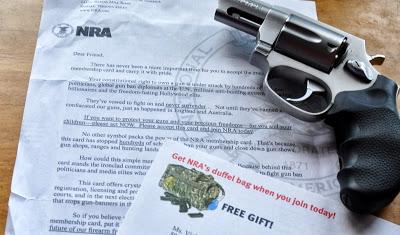 Dear Wayne,
Can I call you Wayne? After all, you called me 'Dear Friend' so I reckon that puts us on a first name basis.
Anyhow, I received your invitation to join the National Rifle Association and I have to admit that some of your rhetoric was a tad puzzling.
These "media elite who attack our guns and trample our freedoms" -- who are you talking about anyway? I follow the news pretty closely and have to say I'm not seeing this behavior.
Yes, I do see some folks opposing certain weapons -- especially the powerful sort that fire multiple rounds in seconds -- you know, Wayne, the kind that have been involved in some of the recent mass murders -- and I hear folks calling for background checks and maybe even the sort of licensing and insurance that is required to drive a car (another potential deadly weapon) -- are you calling these folks 'freedom haters', Wayne? Like the "freedom-hating Hollywood elite" you also mention?
(You've got a bit of a thing about 'elites,' haven't you, Wayne? I'm guessing you weren't one of the popular kids in high school.)
But seriously, where do you get this stuff? Glenn Beck? Rush Limbaugh?  That would explain a lot...
Speaking of getting stuff, where did you get my name, Wayne?  I have a real feeling that you harvested it from a list of holders of concealed carry permits and I find that intrusive. Bad enough to have the government reading my emails and blog posts, now you guys are all up in what I thought was my private business. Are you a freedom hating Big Brother type, Wayne?
Just because I own a gun and am licensed to carry it, doesn't mean that I agree with your wild-eyed raving.  So I won't be sending you $25 -- even with the tempting offer of the free heavy duty duffel bag of which you assure me " nothing says you'll fight for freedom like this rugged and distinctive bag bearing the NRA seal."
And I guess I'll turn down my freedom loving choice of NRA magazines that you say will give me "all the news and strategies" I'll need to defend my freedoms.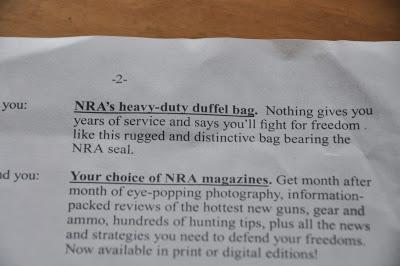 You know what I think, Wayne? I think that you're a rabble-rousing pimp for the gun industry. And you're doing a great job of it -- your constant cry of 'they're coming for your guns!' has sent sales of guns and ammo soaring during these past five years. I hope the industry gives you a nice medal. But I suspect that you're already very well compensated, aren't you, Wayne?
So, thanks but no thanks. And just in case you miss this blog post of mine, Wayne, I'll send you a copy of it. No point letting that prepaid postage envelope go to waste...

Vicki




p.s. Really, Wayne, you might want to see someone to help you with those self esteem issues.  Just sayin' . . .