Dear Earth First! Journal and Newswire readers,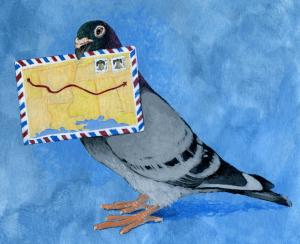 Image from Jen Montes
As you may or may not know, each issue of the Earth First! Journal has a letters to the editor section called "Dear Shit for Brains." We print this section each and every issue because we love hearing your thoughts, and because we feel that it's good for the movement to share different perspectives, to have ideas in articles challenged or enforced, and to be able to share new tactics from activists around the world.
But the internet is threatening this age-old tradition. And understandably so. As I write this Newswire post I am intermittently alternating between tabs, scrolling through social networking sites, and leaving witty one-liners in comment threads, all without my pants on. It's tempting to never leave the computer.
Sadly, this seems to be the norm. Aside from  the awesome mail we receive from prisoners, most of our letters these days are on the threatening side, and coming from the IRS and various utility companies. This has meant that we end up pulling content for "Dear Shit for Brains" from other locations, like Newswire comments, tweets, and cryptic anonymous emails (keep sending those please, whoever you are).
So, write to us! Email us! Let us know how you feel. Tell us why you liked an article, what you'd like to see in the next issue, what you and your friends did to that condo development in the wee hours of the night, or why you hated the Wolf Hunt Sabotage Manual and what you do to treehuggers who threaten your "harvest." We want to hear it all. As always, try and keep your letters to 300 words or less so that we can share as much content as possible.

Emails can be sent to: [email protected]
Mail can be sent to:
Earth First! Journal
PO Box 964
Lake Worth, FL 33460
We're also still accepting article submissions for the newest issue of the Journal. The deadline for this issue is September 1st. We're especially interested in eco-liberation prose pieces and reportbacks from this summer's awesome array of action camps. We'd also love to see someone whip up a piece on the megadams threatening ecosystems in India, China, and Brazil, and what people are doing to try and stop them. Submissions can be mailed or emailed.

Questions, comments, criticisms about this long-winded plea for letters? Write us!
For the Wild!
Rabb!t
Earth First! Journal Collective