DAY FIVE IN PUERTO RICO
Another beautiful day on the Enchanted Island…..I'm up at 6:30, and on the balcony enjoying the ocean and the view that goes with it.

 

Holly and Tiffany are getting ready to go on their big Zip Lining adventure.

 

I worked on my travel blog this morning.

 

I went to Starbucks for a turkey sandwich for lunch.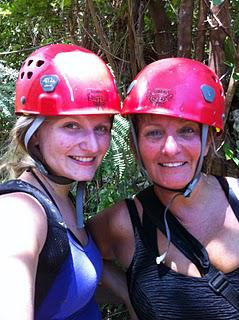 Holly and Tiffany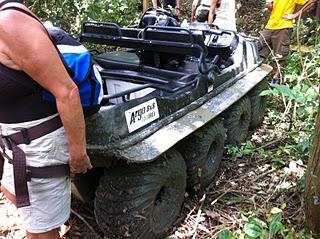 The Eight-Wheeler used in "mudding"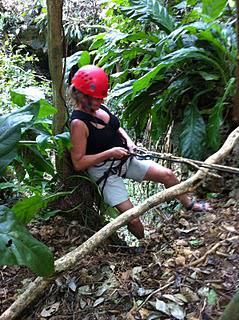 Holly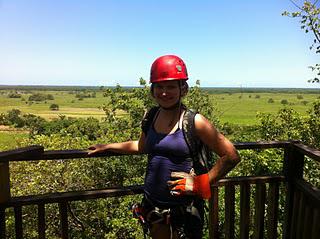 Tiffany
About 2PM, there was a heavy rain:

 

the first since we've been here.

 

People on the beach ran for cover, leaving their lounges behind.

 

My job today is to rent a car for tomorrow.

 

We plan on driving over to the west coast to see the Camuy Caves, and to check out the town of Rincon.

 

I'm told a lot of Americans go there to retire.

 

I'd like to spend December, January and February there.

 

I don't want to spend another cold winter here .

 

Don't laugh.

 

I froze last winter here.
I went to the Hertz desk and was told there are no more cars available because it's Labor Day weekend.

 

We hadn't even thought of that.

  The l

ady told me to go across the street to Charlie's car rental.

 

I was told the same thing, but the lady there called a friend who is a driver.

 

I have reserved him for 12 hours tomorrow for $300.00.

 

I hope that meets with Holly and Tiffany's approval.

 

I'd rather pay someone who knows the country to drive us.

 

We would probably get very lost!
Holly and Tiffany got back safe and sound.

 

They were wet and covered with mud!

 

They said when they got to their destination, they were given safety equipment (helmets, harnesses, etc.) and were taken by an eight wheel amphibian to go "mudding".

 

Then they trekked up river through boulders and waterfalls.

 

They ascended through steep and winding rock gullies.

  

Tiffany said the hike was very difficult, lots of uphill.

 

They rappelled down into a cave.

 

Holly went down slow and steady, but Tiffany missed her footing and hung upside down for a few minutes. I would have loved to have seen that! The Indians lived in these caves long ago.

 

They did three zip lines; it was gorgeous, but too fast!

 

I did zip lining in Costa Rica, and I swore if I ever got down, I would never do that again, (and I haven't!).

 

Zip lining is not for those of us who don't like heights.

 

You zip very fast on cables from one platform over to another one about 50 feet away. You are high up above the canopy of trees.

 

I'm told it's beautiful, but I kept my eyes closed, so I don't know about that.

 

Once you get up there you have no choice but to continue on.

 

There is no turning back!

 

After their big adventure, they were fed an amazing meal of pork ribs with beans and rice.

 

All the tours we've been on have provided a wonderful meal, and this was no exception.
By the time they returned to the hotel, the sun was out, and they went down by the pool and into the hot tub.

 

Holly enjoyed her afternoon by the pool drinking rum drinks.

  

I won't say how many she drank, but it was obvious she'd had a few.

 

That girl loves her rum!

 

Tiffany said the rum drink they served her was so strong, she couldn't drink it.
I told them I'd hired a driver for tomorrow.

  

Holly thought the tour guide they had today was kind of cute, and she said he told them he was available for the next day.

 

I think she would have liked to have him drive us, but I've already reserved this other guy.
Tiffany and I left Holly in the room and went to the Casino.

 

I refused to lose any more money.

 

It's fun walking around watching people lose their money, though.

 

We're in bed by 11:30 PM.