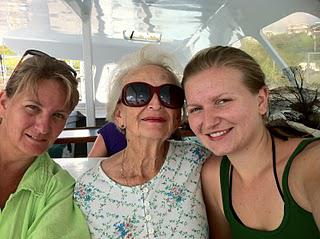 Holly, Me, and Tiffany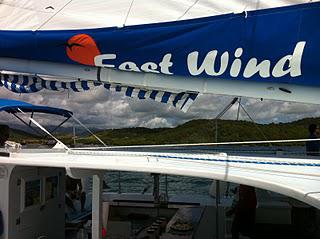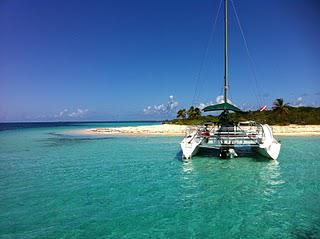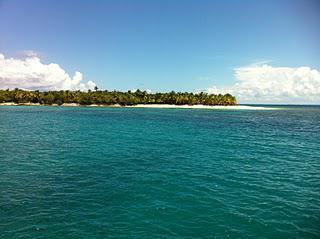 Today we have a big adventure on a 62 ft. sailing catamaran over to two islands:

 

Icacos and Palominitos.

 

This will be a snorkeling adventure for those to want to do that (not me!)

 

We were picked up at the hotel at 8AM.

 

We drove for about an hour to reach the marina where the catamaran is docked.

 

We hit the morning traffic.

 

Bumper to bumper.

 

These people move fast, too.

 

We passed gas stations and saw that gas is about .95 a gallon.

 

We arrived at the dock, and signed multiple papers releasing the tour company from any liability.

 

That always makes me nervous!
We boarded and everyone who was going to snorkel got a pair of fins and a mask.

 

One of the tour directors told us where we were going and what to expect. This guide is so personable and funny (like they all are).

 

He speaks fluent English.

 

This sailing ship is so beautiful.

 

Has very tall masts.

 

We just glided across the water.

 

It's another beautiful day:

  

not a cloud in sight.

 

The boat anchored near the beach so that whoever wanted to could get off and explore the island and the beach.

 

I stayed behind because you have to get wet in order to get on the beach, and I choose not to get wet, you know!

 

  

We stayed there at the beach for about an hour.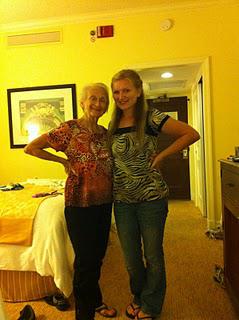 Tiffany and Me heading for the Casino
Everyone got back on the boat, and we headed for a reef.

 

After the captain anchored the ship, everyone jumped into the water with their flippers and masks.

  

I enjoyed looking through the glass bottom to watch the fish.

 

Holly and Tiffany said it was beautiful over the reef, lots of things to see.

 

We stayed in that location for about an hour, and then the ship was moved to another reef right off the coast of the second island.

 

No one is permitted to go onto this island, the guide said, because it belongs to a very rich lady who owns shopping centers.

 

It's her own private island.

 

You could see her big house from the water.

 

Holly and Tiffany loved going down the slide into the water.

 

Everyone was given chunks of bread to feed the fish. We were treated to a delicious lunch of cold cuts, fresh fruit, and drinks.

 

We really enjoyed this adventure!

  

We got back to the hotel about 5PM
After we got cleaned up, we took a walk to Wendy's for dinner.

 

It was so good!

 

Yes, I came 2,000 miles to get a Wendy's.

 

We stopped at Walgreens to get snacks and headed back to the hotel.
Tiffany and I decided to try our luck at the Casino. She pulled out $200.00 for each of us.

 

My limit was $100.00. It's been years since I've been in a Casino.

 

I headed for a cashier and asked for $20.00 in nickels.

 

The girl looked at me like I was from another planet.

 

She explained that we needed ticket s to put into the machine.

 

So, after we got our "paper money", we headed for the machines.

 

It didn't take long to lose $10.00.

 

We headed for the Roulette wheel, and promptly lost another $10.00.

 

O.K., that's enough.

 

I'm through with this!
We went back to our room and settled in for the night.