DAY SIX IN PUERTO RICO
Well, all good things have to come to an end.

 

This is our last day on this Enchanted Island.

 

I have had a wonderful time, but I'm ready to go home.

 

I miss my Brian, my dog, Baby, and my house.
Our driver, Jose, picked us up at the hotel promptly 7:30 AM.

 

He drove one of nice white taxis that we see everywhere.

  

We asked him about the taxis all looking so new.

 

He said they have to change them every 10 years, and they are inspected every six months.

 

We are headed for Arecibo to see the Rio Camuy Caves. This is a very fertile area with many rivers that bring valuable water for irrigation from the high mountains of the Cordillera. It's so nice to relax and see the countryside and not be nervous about getting lost.

 

We are on Highway 22 which is comparable to our interstate highways.

 

For a minute I thought I was on I-95.

 

We pass towns with signs for Wal-Mart, Sears, K-Marts, and other familiar businesses.

 

We can see the mountain range on one side and the ocean on the other side. The weather is just perfect.
Jose stopped at a roadside Puerto Rican eatery.

 

It was just a tent with a grill and a deep fryer.

 

You see these all along the highway.

 

He got these things called Aleapurias and Baclaitos for us to eat.

 

This is a deep fried batter with chicken or pork inside.

  

They were a little too greasy for me.
We reach the Rio Camuy Cave Park right before 9:00 AM.

 

I was admitted free because I'm a senior citizen.

 

This is another plus for older people who live or visit here.

  

No cost to ride public transportation and all the parks are free for those over 65 years of age.

 

This park's greatest attraction is underground.

 

We are given headsets and a recording that will explain everything to us as we go along.

 

We also have a guide who explains everything to us.

 

We are told the caves contain the third-largest underground river in the world.

 

It runs through a network of caves, canyons, and sinkholes that have been cut through the island's limestone base over the course of millions of years.

  

Known to the pre-Columbian Taino peoples, the caves came to the attention of speleologists in the 1950's; they were led to the site by local boys who were familiar with some of the entrances to the system

 

The caves were opened to the public in 1986.

 

We boarded a trolley that took us to the entrance.

 

We got off the trolley, and walked along a well constructed concrete path which was very slippery, but there were guard rails to hold onto. I felt like I was at a Disneyland attraction because of the heavy mist and just the atmosphere.

 

It is very hard to explain what we saw.

 

You'd have to be there to really appreciate the vastness and the beauty of this place.

 

It is a fascinating underworld of stalactites and sculpted cavern walls.

 

One of the sinkholes is 65 feet wide and 400 feet deep!

 

I took us about two hours to explore this wonder!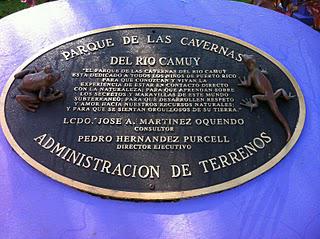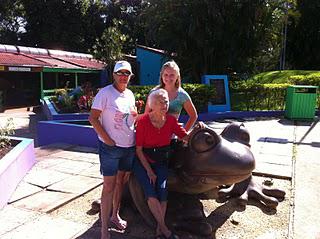 At the Entrance to the Caves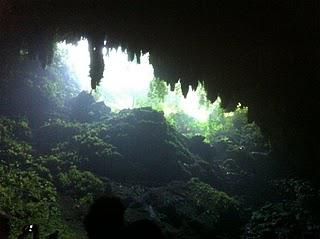 Inside the Caves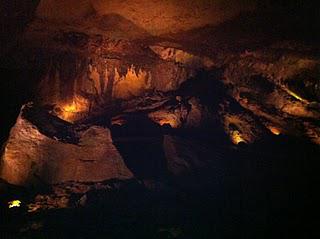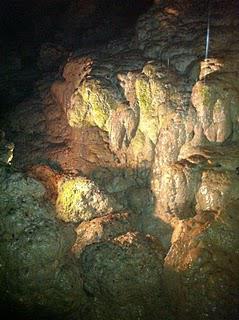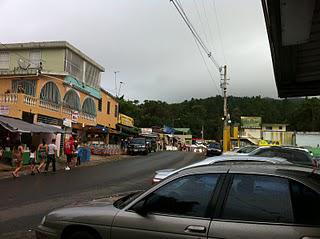 Guavate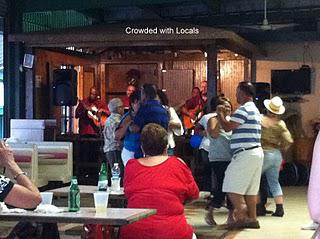 The Locals dancine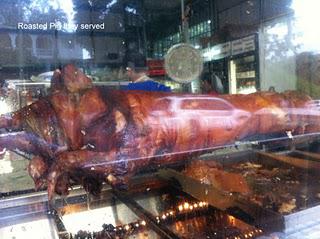 Roasting the Pig
We headed to the west coast toward Aquadilla and Rincon.

 

Aquadilla has an airport, and several major airlines fly into there.

 

A real estate agent I had been in touch with had told me of a studio apartment in Rincon called the Grasshopper House.

 

It took a while, but Jose found it.

 

It looked really cute, but was too far away from any shopping, and if I come back for the winter, I won't have a car.

 

We had passed a little outside café with people outside eating lunch, so we went back there.

 

I had hoped to find Americans to talk to about the town and possible lodging.

 

Jose parked, and we went in so I could investigate.

 

I had a great chicken Quesadilla.

 

There was a town square where I was told that locals come there on Friday nights, and play their music.

 

The place seems to be ideal for me.

 

I left my email address and phone number with a girl who worked there.

 

She promised she would contact me if she heard of anything suitable.

 

Jose looked up some real estate agents on his phone, but since it was Sunday, I couldn't call anyone.

 

I wrote their names and numbers down for future use.
We then drove on this narrow curvy road toward the south of Puerto Rico to a town called Guavate.

 

Holly had heard on the Travel Channel they had the best roasted pork in the world!

 

They call it lechon asado, (barbequed pig).

 

Jose knew exactly where to go.

 

We stopped at this very busy place.

 

People stood in long lines to get to the food.

 

There was a whole pig on a spit in full view.

 

It smelled so good there.

 

It made my mouth water.

 

I waited outside and watched the locals selling their wares at home made lean-tos on the street.

 

  

There were a lot of homeless dogs running around, but they were fat and well fed.

 

There was loud music coming from a bandstand where locals played their music and people danced like crazy.

 

Everyone was having a great time eating and dancing.

 

Finally, my group got their plates and gave me a generous helping of food.

 

I sampled the pork.

 

I didn't care for that.

 

There was a pork sausage:

 

very spicy.

 

I took two bites and stopped.

 

I'm glad I did, because Holly regretted eating it later (all night!)
It was getting very late, so we headed back to San Juan.

 

Jose stopped and got some kind of fruit from a roadside vendor.

 

It had small, green balls hanging from a cluster.

 

Jose called it Queneea.

  

I tried to eat it, but just couldn't.

 

I've decided I like Puerto Rico:

 

I just don't like the native food.

 

Maybe I could get used to it, but I doubt it.
We got busy packing to leave in the morning.
Puerto Rico is a beautiful place.

 

The people are friendly.

 

They are bilingual.

 

When they speak English, it is perfect English with NO accent.

 

I like the monetary system. It's the same as ours.

 

You don't need a passport if you live in the U.S.

  

In 2005, the Bush administration asked Congress to set another vote to allow the citizens of the overpopulated island to decide on their future:

 

to opt for statehood or else full independence.

 

Statehood would bring the right to vote in U.S.

 

elections, and full independence would require some islanders to relinquish their American citizenship.

 

Only a small number of Puerto Ricans favor full independence.

 

Rum is the national drink of Puerto Rico, and is the world's leading producer of rum.

 

It is believed that Ponce de Leon introduced rum to Puerto Rico.

 

They have a big rum distillery, but we never made it there.
Nearly four million people live on the main island, making it one of the most densely populated islands in the world.

 

One third of the population is concentrated in the San Juan metropolitan area.

  

We had read about crime in Puerto Rico, especially in San Juan and were warned not to go into the streets after dark.

 

We found this completely untrue.

 

The streets are filled at night with joggers, tourists, and people walking their dogs.

 

We saw one homeless person sleeping on the street.

 

He was asleep on the same cardboard for three days.

 

There were two panhandlers that sat outside Walgreens all the time.

 

There were a lot of security people on the street.

 

I had read about the poverty in Puerto Rico, and that may be true out in the countryside, but in town and on the highways, you see a lot of late model cars.
I look forward to returning to Puerto Rico.

 

Next time I'll wait until the hurricane season passes!