June 25th
Canopus Hill(1409.8)-Nuclear Lake(1438.8) New York
29mi
Elevation chart courtesy of Guthook's AT Hiker app. He has apps for many trails including the PCT and CDT.

Like usual, I was awake at 5:03am with the birds. I am not sleeping well in the humidity and I have been foggy after waking many times in the night. It seems to be the consensus out here that there is less sleep in the high humidity and the only hope is that it will get better as we move north. I tried to sleep a bit more and then did some emailing before I packed up. I was hiking by 6:50am and the mosquitoes attacked once I went downhill. It was a good choice to camp high last night as it was pretty swampy down low. I gave in for the first time this hike and applied the deet. I have enough bites that it's becoming difficult to tell if I have a mosquito on me or just a bite that itches and they really itch in the humidity so I'm done trying to play nice. Deet it is!
The terrain today had a lot of very short and steep ups and downs. It felt like about 1/4 of the day had level or gradual trail. It was not very eventful as it was almost all wooded, but it is a bit different. There were some rocks, but less and there were more roots.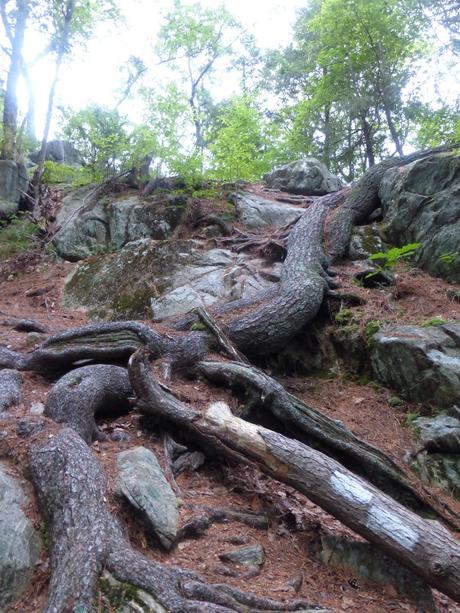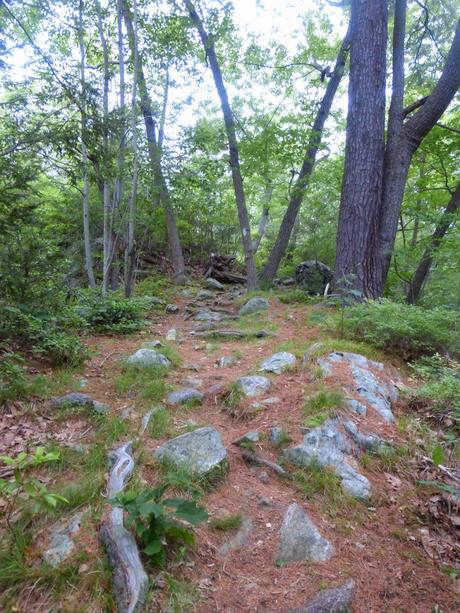 I liked the pine needles along the ground and they cushioned the trail nicely. Some of the rocks had moss on them and the darker ones had beads of water on them as if they were sweating. I'd believe it as it was in the mid 80s and quite humid today. Just uncomfortable and an energy zapper.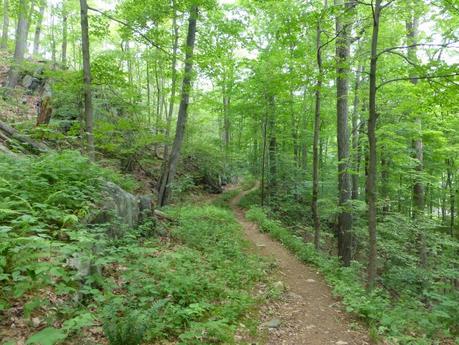 I don't think I mentioned that I finished the book, Where'd You Go Bernadette? the other day. It was ok and held my attention, but not as much as I'd hoped. The characters in it had a lot of "first world problems" and I tend to have a low tolerance for overdramatizing those, so it wore on me a bit. I started a new book called Night Circus that was recommended to me and listened to the first couple hours of that, but was still dragging this morning with the humidity and more wooded hiking. There was a viewpoint with a 911 memorial flag painted on it.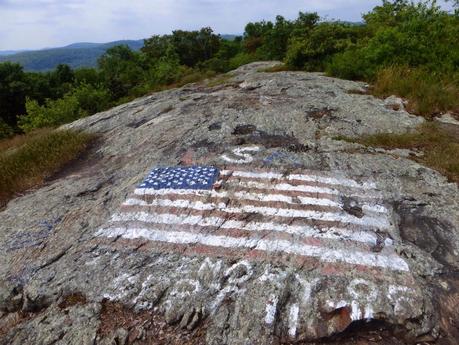 I did seen many new hikers briefly today before lunch. There were two couples and another guy, but I probably won't see them again. I saw them all together one final time after lunch when they were all eating lunch at a shelter. They told me that another hiker had just left and that it was Jett Cat!
I last saw her in Shenandoah
and she's kept a great pace as she's stayed just ahead of me since I slowed for family at Harpers. It had been a pretty boring and tiring day, so I was excited to have someone to distract me. I caught up to Jett Cat to find out that she was feeling exactly the same way and welcomed the company.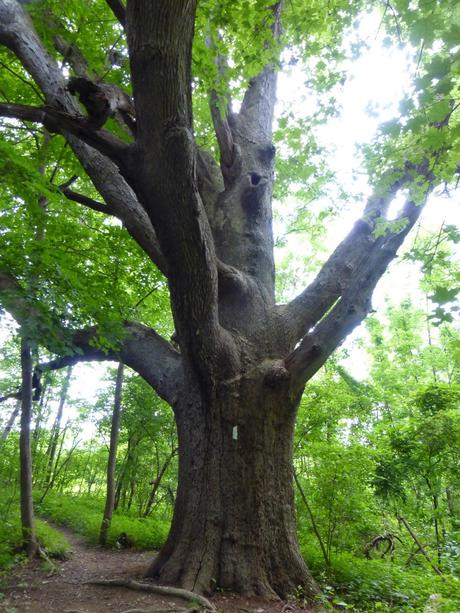 Not much else to say other than that it was nice to hike with her a bit today and to have someone around that likes to do the same kind of mileage. We are camped together at Nuclear Lake with lightning flashing all around and there is a 50% chance of rain or thunderstorms into the morning.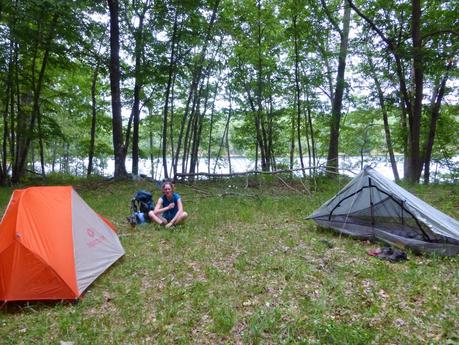 We may end up hiking the next three days together on and off as we have slightly different schedules and routines, but we might share a hotel room in town at the end of the leg if it works out. On a side note, I'm trying a new strategy of no sleeping bag tonight. I usually need a sheet over me to sleep, but the blanket of humidity seems to be enough. I'm in my biker shorts and sports bra and to keep myself from sticking to the sleeping pad, I'm trying something new. I've slid my two shirts over the ends of my sleeping pad and wrapped my rain coat around the center to act as a bed sheet. I forgot to get a picture before it got too dark, but it may work! I am hoping to sleep better this way...