May 21st
Pig Farm Campsite(708.5)-Wilson Creek Shelter (735.2) Virginia
26.7mi
Elevation chart courtesy of Guthook's AT Hiker app. He has apps for many trails including the PCT and CDT.
*Today's miles were in separate sections on the app, so there are two elevation charts.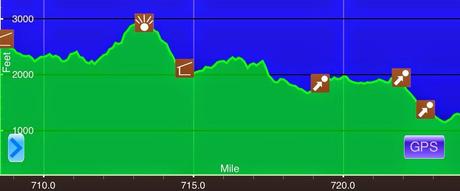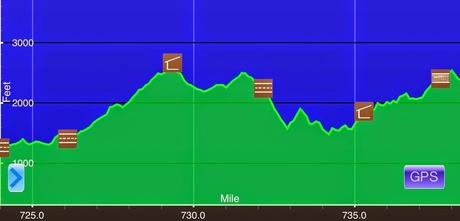 The original plan for this leg was for it to be six days and 136mi from Bland, VA to Daleville, VA. As I mentioned a couple of days ago, there is a restaurant that hikers aren't supposed to miss called the Homeplace that we passed yesterday that is only open Thurs-Sun. Since today is Wednesday, I didn't want to take a zero to go there, so I decided to add a seventh day and 21mi to the leg. That way I can get off trail tomorrow for my nero and go to the Homeplace. Fortunately, my friend Coach K, who I met
on day 85 of my PCT hike
, is able to provide transportation to make this happen. It makes for a long leg and many days with big miles, but for some reason my body isn't reacting to the miles and I'm feeling great.
Ferris however, has never hiked such big miles consecutively and his body is needing a rest. He wanted to see how he was feeling this morning and after a couple miles he decided that when we hit Daleville 15mi into the day today, he needs to rest his body and stay at the hotel and take a zero tomorrow. I completely understand and support his decision. It's not worth hurting himself and he's done an amazing job of tolerating my mileage this leg. We agreed to see each other tomorrow night to go to Homeplace and split a hotel room. Since most of today was downhill and I wanted to do more miles today to get picked up as early as possible for my nero tomorrow, I went ahead at a faster pace to town and said goodbye to Ferris for the day. The main hiking event if the day was in the morning when the trail went over the Tinker Cliffs for half a mile. Great views on cliffs marked with white blazes similar to McAfee Knob last night.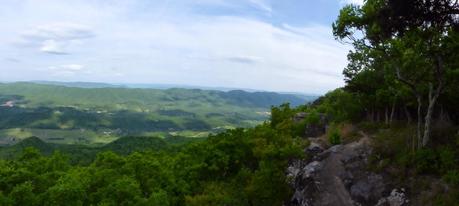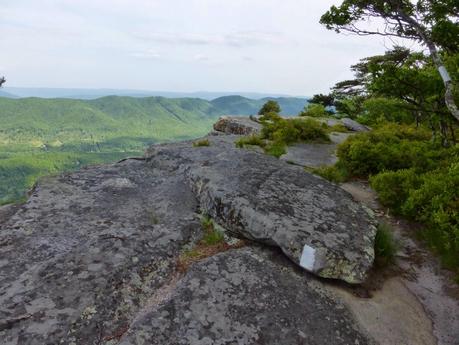 Other than that, it was pretty much wooded hiking on nice gradual trail the rest of the day. Knowing I was headed to town for lunch, I cruised the great gradual downhill trail into town and made it to Daleville just after 12:30pm. Perfect for lunch at Wendy's! I was craving a Frosty as it was humid and low 80s today. I also easily ate two grilled chicken sandwiches and fries.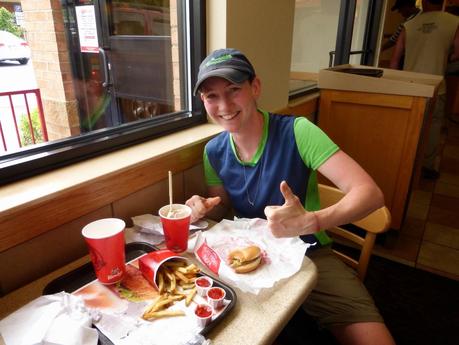 It was just .4mi to Wendy's and Kroger was next door, so I was able to grab food for one more day and get back on trail just before 2pm. It was difficult to resist the luxuries of town. I know I'll be lounging tomorrow and that the more miles I do today gets me to town earlier tomorrow, so that was my motivation to get in and out efficiently.
On the hike out, there was a short section through grassy fields and I came across the caretaker for this section while he was doing some maintenance in the heat. His name is Homer and he rocks! He did the AT in 2002 with his wife and his then 8 and 11yr old. He and his wife now maintain two AT sections and I think he said 16 shelters along the AT. He was kind enough to let me take his photo, but warned me he doesn't smile in photos despite his kind smile in conversation. So it may not look like it, but he's very happy and proud of his sections, as he should be. THANK YOU to Homer and his wife.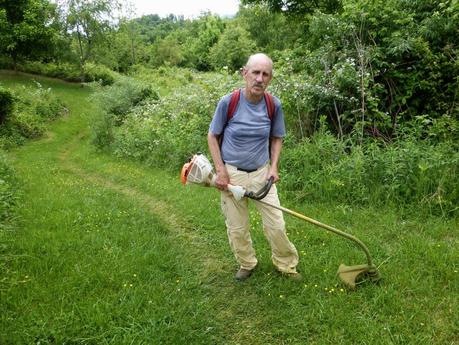 The rest of the day had more of the great gradual trail up and down and I made great time. I had service most of the day so it was a great opportunity to catch up on phone calls so that was fun. Funny thing is that I saw many other hikers doing the same thing today, ha!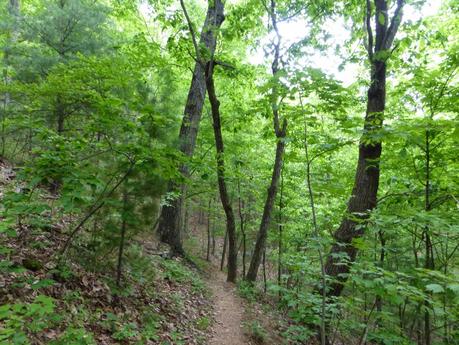 I made it to the shelter at 6:15pm and was excited to find out I have great service so I started an episode of New Girl while I ate and I get to finish it after I finish blogging tonight. Just a great way to end the day. There are about 5 other guys around in the shelter or tented nearby. It's a pretty quiet and calm night and I did chat for a bit. There is a chance for rain or thunderstorms overnight, but tomorrow morning should be clear. Man, I stink!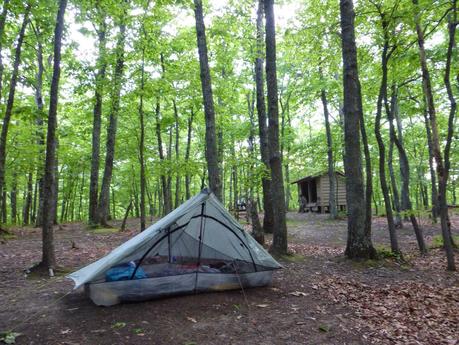 I was able to text with Ferris and he is happily indulging in town and ate a whole rack of ribs. All leg we were right behind someone whose name he saw in a trail register that Ferris hasn't seen since the beginning of the hike. I ended up seeing the guy in Kroger and randomly asking his name hoping it was him and it was. I told him which hotel Ferris would be in and the two of them are splitting the hotel room tonight. Ferris is getting some guy time so all is right with the trail world! Now off to watch New Girl. Life is good:)