Since the last post, I've done a few things.
Day 14- Win and Lose
I fully expected 30 free throws to be the hardest (least likely) element. Not so much when I first thought of it, but upon subsequent thinkings, it only seemed to get harder and harder. Will Wolcott kindly pointed out that, if shooting at an 80% rate, I stand a way-less-than-1% chance of succeeding at 30 consecutive free throws. I countered that each shot was not an independent event, statistically speaking. There is such a thing as being "on fire" and "in a groove" and whatnot. F the haters. I'm gonna make baskets.
I spent an hour looking for an indoor basketball hoop in this icy land of hockey, and found one at the Totem Hall, a community center for the First Nation folk of Squamish. I shot free throws in an empty gym for the next 2.5 hours.
At first I improved. I went from streaks of 8-10 to streaks of 12-15, hitting 18 in a row a couple of times. Then it all went to shit. My eyes stopped working properly and my focus waned. Best to call it a practice round. Besides, I had another challenge to attempt.

So that was the lose part. The win part is way better.
When Jeremy and I did our "test" run up the Grand Wall a few weeks back, it took us 5:40 because we were stuck behind slower parties. We figured that if we hustled and had the wall to ourselves, we shouldn't have too much trouble doing it in 3 hours or less. The crux, then, is finding a time when Squamish's most sought-after multi-pitch would be free of climbers.
You see, even with a gruesomely early wake-up call there's no guarantee of finding yourself first in line. The Trad Dads and Grand Wall Grandpas would beat you to it.
The wall bakes in the sun most of the afternoon. One could attempt an ascent at that time, but the risk of spontaneous combustion is too high for our cautious selves.
Morning was out, afternoon was out, and we weren't too psyched on a headlamp attempt. That meant evening was the best option. Others, we figured, would want to take their time enjoying such an amazing route. We fools, however, were interested in enjoying the route as quickly as possible. The window between hot afternoon and too-dark is a narrow one, and only the brave and the foolhardy would attempt to fit an ascent into said window.
So after free throws, I found Jeremy all racked and ready to go at 5pm. We kissed our loved ones goodbye and promised to be safe, and hiked to the base of the route. With speed in our minds and strength in our hearts, we embarked on the first pitch of Mercy Me at 6:55pm, the sun weakening and the risk of spontaneous combustion waning.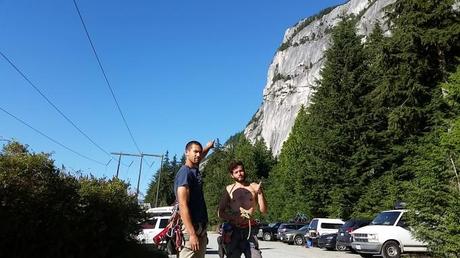 We goin' up thurrrr
I linked the first two pitches of the route (which can be done with a 70m rope), and Jeremy sprinted after me. He led the traversing pitch to the base of the Split Pillar, and I took the lead on the pumpy splitter corner crack. Jeremy heroically swung The Sword, channeling Hans Florine the whole way. I followed as fast as my feet and hands would carry me, imagining myself as Yuji on the bolt ladder. A quick rest and I was on the sharp end of Perry's Layback, figuring (correctly) that sprinting the pumpy flake was mo' betta than climbing all slow and clipping all the bolts.
Time, as if to mock mankind's pathetic attempts to achieve immortality, ticked on. At the top of the Split Pillar, which is halfway up the route, we were halfway through our 3 hour allotment. At the top of Perry's, with two pitches to go, we had about 55 minutes. It was going to be close.
Except it wasn't. The sky began to darken and, with our goal close enough to taste, we turbo-charged our way through the final two pitches. Jeremy sprinted the wandering slab pitch and I led the final pitch, a heroic sail-shaped flake called The Sail. Jeremy followed, and upon reaching Bellygood Ledge, he gasped and panted and asked "Time!?!?!?"
I smiled and showed him the timer on my phone. 2:47.
Success was enjoyed. So were beers. Another element down.
Day 15- Retrieving the Byronian
And that's just what we did. We also enjoyed some beers with an old friend named Keith, who happens to be the first person to ever take me rock climbing. We hadn't spoken in over a decade.
He's been following the blog, and is also a keen observer. He nearly made me cry when he pointed out the incredible friends I have. And, not to brag, but he's right…to have people with me all day on 360 point day, to have Vikki picking up the slack when I'm too tired to think, to have people all over the forest asking me how the challenge is going…it's special, truly special.
At midnight, we picked this guy up at the Vancouver airport.
Day 16- Sandbagging the Sport-Climbing
We were tired from a late night of driving and all that. I wasn't sure what element to attempt, but with a leisurely start it seemed like 30 onsights 5.10 or harder would be a good option. Lunch was had and supplies gathered, Byron's camera things were set up, and we finally made it to Cheakamus Canyon at around 1:30pm.
The hardest part of this element, I think, is that finding a huge cluster of 5.10/5.11- is really hard around these parts. We were in the "main area," and each cliff only had a half-dozen 5.10s and maybe a handful of easy 5.11s. Moving around, setting up cameras, and cleaning routes was all time-consuming, and by dusk I had climbed 19 pitches. Then it got dark, I started falling, and we didn't even have 10 more routes to try without hiking in to another sector entirely. I finished the day with 21 routes climbed, 2 failed on, and a huge lesson in planning, not to mention getting the fuck up in the mornings.
I briefly considered trying to fit more pitches in the next morning, but that wasn't the original intent, and would just be a copout. Vikki pointed this out to me. She's right. Better to take this as a failure and learn from it. I might try again, but it's now the lowest priority behind trying to finish the rest of the elements.
On the bright side: With Byron's help, we got some great footage and timelapses, and this episode of Birthday Challenge will look fantastic.
Day 17- Free Throws are Still Hard
Tried again. Failed again. Was tired from sport climbing. Spent the rest of the day doing computer tasks and trying to rest up for…
Day 18- 360 Boulder Problems
On the list of elements, some days are obviously going to be full-day-plus-a-day-of-rest type of affairs. This was one of them, and also one of the elements that I was most worried about. A lot of people suggested it would be a really hard day. I would need help. I called the most knowledgable Squamanians I know: Scot and Michelle.
They were there during the last bouldering marathon, and without Michelle keeping track and strategizing while I scampered around, I would've either failed, or would've had to keep climbing until 2am. Without Scot scampering the boulders with me and helping with beta, cleaning, and general psyche, I would've been likewise hosed.
These types of days require strategy. I looked through the guidebook and jotted down a rough estimate of how many easy climbs I could do in each zone. Some zones are more concentrated (Easy Chair, Titanic, Black Dyke) while others require a fair amount of hiking and hunting. I had also hiked around with the guidebook for several hours previously to get a sense of how many "easies" in each area would be climbable.
The goal was to minimize the distance between boulder problems. If I were to climb for 15 hours, I would need to average a boulder problem every 2.5 minutes. Unlike the 360 V-Point challenge, I would get no reward from doing harder climbs. I would have to simply climb constantly.
I was up at 5:30am and bouldering in the Cleans area by 6:30. Vikki and Byron came with, Vikki manning the guidebook and Byron on the cameras. Then we drove down to the Lower Sherriff's Badge zone to climb a few more before heading back to camp for a quick break and then attacking the Grand Wall boulders.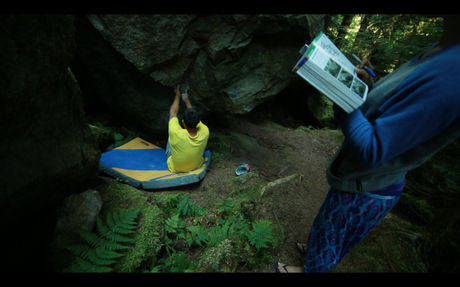 What most of the day looked like.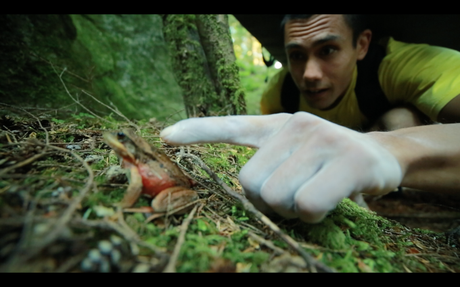 It was, yes, humid enough for amphibians to be out.
While in camp, I walked past the SF crew as they ate breakfast. Mark asked when I was going to get started on my challenge for the day. I replied that I'd already done 68 problems. They were impressed. I was not. Because I had 292 problems left.
And so Scot, who met us at camp, joined Byron and I as we sauntered through the boulders at the north end of the Grand Wall. I wasn't as familiar with these zones and it was slow-going for a while…but this was intentional. The idea was to do most of the unfamiliar climbs while still fresh and with plenty of daylight, saving the areas I knew best for last (when darkness and fatigue would be bigger factors).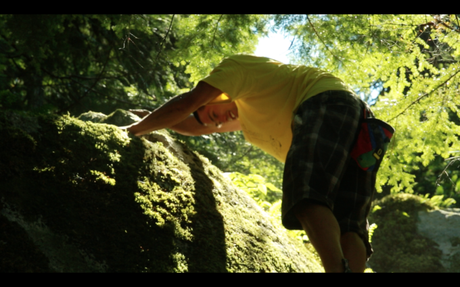 Another moss monster
I did a lot of climbing, and much of it was a blur. Always with a 2-minutes-per-problem pace in my mind, I ran around at the direction of Scot or Vikki or whomever had the guidebook, climbing chossy this and mossy that and sweating literally the entire time. A short break for water and some donut holes and I would be off again.
Most of the day was spent in that limbo zone that is familiar to anyone who's stuck with anything for a long time: when the beginning has been long since forgotten, yet the end is so far away as to seem unreachable. I think it was around 4:30pm and I had done about 160 climbs. Thankfully, the Easy Chair, Superfly, Viper and Black Dyke areas were next, and I was able to dash around and climb problem after problem. 200-to-go became 100-to-go. The sky became dark. Scot somehow stayed with us. Vikki brought more chalk. I was sweating still.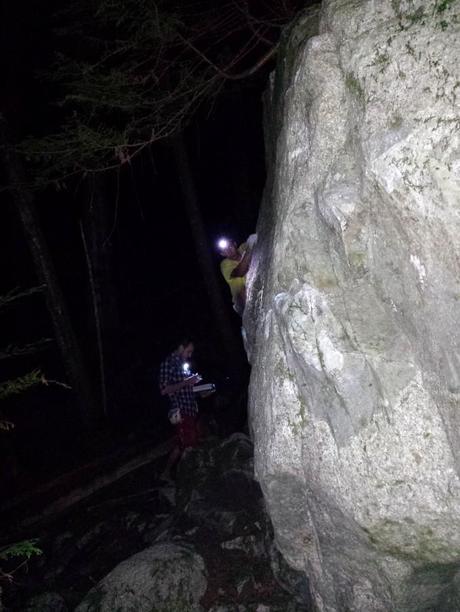 Late night in the further reaches of the Titanic zone, Scot directing
Sometime around 11pm, we were in the Titanic zone, and Scot gave me a fist-bump. "300. Nice work." I was on my 5th wind at this point, thankful to be near the end and in home territory, except that 60 problems is still a lot. I managed another 15 or 20 before we had to head to the Apron boulders (a 5-minute walk down the main trail) to tick off the last 40 or so.
Scot took off and Vikki, Byron and myself struggled through the occasionally overgrown trails to many obscure V0-V2 climbs. We finished up in the Snake Pit on a series of actually very enjoyable climbs. I recall the counting down…"9 more!" "5 more!" "OMG only 3 more!" and I recall feeling, for the most part, that I just really wanted to be done. Finally, the final problem was started and finished. We filmed a quick interview. We went back to camp.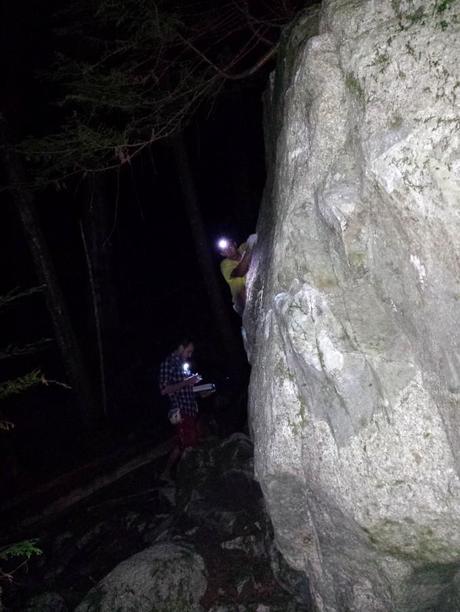 Late night in the further reaches of the Titanic zone, Scot directing
This day was an absolute shit-ton of climbing. I did more mantels than I've ever done. I was sweating almost uninterruptedly for 16 hours. My fingers were very moist and I went through more than 2 blocks of chalk. I can't recall being much dirtier. And though there were moments of fun, I'm really glad that it's over.
My diet during this part of the challenge was simply stunning. I recall eating about 20 donut holes, three pastries of various sorts, some pepperoni sticks, a Landjager sausage, a few bites of burrito, and all of it washed down with a gallon and a half of water, three coconut waters, a Red Bull, and a 5 Hour Energy.
We got back to camp at 1:30am and I went straight to the creek to sit, clean off the sweat, try to kill some of the pain in my limbs (my elbows were very throbby), and to just take a minute to soak in what I'd just done.
And then, predictably, my hands began to throb. They would do so for the next 20 hours.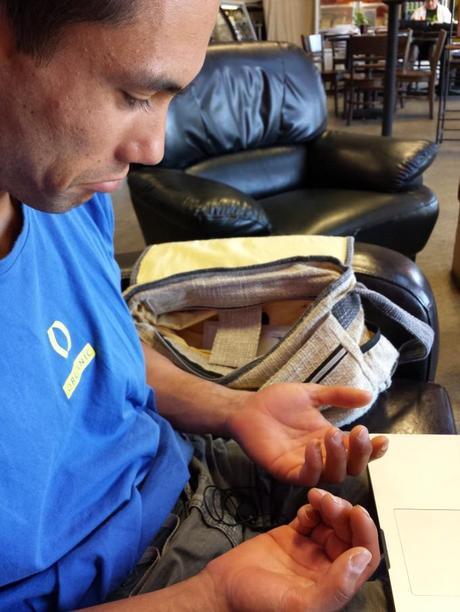 The next day: Typing is ouch.
Day 19- Trash
Slept in, ate some food, and lamented the swollen, painful state of the fleshy things on the ends of my arms called "hands." In the afternoon, Vikki and I wandered through the forest picking up garbage. I'd also intended to take 30 photos of strangers, but strangely, the forest was nearly devoid of people (on a sunny Sunday, no less). Nonetheless, 360 pieces of trash were gathered, despite my very strong inclination to just lay down and not get up.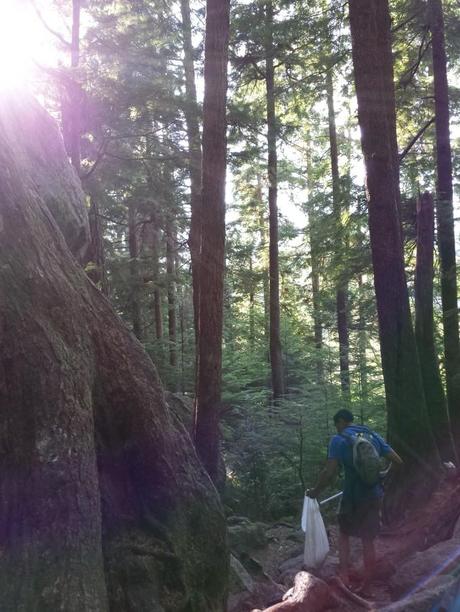 Picking up trash in an oddly lonely forest
Day 20- An Easy Jog
I got to bed early the previous night, still exhausted and recovering and all that. This day, Monday, would be the day that I ran 30km. My thinking here is that I've still got a few really tough elements, and a long run, while not easy per se, is still doable while the rest of my body (hands, particularly) continues to rest and recover. So I met my ultra-running friend Stacey at 9am.
Vikki was kind enough to drop us off just south of Galileo Coffee. The plan was to run along the highway for 2kms to the café, have coffee and a pastry, then run north to Bean Around the World (about 18kms) for the same. We would finish with a simple 10km run back to camp.
After 2kms on the highway, Stacey and I decided that the train tracks would be much more pleasant, provided we did not get annihilated by a locomotive. We didn't, and the running on the tracks was much quieter and shadier than the highway. The less pleasant part, though, was when the tracks themselves jumped right up and bit me.
Things were going well. My pace wasn't bad, my form was decent (though not compared to Stacey's…at least she wasn't laughing at me), and I felt ready to do what we were doing for another 25km. Then the tracks crossed a road. Somehow, in that brief asphalt stretch, I lost my mojo for running on the ties, and when we returned to the tracks my footwork failed me. Suddenly I was sprawled, blood coming from my right leg, right wrist, and left hand.
We stopped for a minute. Stacey is a nurse. That made me feel better.
Then we walked for a bit. My knee seemed fine, just a little bloody and banged up. So we ran.
We met Natalie at Bean Around the World which, despite their dearth of cinnamon rolls (they only make a dozen per day…what a tease!), was a great stop. We discussed logging, hiking, food, and other delightful topics as we refueled with an iced coffee and for myself, a panini.
Then, for some demented reason, we threw an extra loop into the run, bringing the total to about 33-34kms. That's 20+ miles, for those of you who don't habla metric system.
And once again, the creek provided a much-needed therapeutic ice-bath.
Day 21- WTF OUCH
I think the cumulative stress on my body is starting to add up. Movement is painful. My left hand is pretty badly bruised from the tracks and I need to find out when my last tetanus booster was. My legs feel like the joints are totally calcified, as though stepping down too big of a ledge would snap the tendons. My shoulders are tight, my elbows crunchy. On top of it all, we still have to repair the trailer roof and, lord knows, Vikki ain't gonna take that one on. I mean, just manteling onto the roof is hard enough!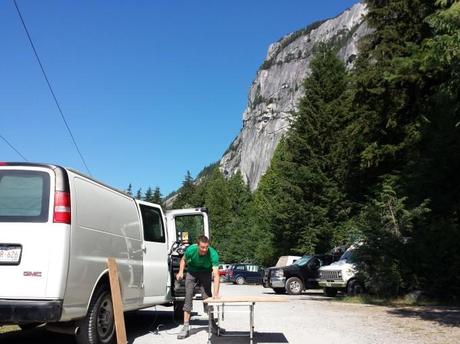 A big thanks to Terry Paholek for the saw assistance!
Then there's videos to edit, photos to post, relationships with friends, family, and colleagues to maintain. The hardest part of this birthday challenge, it seems, is doing it while not letting the rest of my little world fall apart around me.
Fuck I'm tired.
Day 22- ????
Today is Day 22. Not much improvement in the hand situation (climbing is still a no go for now), my knees are still a bit tender (one from bruising, the other from overusing), and now I'm panicked about tetanus. So I'm going to get a tetanus shot from the local Urgent Care joint. Then, if that doesn't take too much time, I'm going to try making a lot of free throws consecutively. Can't really do much else. The blackberries aren't ripe yet.