May 6th
Stan Murray Shelter(381.2)-Tentsite S of USFS 293(405.9) N Carolina/Tennessee
24.7mi
Elevation chart courtesy of Guthook's AT Hiker app. He has apps for many trails including the PCT and CDT.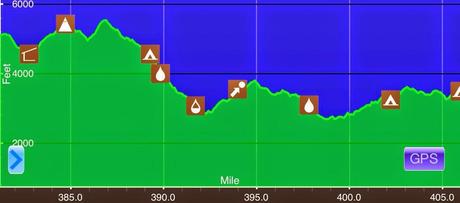 I started hiking at 7am and I always like early morning hiking light and views!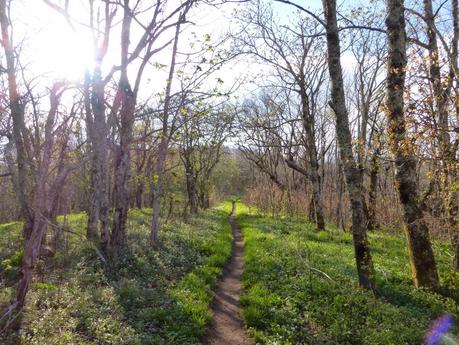 Within 30mins I got enough signal to post the blog and catch up on correspondence. This has been happening more frequently that I don't have signal at camp (since campsites tend to be lower) and then I get a good signal early in the morning. I'm happy to be getting such great reception on trail, but I'm bummed it doesn't happen at camp as much. It gets me off to an odd start in the morning when I hike a bit and then stop about 20mins to post the blog and scan through my emails and texts. This morning, while I was stopped, Freckles and Drag'n fly came by. It was fun to see them for a bit and I even got to show them the picture of Robert Redford and Nick Nolte that had been posted a week ago in Erwin, the town we all were just in. They are filming the movie for A Walk In The Woods by Bill Bryson which is a very popular book about two men who hike a couple sections of the AT. Yesterday I mentioned that I went over the Roan Highlands and I was a bit disappointed, partially by the brevity of it. Well, I found out this morning that yesterday was only half of it! It was a nice surprise to find more panoramic ridge walking this morning.
The trail went up an over two mountains called Little Hump and Hump Mtn. It has been quite windy on trail lately and it was especially so on these exposed mountains. It was over an hour and a half of hiking over the two mountains with wind gusts so strong I felt like a rag doll being whipped around. I had to put my hat on backwards to keep it from flying off my head. So much of my effort was focused on staying upright that I hardly noticed the climb. I also thought about Freckles and Drag'n fly and imagined Drag'n fly literally flying with his small she is! I would NOT want to be up there in bad weather, that's for sure! There were great views though. I've been told these are the last great views for awhile, so enjoy these photos.
Looking back from the top of Little Hump to see all I had gone over yesterday. See my shadow and the trail in the middle!?

The view looking north at Hump Mtn.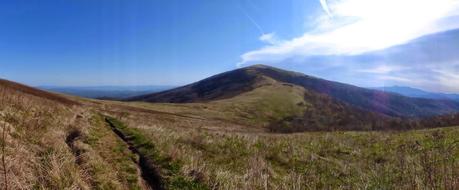 View looking north from the top of Hump Mtn.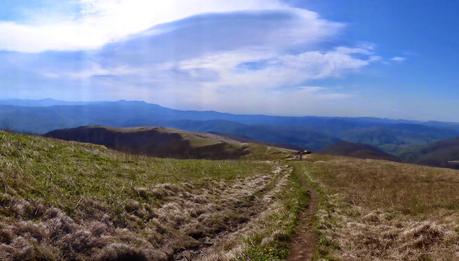 The strong wind gusts stopped almost instantly once I started going down the backside of Hump Mtn. For the next mile, my legs were wobbly from pushing hard against wind for so long. Apparently, from here I'll be in the woods a lot more and the rest of today definitely proved that. For the last couple of weeks the trail has gone back and forth along the North Carolina/Tennessee border. This morning, the trail officially left North Carolina. I'll be in Tennessee for a couple more days and then I'll enter Virginia for 500mi which is the longest state along the whole trail. It's fun to have so many border milestones on this trail.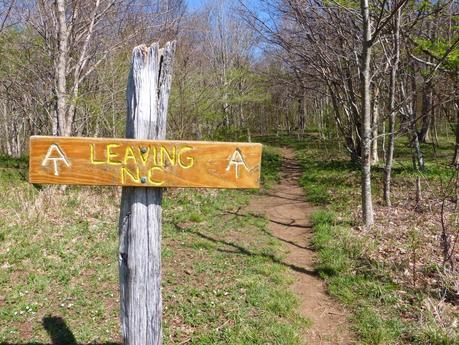 The rest of the day I saw 11 other thru hikers. 5 couples or pairs and one solo hiker. All the interactions were very brief and some were just a quick hi, but all seemed quite nice. I am enjoying my decision to skip the middle town that came today and just do a longer stretch of six days in a row. It feels a lot more like I'm on trail. I won't do this the whole way, but I like the variety and ability to choose a more extended section without going to town if I'm in the mood. I listened to more of Insurgent and want to thank Chandra for getting me the second book of the Divergent series. It's been a lot of fun and definitely makes the hiking more enjoyable. It's a great mental boost and fun entertainment. I should finish it tomorrow. The other events of the day are that the trees are filing in more and the "green tunnel" will soon be in full bloom. Also, I got to mile 400! Everyone says the first and last 500 are the most difficult, so it's good to hear the first difficult part is almost over.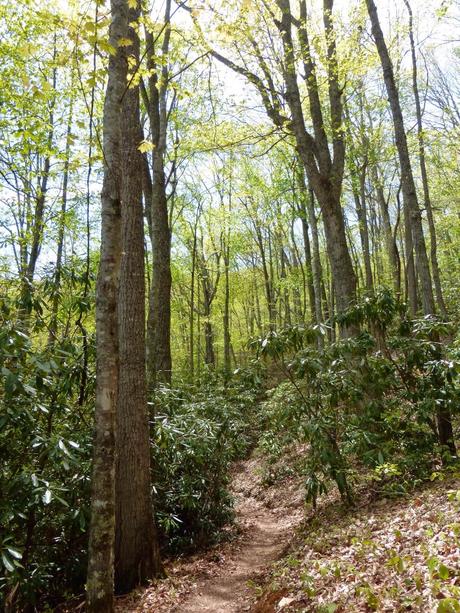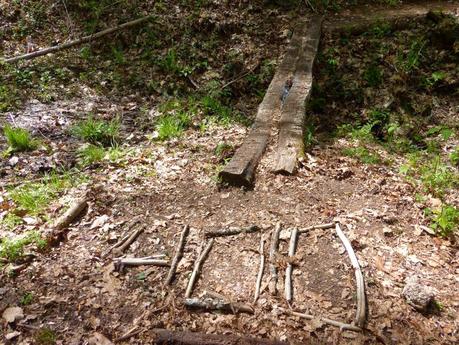 There were also more streams and plenty of camping options to choose from. I tend to choose sites based on what time it is rather than location or scenery. I am making an effort to take it easier if there is no need to do more miles, so I stopped a bit earlier than usual just before 6pm. Since it's a dry site (no running water) surrounded by sites with water sources, I'm camped alone. This is only the second time this has happened so far and I actually passed some thrus not far from this site. I'm enjoying the freedom and quiet of it though.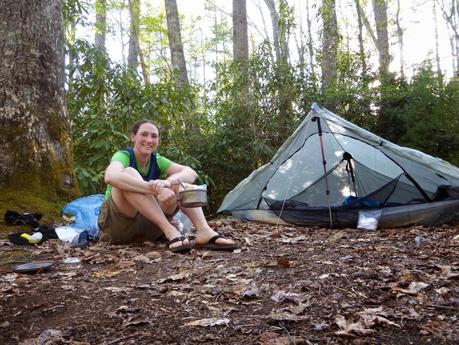 Just wish I had signal to do more online and watch a show! I'm finishing this post just before 9pm and I'm going to sleep well!