Dax Cafe Bar on Pembroke Street is a bit of an anomaly, every time I go it's very busy but when I mention it to people no one seems to have heard of it. Good for me as I always manage to get a table! Dax is named after the region in France the owner came from and, of course, the menu has a decidedly French feel.
It's an odd little menu, the first offering is a beef burger and fries at €13.50, then come the cheese and charcuterie plates the most expensive of which is €22.00 before moving on to hot and cold small dishes which range from €3.50 for olives to €9.00 for braised beef. It is, I dare say, a bit like French tapas!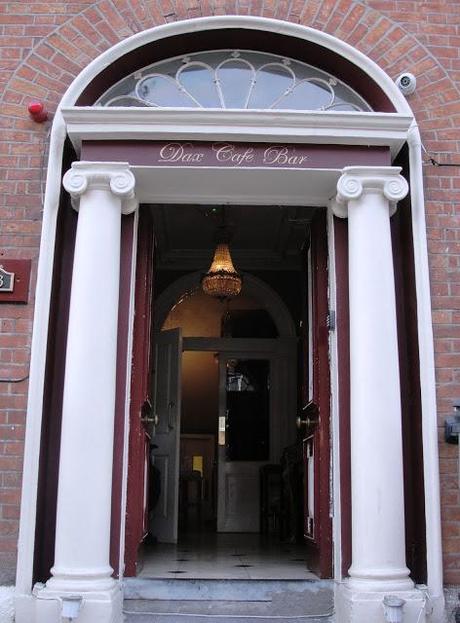 We're very fond of charcuterie plates so it was a given that we'd order that. There's been an upsurge in places offering charcuterie plates and the one from Dax, while of a very high standard, is perhaps one of the more expensive offerings in the city. The price reflects the quality of what we were given though. The slices of saucisson, salami, spicy chorizo and pata negra were all of a supremely high standard and most importantly freshly sliced. I'd like to say what the cheeses were but unfortunately the waiter didn't tell us! I can only guess! I think there was a St Tola goats cheese, some Durrus and some Mileens. There was one that may have been Parmesan though could have been Desmond either. Another tasted like Brie de Meux but had an orange rind. Regardless of the name they were all very good and served at room temperature. Grapes, olives, crackers and gherkins accompanied the plate nicely but I was at a loss with what to do with the apple sauce.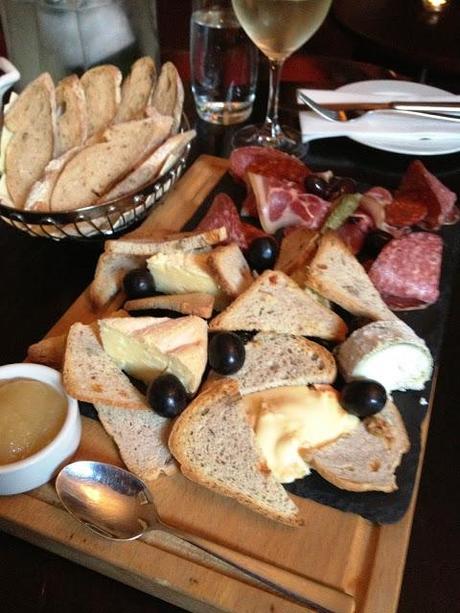 Cheese and charcuterie plate with some sourdough bread.
As our eyes are bigger than our bellies we also ordered a number of small dishes. The tomato and bruschetta was really well seasoned and served as it should be on slightly stale toasted bread. I really liked it and I thought it was quite a brave move as most restaurants use fresh bread.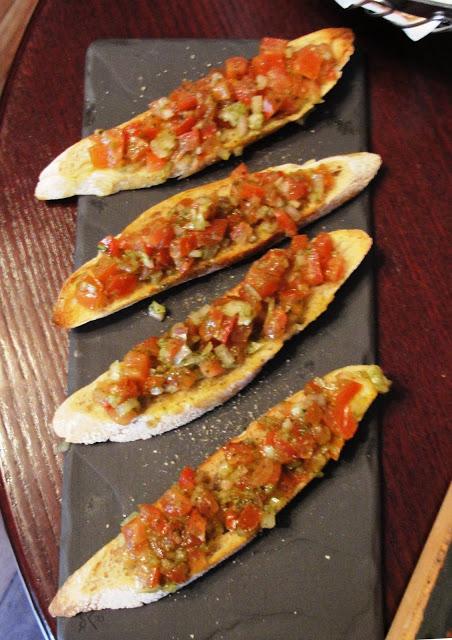 Tomato bruschetta 
The braised beef was absolutely amazing! It was really beyond doubt the best braised beef I have ever eaten. It fell apart at the touch of my fork and was oh so juicy. It was served on a bed of potato with shallots and bacon and all covered in the tastiest gravy. This dish was just divine, the only thing I was upset about was that I had to share it!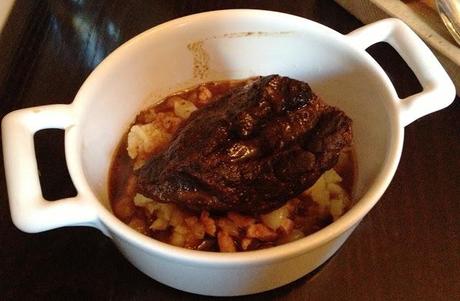 Braised beef
There are only a few desserts on the menu of which we chose the chocolate tart. It was a good choice. The tart wobbled as I tipped it, always a good sign! It oozed warm gooey chocolate which was nicely complimented by some vanilla ice cream.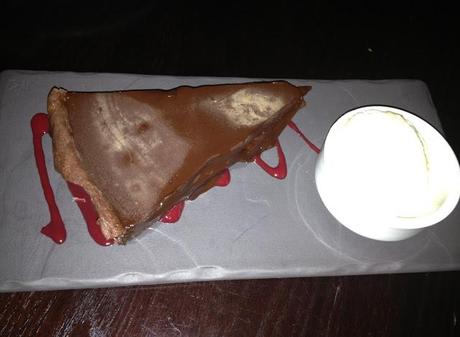 Chocolate tart with vanilla ice cream 
There is an extensive wine list with offerings from most wine producing regions, we went with a French one though in keeping with the theme of the restaurant. The Domaine D'Augeron was light and fruity, perfect for a summer evening. It came in an ice bag which I'm not so sure about, it seems a bit tacky but it kept the wine cool which is, I suppose, all that matters. If beer is your preference Dax have a number of good quality beers on offer.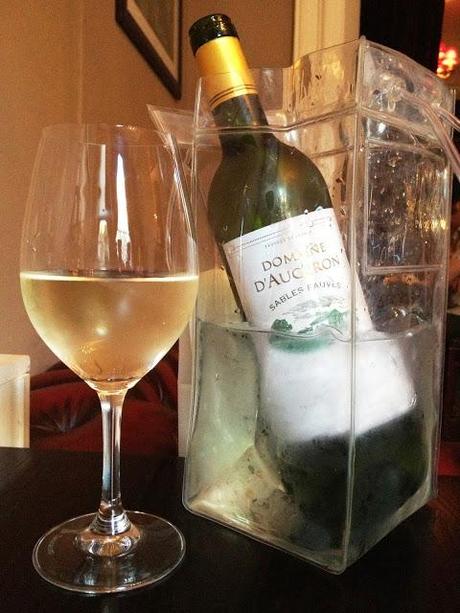 Wine in a bag? The jury's out here!
Dax is chic yet comfortable. The low lighting (terrible for taking pictures!) and the relaxed atmosphere combined with pleasant service make it a place I always long to linger in. While it might not be very centrally located it does seem to have a very loyal following of customers, who, like me return again and again.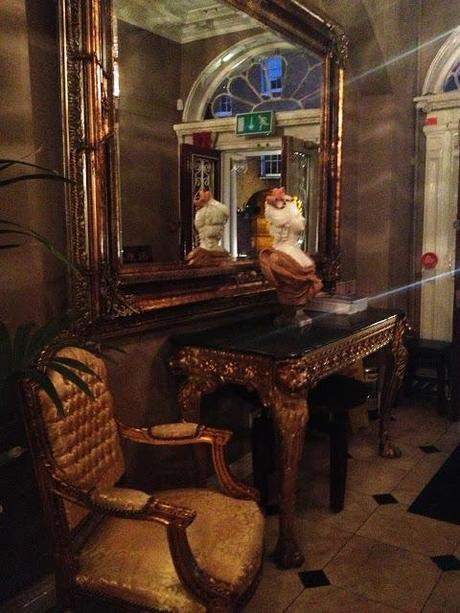 Chic interior
Dax Cafe Bar
23 Pembroke Street
Dublin 2
01 6629381
http://www.dax.ie/cafe/home.html