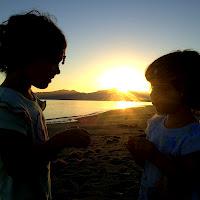 It's no secret that when you have a sick child no one gets much sleep.  Little Lotti has a case of the flu at the moment.  Whilst she seems to be able to sleep through her own coughing, sneezing and wheezing, the rest of us can't.  To give her sister Mimi half a chance, Lotti has been moved out of her room and onto a little couch in our room.  It makes it easier to look after Lotti during the night; but of course, it's noisy.  So, h
alf way through the night when 
Mimi woke up and realised that her sister had gone and called out sorrowfully, "I'm all alone," I happily pulled the pillow off my head, ran to the rescue and jumped into Lotti's empty bed.  
Sure, it was a single bed, cold, with a guard rail, and filled with dummies and dolls, but that small space was silent
In the past I've blogged about how I've used my insomnia to invent crafty ideas; there's no doubt much of my inspiration comes in uninspiring moments.  Not last night.  Last night's sleeplessness was filled with a longing for the night to be over and for tomorrow to come.  When I was at my grumpiest however, I suddenly remembered our last summer holiday away.  
Sleep is often high on your to-do agenda when you're on holiday, however, I remembered the day when both girls were awake and restless and we convinced them to take a walk on the beach in their PJs to see the sun rise.  It was a magic moment.
So I guess today's blog post has nothing to do with parties or craft, but it is about sharing a secret; finding time to rest is important, we need it; it's vital to restore our souls, recharge our batteries, reinvent ourselves... but in those moments when it alludes us, perhaps rather than become bitter and twisted (as I am oh so want to do) perhaps it can't hurt to think outside the rectangle so to speak, leave our tired old ways behind us for a moment.  Perhaps by swapping old habits for new and mixing things up a little bit, we might just be gifted with unexpected delights. x