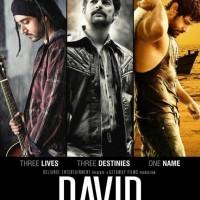 Movie: David
Director: Bejoy Nambiar
Cast: Neil Nitin Mukesh, Vinay Virmani and Vikram
Rating: ***
David is food for thought. Bejoy Nambiar in his second directorial outing leaves his audiences with a thought – Sometimes wrong seems to be right. Circumstances might make wrong appear right but in fact, wrong can never be right.
To establish this philosophy, the director uses the life-stories of three men born in three different eras. How their otherwise individual and separate destinies get interwoven thanks to a series of political, romantic and religious turn of events forms the essence of this story of situations and characters.
The success of Bejoy Nambiar's last venture 'Shaitan,' which was a sleeping hit, has made 'David' a highly anticipated film of the year. But will Nambiar's three Davids kiss the standards set by his young Shaitans? Yes and No.
Yes because, just like Shaitan, David is an intelligent film that sheds light on human tendency to presume, assume and be judgmental. No, because unlike Shaitan all the characters in David don't shine out completely. Also because, where Shaitan didn't have even a single dull moment, David looks dragged in a few sections.
So, David traces the life journeys of three Davids. First (Neil Nitin Mukesh), living in London of 1975. One day he discovers that the man he considers his Godfather (Gangster Ghani) But Ghani loves him more than his own son. Second David from Mumbai of 1999, played by Vinay Virmani is a zesty Guitarist who dreams of making it big in the world of music. But one incident involving his Priest father, religion and politics changes his life forever. Third David, played by Vikram lives in 2010 – a happy-go-lucky Goan, he leads a life that's drenched in booze. He is the liveliest David, but even he has pains to deal with. He has a grudge against brides, which he vents out in a strange way; he talks to his dead father and finds a best friend in a masseuse (Tabu). How will three Davids come across? What will happen when they cross roads? Find out as you explore this emotional roller coaster.
David opens to grip your senses but takes entire first half to establish the lead characters. It is in the first half that you feel the need of speed despite the presence of action scenes. Second half moves swiftly, but you can't ignore the length that proves to be demanding on your senses. However, climax holds a convincing surprise that makes you think.
Performance wise, Neil Nitin Mukesh wins hands down. Without having very less words to himself, Neil nails the character. Be it expressing his emotional tension or his suppressed passion for Monica Dogra, the man gets it all right. Monica on the other hand looks impressive in emotional scenes, though she has to do away with that accent. Vikram's comic timing is great and he his chemistry with Tabu is commendable. However, his character could have been deeper. His track leaves you wanting more. Tabu is awesome as the notorious owner of 'Frenny's Massage Parlour'.
Last but not the least, Vinay Virmani looks fresh. Growth of his character from a carefree son to a responsible one is well expressed by him. Isha Sharvani looks beautiful and acts decently, but we wish she got some more screen presence.
R. Rathnavelu, PS Vinod and Sanu Varghese's cinematography is commendable. The 1975 era looks beautiful when captured through a black and white lens. Music gels with the story, with no song looking forced. Remo Fernandes' Goan number is foot-tapping while 'Damadam Mast Kalandar's modern adaptation sets the right mood.
Minus the trivial glitches, Nambiar's attempt at experimental cinema emerges a hit yet again. With David, the director gives us a film that's different and teases our intellect. A must-watch for those who vouch for a unique cinematic experience!
Written By,
"Sanjeev Kumar, an avid movie buff, is the part of www.movieplus.com – India's leading site for reviews, news, Photos and videos about Bollywood & Hollywood movies, Celebrities etc. He is passionate about movies and believes that movies should be detail driven and not sell on marketing alone.