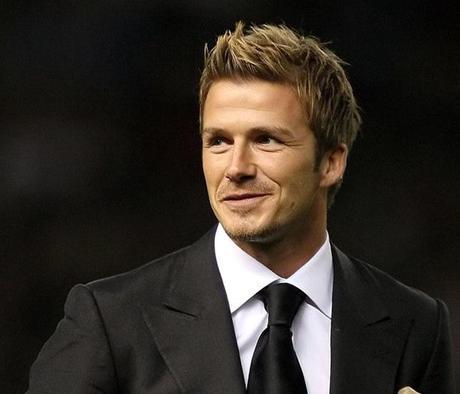 Here around Europe it is football transfer deadline day, the last chance clubs have of signing up new talent for their clubs before the end of the season. David Beckham has signed on the dotted line for French super club PSG, so he will be off with his kids and Victoria to Paris for a final swansong. Think about it, he hasn't done bad for an East London lad, has he? From Manchester United, probably the most famous club in the world to Real Madrid, to Milan to play for AC, Los Angeles and the Galaxy, playing and being captain for England of course and now to Paris to finish off an incredible career. Add in being an ambassador for the London Olympics, fashion icon, model, and through it all he has kept his image clean cut and I have never heard him say a bad word about anyone. How does he do it and what is he like? Lets have a quick look at his horoscope.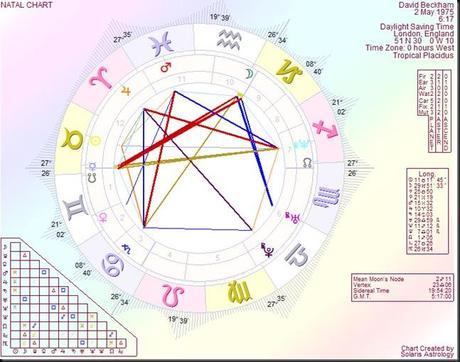 David was born in East London on 2nd May 1975 at 06.17 (according to Astro databank) and is a Sun Taurus and Ascendant with a late Capricorn Moon. As you may be able to tell just from these three indicators, this is a man who keeps his feet firmly on terra firma, is very ambitious and is able to build and build on that ambition through determination and steady application. That Moon in his 10th house, conjunct to his Midheaven is trine to his Ascendant, to his energy to acquire. Taureans always want a comfortable lifestyle and this comes through his career ambitions (Capricorn Moon/Midheaven), having control of his image and his way doing things (Moon in 10th) and his physical attributes (Ascendant). Taurus is ruled by Venus, the planet of beauty, so no wonder with this Taurus Ascendant and Venus at the end of his 1st house and on the cusp of his 2nd that he was blessed with good looks. That Venus affects his 2nd house of personal finance bringing him fortune in this department of life as well as showing that he would make money through the way he appeared. Venus squares to Mars the planet of sport, indicating that this would also be an avenue to fund a comfortable way of living. This square between Mars and Venus indicates a warmly romantic streak that lies within David, and it provides a strong attraction to the opposite sex.
Mars in Pisces does present a dreamy sexuality and a compassionate and vulnerable side that I guess women pick up on very strongly. This is a placement which is very gentle and non-aggressive, and that was never David's style of play, being far more the creative type of footballer. Sitting in the 11th house, this shows David to be very much the team player, someone who will play for the benefit of the whole and not just for himself. Saturn forms a trine to Mars bringing a link again between career and sport as well as great determination and energy. He has always been very loyal not only to his family but also to the fans and for whoever he plays, giving his all in a no nonsense manner. I guess that's why football fans appreciate him so much. Mars receives a square from Neptune the planet of inspiration and vision, and this is a key to him being a great technician on the pitch, he could strike a ball from far away and put it on a sixpence, a rare talent which needed the vision that only Mars conjunct Neptune square to Neptune could give.
Neptune sits in his 7th house of marriage and so it would only be a dream girl, or in his case a singing star in Victoria (Neptune rules music) that could have persuaded him into a permanent relationship. Leo rules his 5th house of children as well as sport, so David will be very proud of and dearly love his children and he will give them as much love as he can. Leo adores the limelight, so just as he is in the spotlight in football, he will encourage his children to follow him into showing off their talents too.
Jupiter and Pluto oppose in this chart, Jupiter in Aries in the 12th house and Pluto in the 6th of everyday routine. This shows David as a workaholic, able to get his nose to the grindstone, and through all this hard work, benefits come. This opposition focuses via a trine from Jupiter and a sextile from Pluto onto his inspirational 7th house Neptune which  represents his wife, and through this wedge formation you can see that his huge wealth (Jupiter/Pluto) and international (Jupiter) fame and power (Pluto) has been influenced in some part by the actions of his wife (Neptune), who pushed him to create his image and create his mystique (Neptune). Uranus the planet of independence and unique talent sits in his 6th house of routine and health makes a square to his Moon and Midheaven, which brings a spark of genius to everything he does. His life will have to be spontaneous and exciting as must be his everyday work with plenty of variety, a normal 9 to 5 job would never suit him. Uranus is associated with cool glitz and glamour, something which is so attractive but yet almost untouchable. That is David career in a nutshell so far. 
He is a quiet individual, not a great speaker and this is due to Mercury and his Sun sitting away in his hidden 12th house. This is a part of his life that he has had to develop, especially as Saturn sits in the 3rd house of communication too. Eventually, Saturn teaches you how to communicate effectively, but it takes a long time to master. I remember early on in his career, David was rather shy if even timid in talking to the  TV cameras reflecting the 12th house instinct not to open up. Neptune quindecile to both Mercury and the Ascendant soften the personality and the way one communicates and brings an uncertainty, at least until one gains confidence. With the Sun in the 12th house at the point of a mini grand trine to both Mars and Saturn, I can see David staying in sport once he hangs up his boots and moving into a more behind the scenes administrative role with in the game, maybe as a senior representative for the English Football Association, a role I think he would be perfect for. David with Cancer covering his 4th house will be hugely patriotic and will love his home life and mother, and a role in service, promoting his country and the sport he loves fits the bill of this mini grand trine focused on the 12th house Sun.
David's final move of his career comes as transiting Saturn now at 11 degrees Scorpio, the planet ruling his Midheaven makes a direct and exact opposition to his natal Sun at 11 Taurus. Transiting Jupiter is moving through his 1st house now which brings him optimism and fortune, and it is now trine to his 6th house Pluto, so another big payday and contract is coming his way. Lucky David. I say lucky, but he would not have got anywhere and may have stayed in his native East London, had it not been for his exploitation of the natural talent he possessed and sheer hard work that he has put in over the years. Fair play to him for that, and it shows that we can all achieve some of our dreams if we make the most of what we have.