In May 2008, I went traveling on my own for the first time and was out of England for a month. Along the way I took in Singapore, New Zealand, Australia and Thailand before coming home. I kept a journal of my time on the road, so here's a day by day account of my trials and tribulations that has the undeserved title of Dave's Odyssey. 
Day 9 – Queenstown – Fox Glacier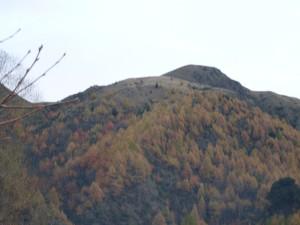 View from Arrowtown
A 6.00 a.m. wake-up call heralded the start of a new day. These early starts made me feel like I was back at work sometimes. Our entire group was reunited as we bid farewell to Queenstown and made the long journey to Fox Glacier. Our first stop was Arrowtown, which is a nineteenth century settlement and many of the buildings still look that way. They have a bizarre tradition where all new housing has to be a close to the nineteenth century version as possible. The mind boggles!
From Arrowtown we pressed on until a brief stop at Kawarau Suspension Bridge. This is the one used for the first commercial bungee jump back in 1988. Strangely enough, one can pay extra for the privilege of having their head dunked in the water when jumping! The continually cold weather would probably have ensured there were no takers on this day.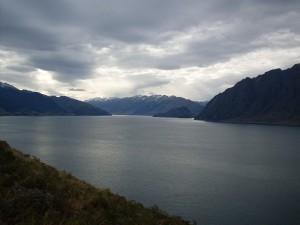 Lake Hawea
Our next stop was at Lake Wanaka, which was overlooked by the aptly named town of Wanaka. Wanaka was a miniature version of Queenstown and didn't take long to walk around. The town did have the privilege of selling me my first souvenir. The highlight of the town was a stroll down one of the piers stretching out into Lake Wanaka. The water was clear enough for you to see to the bottom and in the depths swam a group of black trout that were simply huge.
Two more photo opportunities came at Lake Hawea and then at Thunder Creek Falls. There was then a slight delay as a handful of our party went on an optional outing on a Shotover Jet, which carried them down a nearby river at high speed. Our coach drove alongside until the daring bunch reached the end of their outing. Before you ask, no one fell off!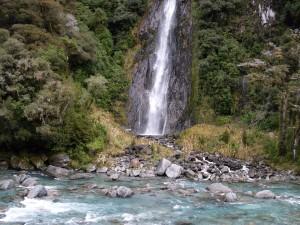 Thunder Creek Falls
While this was going on I got chatting with two friends – Linda and Angie – who were traveling together. Despite being a passionate Liverpool fan, Angie showed no malice when I revealed my blood ran Barnsley red. Linda, on the other hand, tried to advise me on my career dilemma back home using the example of a friend's son. He joined the army after school, dropped out, came to New Zealand, and now works at Wanaka as a skydiver. I was told to emigrate and start afresh. One big step at a time methinks.
Having collected our fellow travellers, we pressed on for Fox Glacier. The scenic route was a winding road through sumptuous rainforest. The occasional break in the foliage allowed us sight of the Tasman Sea which, at one point, must have been ten yards from us at most. Wonderful.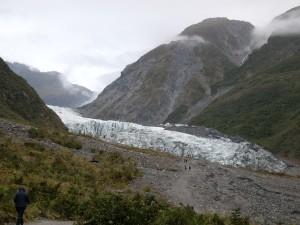 Fox Glacier (from a distance!)
Before reaching the town of Fox Glacier, we took a detour to have a look at the glacier itself. We were given around fifteen minutes to have a wander and take some photos. A notice detailed two journeys – one was to a hill offering a good, but distant, view of the glacier which took five minutes, the other was all the way to the glacier itself and took an hour. When the tour group made the short walk to grab a picture, one of our party – Alison – wandered farther ahead than any of us and kept going!
Back at the coach the allotted time to set off came and went. We were all back except Alison. She did show ten minutes later and lucky for her the coach waited. If only I'd been so fortunate in Singapore! The lack of punctuality at the Night Safari has had some benefits. I'm the butt of jokes in the group, which is fine by me. Whenever we make a stop one guy – Alan – always ensures I can recall where the coach is and how much time we have left before departure.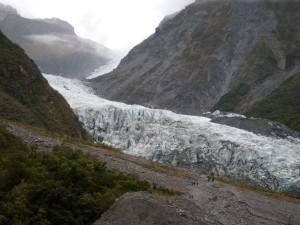 Fox Glacier (as close as I got!)
We reached the town of Fox Glacier around 5.30. Dave had informed us the place was small and he wasn't joking. It took me five minutes to walk round the town and that included a browse through the souvenir shop! Fox Glacier is just a road with a couple of shops, pubs, restaurants, hotels and a garage on either side. A smaller road leads off from the main one to some housing but that's pretty much it. Think of that pub in Cheers where everyone knows your name, well, I imagine this town is similar.
The hotel is akin to the peculiar as well. The shower and toilet are in one room, while the bathroom sink is next to the television and fridge. Maybe it's common to wash your hands and brush your teeth while watching television, I don't know! Tomorrow we say farewell to the cold, south island of New Zealand and hello to the warmer, north island. Improved weather won't go amiss. I had three layers on today!
Enjoyed the read? Subscribe!