In May 2008, I went traveling on my own for the first time and was out of England for a month. Along the way I took in Singapore, New Zealand, Australia and Thailand before coming home. I kept a journal of my time on the road, so here's a day by day account of my trials and tribulations that has the undeserved title of Dave's Odyssey. 
Day 29 – Sydney – Thailand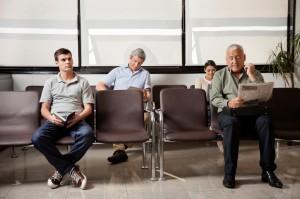 It was one of those days!
I woke before 4.00 a.m. having managed very little sleep. It didn't take long to pack my backpack so I had time for a quick cup of tea before heading for the airport. It was raining in Sydney as we set off but at that time the roads were pretty quiet. On reaching the airport and checking in alongside a rugby team we were delighted to hear our 7.00 a.m. flight had been delayed till 9.00. Cursing our luck, we said farewell to Alex before heading for a free breakfast, courtesy of Quantas, at a nearby café.
While waiting for the flight I started yet another book which I would finish long before the day was over. The delays kept on coming. Our flight was pushed back to 10.00 before we finally got on board. The pilot then proceeded to drive along the runways for half an hour before we were finally airborne just after 11.00.
Due to the errors and delays Quantas served us a second breakfast for our lunch! They did make up for it with a light meal later on and even an ice cream to top it all off. Nice. Every time they served me something I worried it was going to taste awful but thus far the food had been nice and as far as I could recall no two meals had ever been the same.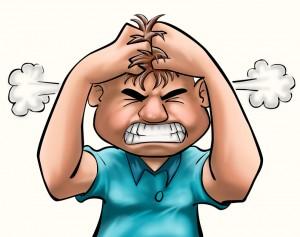 The day became a little too much for some people!
I wasn't far into my second book of the day when we closed on Bangkok. It had taken us just short of 9 hours but didn't feel that bad to be fair. When I wasn't reading I was chatting with a couple from New Zealand, heading for Thailand to visit their son. They were looking forward immensely, of course, so I didn't share my reservations about the country.
On landing I was one of the first in our group to tackle Thailand. You felt the humidity even in the airport and, to make matters worse, it was a hell of a long walk to Immigration. Once there you felt like you were being heavily scrutinised and indeed you were. Not content with two footprints telling you exactly where to stand, each desk had a small camera that shifted here and there to presumably check your face against the passport. Why the staff couldn't just use their eyes I really wasn't sure.
So far everything was going swimmingly. I was fortunate to get my backpack pretty sharpish then found our Go Touring representative named Charlie. He was supposed to be an Aussie but was far from it. After the brief introduction everything went wrong.
I've mentioned Alison a lot in this journal, well, on this day she annoyed a lot of people. On collecting her suitcase she found the wheels had come off and so she was immediately fuming. I didn't see the incident but from what I heard she laid into the airport staff and had to be moved along by two couples from our group as the staff were beginning to lose patience. In our group Alan, alias "Admiral," had had a suitcase damaged back in Alice Springs and sorted it out with no problem. Did Alison think of consulting him for advice? No. She went in all guns blazing. On meeting our tour guide he tried to assuage the problem by assuring Alison it would be dealt with the following day on our return to the airport. That wasn't good enough for her and as a result we were stuck at the airport for an hour longer than we expected. Coupled with the flight delays throughout the day everyone was pretty fed up at this point and understandably tired.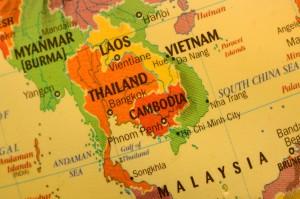 In the end we made it safely to Thailand and the end of our month long tour.
Driving to our hotel my foreboding about Thailand became much worse. Bangkok looked great but below the high buildings were what looked like slums, certainly not the sort of place I wanted to wander around on my own. Charlie didn't help the situation by warning us of pickpockets and con artists all looking to make some easy money out of us hapless tourists. Add to that the insistence of most retailers to haggle when selling anything and my unease about the place was accentuated.
We reached the hotel around 7.00 and were greeted by staff that bow whilst simultaneously clasping their hands together as if in prayer. That level of politeness is very comforting, not the sort of thing you'd get back in the UK. Most people in my group chose not to stop and bow but yours truly acknowledged this lovely gesture and received a second bow for my troubles. While waiting for our keys we received a free drink and am unsure what it was but it was nice all the same. I can tell you it was green so that should narrow it down to a few hundred possibilities. My check-in details had renamed me as Mr. Brow as well. At least it wasn't preceded by "High."
Some members of the group were hopeful of getting two nights in Thailand but Charlie informed us it would be just be the one night. Tomorrow he would take us on a city tour that included two of Bangkok's finest temples. We were due to leave the hotel tomorrow night at 9.00 for that flight to London just after midnight. I wasn't sure what I would do in the afternoon. Having heard Charlie's accounts of the eager pickpockets I was possibly resigned to hanging around the hotel unless I could see the city along with a group – safety in numbers and all that. I was certainly not planning on wandering around alone. Having seen so many wonderful things on this tour it was annoying that we should have had a frustrating day like this one. Hopefully plane delays wouldn't plague the journey home. 
0