In May 2008, I went traveling on my own for the first time and was out of England for a month. Along the way I took in Singapore, New Zealand, Australia and Thailand before coming home. I kept a journal of my time on the road, so here's a day by day account of my trials and tribulations that has the undeserved title of Dave's Odyssey. 
Day 21 – Alice Springs – Ayers Rock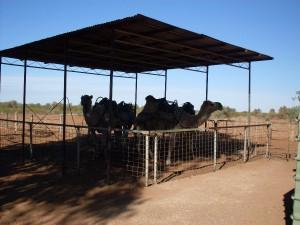 Camel Farm, Stuart's Well
I was awake before the 6.30 a.m. wake-up call and soon prepared to say farewell to Alice Springs. The guy at reception seemed reluctant to let me go. First he wanted to know whereabouts in England I was from, then who I supported in the soccer world – it's football for god's sake! He knew Barnsley and had heard of our FA Cup heroics. Pity he thought it was us that played Portsmouth in the final but you can't have everything, right?
Leaving Alice Springs behind, our coach headed for the characteristic isolation of the Northern Territory. Worryingly, Alex informed us we would see around eight farms in total before reaching Ayers Rock. It was quite alarming just how isolated we were. The Northern Territory had more vegetation than I expected while one farmer's land, we were told, was bigger than Belgium! I hope that was an exaggeration.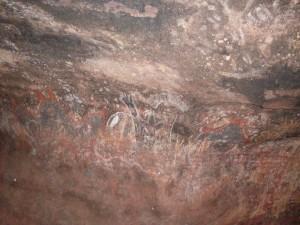 Paintings at Ayers Rock
Being in such remote land meant there were few stops while the road was a perfectly straight line, no corners or anything to worry about. Our first stop was Stuart's Well which was a small settlement comprised of a café and camel farm. The more daring members of the group went for a camel ride, but I found solace in the café with a cold drink. There was a gift shop adjacent to the café while a nearby cabinet was filled with trophies from camel racing. I couldn't quite picture the spectacle but it seemed popular out here.
Another drive through the unchanging land continued before our next stop at Mt. Ebenezer Roas House for lunch. With Alex predicting we wouldn't reach our hotel till after 2.00 most opted to stock up on food there and then.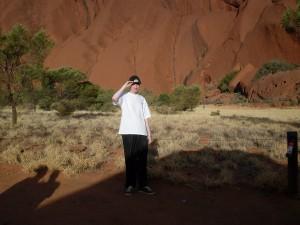 This is me at the base of Ayers Rock!
The last leg of our drive to the hotel was aided by a general knowledge quiz. 30 points were on offer but I found most of the questions tough. Two answers I was told by groups conferring around me but I opted to leave those questions blank. If you can't win on your own what's the point? While Alex marked our quizzes we stopped off for a photo of Mt. Connor. Back on the couch the results of the quiz had yours truly score a pitiful 15/30 while the winning couple managed 22/30. Most amusing was that Alison – The Lord of the Rings enthusiast – didn't know the British actor that appeared in both the Rings trilogy and Troy. She put down the wrong answer as did two friends she was conferring with. The winning couple received a pair of cuddly toys so I wasn't too heartbroken to have lost out. So much for my university education though.
Now, with Alex we constantly seem to be rushing and today was no exception. On reaching the hotel we had 20 minutes to get our suitcases, take them to our rooms and be back on the coach. Everyone managed it but the consensus view was one of annoyance.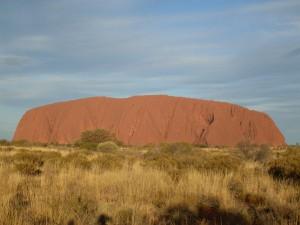 Sunset at Ayers Rock (5.00 p.m.)
We'd already sighted Ayers Rock from a distance but now we saw it up close for the first time. I have to say it exceeded all my expectations. I didn't realize it was so big, more like a mountain than a rock. Alex gave us a tour of the base pointing out a few key areas including some wall paintings and clear imprints where waterfalls have eroded the surface of the rock. It truly was as impressive as I've heard from various sources.
We had a breather from Ayers Rock to visit an Aboriginal Cultural Centre. Here we learned more about these fascinating people though once again we were on borrowed time trying to learn as much as we could. The sanctity of Ayers Rock was further emphasised here and Alex informed one member of our group – Alan – that we wouldn't be allowed to climb it. This didn't matter to me because I had already made the decision not to climb the Rock out of respect for the Aborigines.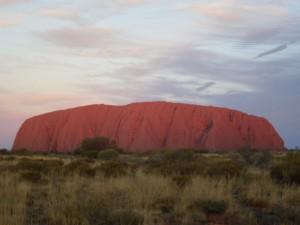 Sunset at Ayers Rock (6.00 p.m.)
The group had another brief stop at the base of Ayers Rock where the daring enthusiasts were climbing. Dozens of people have been killed climbing Ayers Rock but still the adventurous persevere. Some members of my group let me down by climbing the first bit of the sloping path before heading straight back down rather smugly. I didn't see the point. Either you go home saying you climbed it or you don't bother. Seems pitiful just to say I stepped on it. So much for respecting the Aborigines. I stuck to my guns on this one and stayed well clear.
Our final stop became another undoubted highlight of the entire tour. A lookout spot packed with coaches and tourists was our location for the next hour. Our coach captain had brought stools for most of the group but not all. Those at the front of the coach – young and old – grabbed their seats and weren't concerned about those at the back whatever their age. I was fine but some of the more elderly members of the group simply had to make do with standing.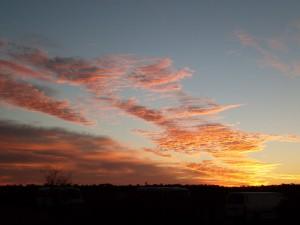 Skyline at Ayers Rock
The tour company had put on a fine spread for us despite the stool fiasco. An assortment of snacks washed down with champagne or orange juice were on offer while we watched the changing color of Ayers Rock as the sun began to set. Alex advised us to take a photo as soon as we arrived then another at ten-minute intervals to see the true effect. I took five pictures in total but didn't see much change until the very end. It was only when I looked back through my photos that I saw the contrasting colours. Truly amazing. Even the skyline was worth a photo or two before the sun finally set and we made our way back to the hotel.
Due to our brief stop early in the afternoon, I still didn't know how the hotel looked in daylight. We would leave Ayers Rock tomorrow for Cairns and the Great Barrier Reef. The last leg of Australia was upon us as we worked our way down the east coast. It had been an absolute pleasure being in Australia and there was still more to come.
Enjoyed the read? Subscribe!