In May 2008, I went traveling on my own for the first time and was out of England for a month. Along the way I took in Singapore, New Zealand, Australia and Thailand before coming home. I kept a journal of my time on the road, so here's a day by day account of my trials and tribulations that has the undeserved title of Dave's Odyssey. 
Day 19 – Melbourne – Alice Springs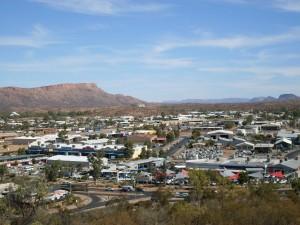 View of Alice Springs from Anzac Hill
Alex's 5.30 a.m. wake-up call came fifteen minutes early but I was already up so it didn't matter. We left the hotel at 7.00 and said goodbye to Melbourne. At the airport Alex had devised a group check-in which comprised lining our luggage up in pairs then sending the women out of the way while we gents carried each suitcase into the conveyor belt to go on the plane. That aside we didn't have to show our passports or anything. There was the usual security check and for some a close examination for chemicals, such as glycerine, which Alex informed us is in moisturising creams. Good to know! Thankfully I avoided one of these rigorous searches, not that I had anything to hide.
The flight to Alice Springs was around two and a half hours. Once again, Quantas were very concerned about our welfare and brought a sandwich to keep us alive along with an assortment of drinks to stave off dehydration. They do look after you.
Touching down in Alice Springs you immediately felt the change in temperature. It wasn't sweltering but was warmer than New Zealand and Melbourne. The airport was a small building bereft of stairs and escalators. They weren't kidding when saying Alice Springs is in the middle of nowhere. All around you could see the red sand with the odd tree, bush and grass growing here and there. To be fair there was more green than I anticipated.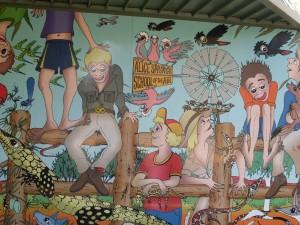 School of the Air
There was a delay at the airport as one of our party had had their suitcase damaged. When we eventually got going Alex informed us we would be rushing through our tour of Alice Springs and it turned out he wasn't kidding.
The first stop was a look out spot on Anzac Hill. This gave us a great view of the town, which was bigger than I expected but does home 30,000 people, including the aboriginal settlers who have been there for centuries. I'd made the mistake of leaving my cap in my backpack so had to make do until we reached the hotel. As it turned out it was the flies that were more annoying than the heat.
We headed for the School of the Air next. Inside we watched a ten-minute documentary then one of the staff had a chat with us about the school. It was first established in 1951 and by using radio brought education to hundreds of children scattered throughout the Outback. The school uses the Internet these days but it's still a remarkable feat. These children learn from home, assisted by a private tutor, but also spend a few hours a week logging onto the Internet at an agreed time and taught on-line. Unfortunately, we didn't get to stay long at the school before we had to move on but it was interesting all the same and has been copied throughout Australia so now no one misses out on an education.
Next up we stopped off at the Royal Flying Doctor Service. Again we had a video to watch then a talk with one of the staff. The Flying Doctors have been in operation for some time and ensure medical help isn't far away for those in the Outback. They have dozens of spots where they are able to land safely so many people have to drive to the nearest landing zone. They do a great job all the same.
Due to Alex's brief stops at these destinations I wasn't able to look round the museum area. This was due to needing a bottle of water and because the café there must be the slowest service on record. I was okay buying water but some of my group ordered teas and coffees but didn't get them before we had to leave, so marched back into the café to request a refund. Some were successful as well.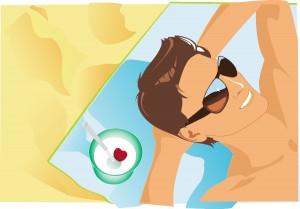 The hotel promised relaxation in the sun for many, but not for me. I was more interested in traversing the Outback.
Our last stop was at the Old Telegraph Station, one of the earliest settlements in Central Australia. Many of the buildings had been preserved and one had been specially restored as a mini-museum detailing the origins of the small settlement and its significance as a communication center. We were on borrowed time once more so had to rush through our visit.
We reached the hotel late in the afternoon following a brief drive through the main shopping area of Alice Springs. There were a lot of aboriginal people who seemed to keep to themselves. Relations between the Aussies and the Aborigines are still somewhat fragile unfortunately. We were warned to treat the Aborigines courteously and not to take photos. I'd done some research before my travels began and was determined to abide by all customs and traditions and remember I was a guest here.
The Lasseters Hotel was rather exotic with a built-in casino, three restaurants and a couple of swimming pools as well. I had a quick look around the casino but that type of gambling I don't follow nor ever desire to. I didn't go into Alice Springs as a bus/taxi ride was recommended from the hotel and the shuttle service had already passed. Having seen the main sights of the town I didn't feel regretful about not being able to wander the town center. It was just shops mostly and I planned to do my last-ditch souvenir shopping in Sydney anyway.
Tomorrow was a free day for those who were relaxing by the pool and working on that suntan. For me a day in the Outback beckoned. It was an 8.20 start but having been up at 5.00 a.m. for the last two days it would feel like a picnic.
Enjoyed the read? Subscribe!