In May 2008, I went traveling on my own for the first time and was out of England for a month. Along the way I took in Singapore, New Zealand, Australia and Thailand before coming home. I kept a journal of my time on the road, so here's a day by day account of my trials and tribulations that has the undeserved title of Dave's Odyssey. 
Day 14 – Rotorua – Auckland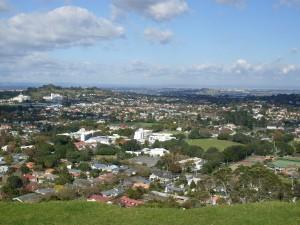 View from Mt. Eden
Ah, the 7.30 a.m. wake-up call. I could get used to this. Amazing to think I was staying in bed while 9.00 before this tour. I'm sure my routine will be completely messed up on my return to sunny England. We left Rotorua at 9.00 and made the morning journey to Auckland. Cameron stopped off in Matawaka on the way, which was almost deserted when we arrived. The majority of the townspeople were at church. It was Sunday after all.
More Lord of the Rings references came through. Matawaka is close to the setting for the Shire in the first film. Indeed, just beyond the point where we had stopped was a little shop called Hobbiton. I shouldn't laugh but Alison, who had been really upset the other day when Cameron didn't stop so she could take a picture of Mount Doom, was frustrated again here. She was frantically trying to turn on the camera as we pulled away from the coach stop and sat at some traffic lights. The lights changed just at the wrong time and Alison failed to get that prized picture once again. I'm not being cruel but if you're THAT keen to get Lord of the Rings photos why not go on the tour they have which takes you to all the sights?
As we closed on Auckland there were one or two sights along the road which were worth repeating here. I saw one poor chap walking towards his car with some petrol having clearly run out of fuel. That was bad enough but as we continued along the road it was ages before I saw a single petrol station. He must have walked a fair way.
Road signs are not usually an area of interest for me but the ones on the road to Auckland are simply genius. Speeding is a problem anywhere in the world but I think New Zealand are top of the table in terms of subtlety. A series of messages read as follows:- "Driving too fast: CRASH!", "Ambulance 38 mins," "Surgery to save your life 9 hours," "Spinal unit 6 months," "Grieving for dead passenger – a lifetime," and finally "Arrive alive. SLOW DOWN." My only concern with the signs is that they read like one of those serials and would surely be more of a distraction to the driver. I mean the last thing they need when they're speeding along is something to read.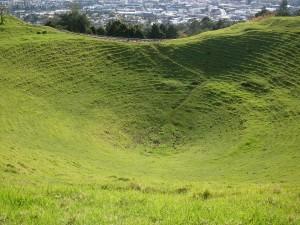 Old Crater
On reaching Auckland it was soon clear that this was definitely a city. The place was gigantic, much larger than Wellington, and that's the New Zealand capital. Cameron took us to the top of Mount Eden to get some terrific shots of the city. As well as the high rise buildings you could see hundreds of ships around the harbours and out on the Tasman Sea and Pacific Ocean, while on the outskirts of the city were hundreds of houses, stretching into the distance. It was quite something.
Mount Eden was also home to a large crater, testament to a, thankfully, inactive volcano. Relief was short-lived as Cameron informed us that there are ample active volcanoes to compensate for the submission of this one. With his assurances that tremors are quite frequent as well, Cameron sure knew how to make us relax!
We stopped off in the city center for lunch before taking a scenic drive across a bridge and back again into the city. The view of Auckland from the bridge was magnificent. Dozens of boats were at sea while hundreds more were all lined up in an aquatic boat park. From Viaduct Harbour we took even more photos before heading for our hotel.
Our home for the next two nights is the Sky City Hotel, the tallest building in Auckland. On arrival we found only half the rooms were ready, despite Cameron calling them five hours earlier with word we were on our way. I was the last to get a card key but the delay wasn't all that much to be fair.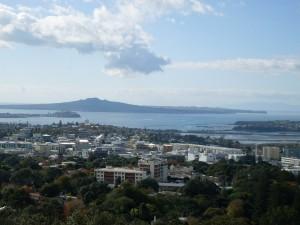 View from Mt. Eden
The hotel room is rather fancy. A flat screen television, a mini-bar with an annoying assortment of tempting treats and some complimentary tea and coffee but no milk! All the hotels have had similar luxuries – not the flat screen TV though – but the Sky City Hotel means business when it comes to service. Their guidelines are strict enough to not allow you to wander to the pool in your swimsuit/trunks. You have to get changed once you're at the pool. Smart dress is the emphasis in this place. Not sure what the hell I was doing here then!
I had an hour wandering Auckland. I stayed clear of most of the shops because I had all my New Zealand souvenirs now and it was too soon to hit the Internet cafes again. I contented myself with a stroll on the waterfront. I did manage to struggle finding my way back to the hotel even though it is the tallest of all the buildings! Word of advice: never go traveling with me.
Tomorrow is a free day so looking through the map of Auckland there seems to be plenty to do aside from shopping. Best make the most of New Zealand. We're heading for the airport early afternoon on Tuesday. If Australia is as good as, dare I say better than, New Zealand then the best of this tour is still to come.
Enjoyed the read? Subscribe!