In May 2008, I went traveling on my own for the first time and was out of England for a month. Along the way I took in Singapore, New Zealand, Australia and Thailand before coming home. I kept a journal of my time on the road, so here's a day by day account of my trials and tribulations that has the undeserved title of Dave's Odyssey. 
Day 12 – Wellington – Rotorua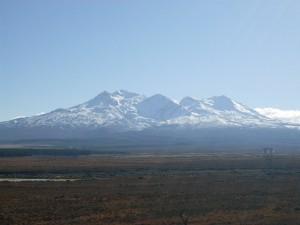 Mt. Tongariro
I got plenty of sleep so wasn't fussed by the 7.00 a.m. wake-up call. After breakfast we set out from Wellington and it wouldn't be until early evening before we reached the Maori center of Rotorua.
The landscape on New Zealand's north island was volcanic and in complete contrast to the south. The odd mountain was still around as were the forests but generally the land didn't hold the same eye-catching traits as its southern neighbor. At least that's how it seemed at the start of the day. Things were soon to change.
We stopped off in the town of Levin for the obligatory café break. I opted to wander the shops and found a terrific souvenir shop. I promised myself I wouldn't buy anything other than gifts for family but I nearly broke my vow here. They had a fine display of dragon ornaments with prices ranging from $30 – $100 which wasn't bad because some were huge. It would have been impractical to sacrifice more space in my backpack though, especially with Australia still to come.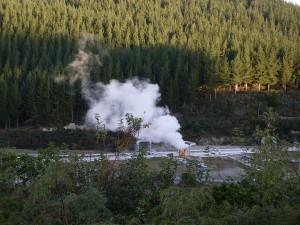 Wairakei Geothermal Power Plant
Having resisted the dragons I next found a collection of knights from the Hundred Years War – both English and French – and they were fantastic. Some were small enough to consider a purchase but again I stood firm and forced myself out of the shop. It was a pity but my photos and memories would be the only souvenirs I'd really need.
We stopped off at a rather peculiar café in Te Hapi. On making your order, cafés usually give you a number for your table. Well, this café did as well only the number were engraved on the side of a small boot. It got worse. Inside the boot was the name of a well-known celebrity. I ended up with Rod Stewart. One couple ahead of me in the queue and from the tour group – Peter and Mary – made the mistake of sniffing the inside of the boot. Their grimaces convinced me it wasn't something I should try myself.
I had lunch with another couple from our group – Eddie and Sandra. "John Travolta" was the name engraved in their boot! They were telling me about their travels and how New Zealand and Australia completed their cycle of the whole world. They must have seen a lot. I was advised not to go to South Africa alone and even the likes of France had a story to tell of the criminals waiting to pounce at night.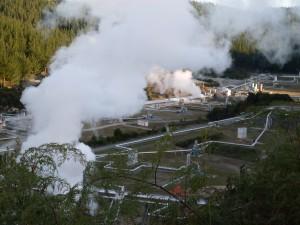 Wairakei Geothermal Power Plant
We pressed on and entered Tongariro National Park. The desert road ran through some fairly barren land but there was still enough vegetation to make me question why the word 'desert' was used. We were given sights of the three volcanoes – Tongariro, Ruapehu and Ngauruhoe. The mountains featured in The Lord of the Rings, though it pained Cameron to reveal that. He wasn't overly keen on the films or the Tolkien tourists. In fairness, much as I loved the films, I wasn't really interested in visiting all the sites where the trilogy was made.
The clouds obscured some of our view of the volcanoes and in our group, Alison, was very annoyed when Cameron didn't stop when we passed the volcano that apparently doubled as Mt. Doom in The Lord of the Rings, at least that's what Alison shouted across the coach. Twice I might add! We did get a good shot of Mt. Tongariro, which was covered in snow and seemed to glow on one side where it was caught by the sun's rays.
We next stopped off at Lake Taupo. There was a typical New Zealand town on its banks and for those that fancied a challenge they could have a stab at a bit of golf. The lake had set up a hole-in-one test; participants had to drive the ball over the water, onto a small barge and into the hole. The reward for this feat was $1000, which seemed a bit low for such a big ask. I felt sorry for the numerous fish that must have suffered hours of golf balls raining down on them.
Cameron wasn't as laid back as the previous day but he still managed to stretch out our journey to Rotorua till dark. He did shed light on his origins, however, and revealed his father was Scottish and his mother Maori. He quipped that such a combination means half of him likes to have a good time, while the other half doesn't want to pay for it.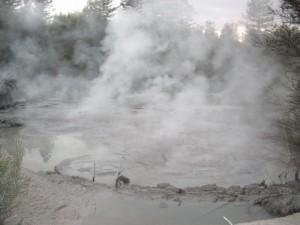 Cameron's Mud Pool
From Lake Taupo we continued along and found some of New Zealand's fabulous forests lying in heaps, the foliage cut away and the timber waiting to be burned when the land was drier. New Zealand is changing. The emphasis is turning towards dairy farming and Cameron informed us quite worryingly that in two years we could come back and find some of New Zealand unrecognisable. It was sad to see the land make way for industry but with annual profits averaging $700k a year it was easy to see why more New Zealanders wanted to get rich from dairy farming.
The volcanic activity of New Zealand's north island became most apparent when we visited the Wairakei Geothermal Power Plant. Rising from the ground were clouds of steam and the power stations in New Zealand harnessed this power. We were able to take some snaps of the station from a distance and what a spectacle it was. The steam rose naturally from the ground and could be found miles from the power station. Running alongside the pipes were drains filled with flowing, boiling water. I'd never seen anything like it.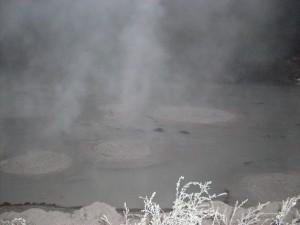 Cameron's Mud Pool
Before Rotorua, Cameron took us to his 'secret mud pool.' It was more than just a pool of mud thankfully. The heat beneath the ground made the pool resemble a bubbling cauldron from some children's fairy tale. The steam was rising from the surface as were thick, squelchy bubbles, which, on bursting, fired small bits of mud into the air. It wasn't an overly pleasant scent but it was a must for the photo album.
We finally reached Rotorua at night and were staying in another Ibis Hotel, same as in Wellington. I only wanted a snack for supper and as luck would have it I'm not just situated opposite the lift but right next to a vending machine as well. Lady Luck was on my side. I got two cans of pop for the price of one. Some people are just blessed it seems.
Tomorrow we would see Rotorua then in the evening attend a dinner and Maori concert. A nominated member of our group would have to act as our chieftain and face the head Maori in a contest of welcome. It promised to be a memorable day. Just what we needed as the farewell to New Zealand drew ever closer.
Enjoyed the read? Subscribe!