Amidst the flurry of cheeseboard recipes being shared, with each person having their own version of cheeseboard, I was stuck with a limited resource of ingredients in my kitchen and so, by chance I happily created a modified version which has been chalking up rave reviews every time I've made it. Not surprisingly, even those who would never have bothered with anything 'cheesy that is sweet' have tasted it without first being told the ingredients, only to find that they love it!
Perfect as a side at braai's or dinner, or even as a decadent snack, it is a recipe that is delightful in it's simplicity especially since it becomes a playground of ever changing ingredients should you be stuck without those which I have used.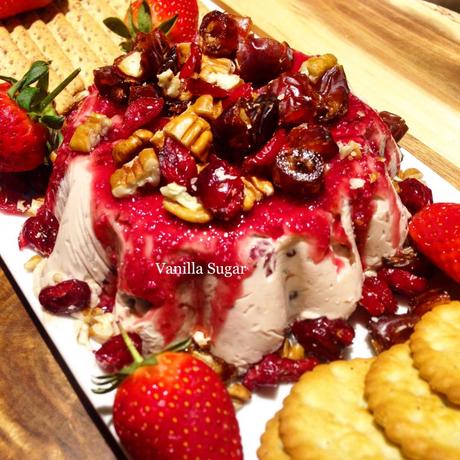 250g cream cheese
2 tsps pomegranate marmalade/ jam
2 full tsps balsamic vinegar
A handful chopped pecans and cranberries
About 10 chopped dates
Set aside a few pecans, dates and cranberries from the above lot.
Pomegranate molasses or Jam to drizzle.
Combine all in a bowl. Place into a mould and freeze for a short while till ready to use.
Unmould onto a plate, drizzle with pomegranate molasses / jam and top with pecans, date and cranberries.
Serve with crackers, grapes, strawberries, melons etc.