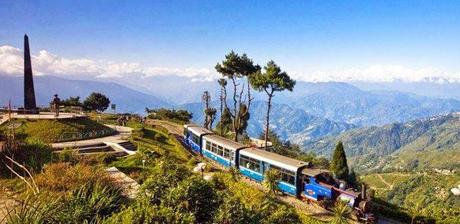 Darjeeling is located in the state of West Bengal.
It is also renowned across the world as the Queen of Hills because of its pristine location. With vision of picturesque snow peaks and tranquillity of hills, it is truly spell-bounding beauty nestled among the majestic Himalayas. The place gives you a vibrant experience with flaming red rhododendrons, shining white magnolias, stretches of rolling hillsides covered with fascinating tea plantations and the magnificent forests of pine trees.
Here is a list of some of its top tourist destinations : -
Tiger Hill
Tiger Hill is one of the popular tourist places of Darjeeling. Located at a height of 7,407 feet, at a distance of around 11 km from the main town, it is the best point in this region for watching sunrise. If you are lucky, the entire Himalayan range can be seen, on a clear day.

Ghoom MonasteryThe sunrise tours to this place are arranged by hotels. Usually, the pickup time from the hotel is around 4 am. It is advisable to reach early in order to secure an idle spot to watch sunrise. Tea stalls are located in this place which will offer you flavoured Darjeeling tea with snacks. There are also shops where you can get souvenirs like handicrafts or picture post cards of Kanchenjunga and Darjeeling.
It is located in a place called Ghoom in Darjeeling, thus the name, Ghoom Gompa. Established in the year of 1875 by a Mongolian astrologer cum monk, it is also known as Yogachoeling Gompa.
As one enters the monastery, you will get to see a gigantic image of Maitreya Buddha (future Buddha). Like many other monasteries of Darjeeling, this monastery also holds some rare Buddhist manuscripts.
As it is located just a distance of about 8 km south from the main town, this monastery has become a popular destination for the ones searching for peace and tranquillity.
Himalayan Mountaineering Institute
This Himalayan Mountaineering Institute is the ultimate destination for every mountaineering enthusiast. You should visit this place, if you have the right courage, stamina and passion to try something different. The institute is one of the oldest mountaineering institutes of India, which has played an important role in educating climbers across the country.
In order to promote mountaineering as an organized sport in the country and honor Norgay and Hillary's historic conquest of the Everest, the institute was founded with the personal initiative of Jawaharlal Nehru, the first prime Minister of India.
There are many other prominent tourist destinations in Darjeeling and its surrounding areas which give you a breathtaking experience.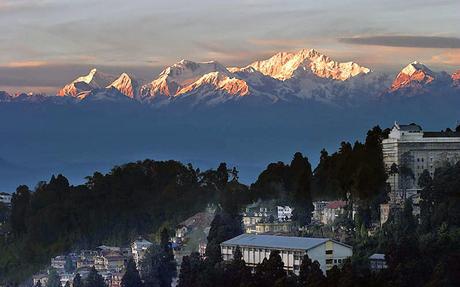 Weather of Darjeeling
The place offers a moderate climate throughout the year. Still the best time to visit Darjeeling is from September to June.
Winter starts from December to January, with average temperature of 5-7 degree Celsius and the minimum can be below -2 degree Celsius. Snowfalls are not too common but it is the ideal time for honeymoon couples.
Spring starts from February to March and has a delightful and moderate climate. The season is appropriate for picturesque beauties.
Summer is from April to June, with the maximum temperature of around 25 degree Celsius. It is the ideal time for all tourist activities.
Monsoons start around July to August, with heavy rainfall and landslides.
How to Reach
By Air: The nearest airport to Darjeeling is Bagdogra, at a distance of around 95 km. It takes around 3 hrs to reach Darjeeling from Bagdogra. Flights from all major cities are available from this airport.
By Road: Darjeeling is well connected with all major cities nearby, namely Gangtok and Kalimpong which are located at a distance of just 100 km and 51 km correspondingly. It is also connected with Kolkata which is 651 km away and takes 14 hours to get there. Kathmandu, the capital city of Nepal, is just 310 km away.
By Train: The nearest railway station is New Jalpaiguri which connects the place with all the major cities of the country.
Visit this place and you will surely have a lifetime experience.