Culture is a very important aspect of any place or a group and plays a very important role in creating their identity. It gives them a face and recognition in the world and also a distinct identity. It varies from place to place and time to time. It keeps evolving and changing over time and conditions. Darjeeling is a place with a unique and beautiful culture of its own. Its natural beauty is unquestionable, but its culture is equally attractive as well. The culture of any place comes from the people that live in it. Similarly the dominant culture of this beautiful hill station also is derived from the different groups of people that live here, mostly the Nepali speaking Indian Gorkhas. The Gorkhas are usually Hindus, atleast most of them, and they follow mostly the Hindu tradition, however there are certain aspects of their culture which are unique and interesting. Besides these Gorkha people, there are also plenty of other people living here like the Bhutias, Lepchas, Tibetans, Biharis, Marwaris etc who also have a culture of their own. Because of all these varieties Darjeeling Cultural tourism is a big phenomenon in the hills. People from all over the world come here to have a firsthand experience of this multicultural society.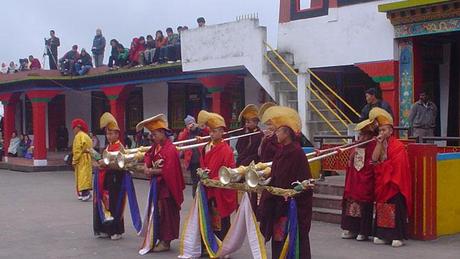 Irrespective of whatever community they belong to, these a unique thread of togetherness that binds all the people of Darjeeling together. This becomes evident during the time of emergency and also during celebrations. Whenever someone is in need, everybody comes together to help and festivals are also celebrated together. This unique bonding makes people from outside curious. The two dominant religions of this hill station are Hinduism and Buddhism, but there is a very thin line between the two of them. Most of the people follow both the religion interchangeably. It is a very common sight to see a Buddhist visiting a Hindu temple and a Hindu going to a Buddhist monastery. In some places like Mahakal Baba temple you will find a Hindu priest and a Buddhist monk sitting side by side and praying together. This truly amazes the outside tourists who learn the true value of tolerance and love.
There are plenty of tourist places in Darjeeling having cultural significance like the Hindu temples of Mahakal Baba, Senchel Devi, numerous Buddhist monasteries, mosques, ancient churches like St. Andrew's Church and others, Japanese Peace Pagoda etc. There are many religious and ethnic group organisations promoting and preserving their culture. These organisations sometimes organize various functions and display their unique culture to other people. There are other organisations like Gorkha Dukha Niwarak Sammelan, Nepali Sahitya Sammelan who have been playing a significant role in the preservation and propagation of Nepali language and culture. There are libraries, old houses from the time of the British, museums etc where you can get a taste of the history of its culture. One can also find a significant impact of the British culture out here in restaurants like Keventers, Glenarys and clubs like Planters Club.