Crackles and Crunches... A cup of hot java to dunk it into... Loads of seeds... Zero Fat!! And Totally less Sweet!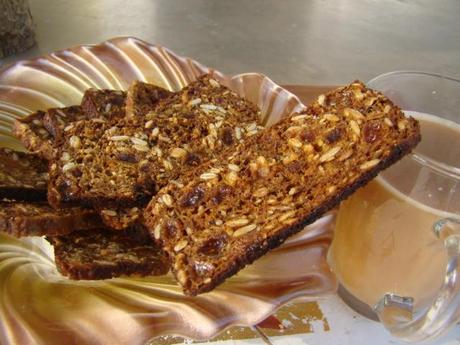 The Daring Bakers Challenge after two months... Totally difficult to do while you are shifting houses... That was one thing I missed...every time I checked out the stuff to be made for that month... At last , now,I'll be faithful to my cause celebre... Bake Pretty Stuff and Eat Pretty Stuff... I love crisp crackers...especially stuff you can dunk into coffee or tea... And with this months challenge, I loved the fact that the only added fat was the fat /oil used to grease the baking pan... All the fat in the nuts and seeds is great fat! So that will do!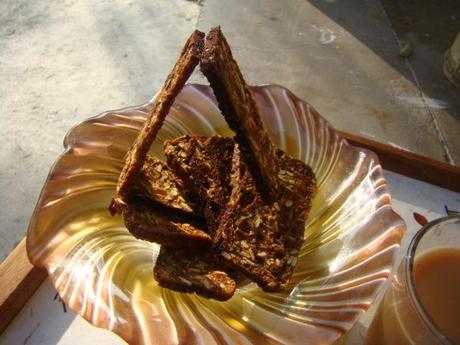 So beautifully crisp that thecrackers stood up like a house of cards...
Lace like and delicate...
I' m proud of my prowess!
And to beat the sadness of not being part of teh daring bakers , I made savoury Onion and sesame seed crackers.
How is that for a double whammy!
Rustic and simple and Spicy and Yummy ....Yummy...
OK that is the next post...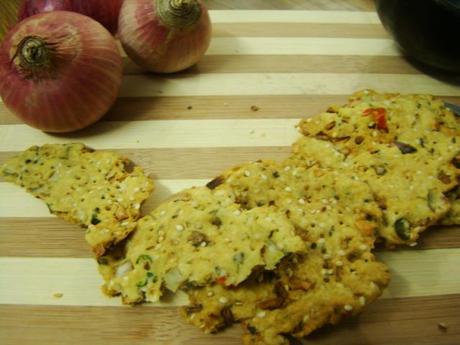 This months inspiration is from Sarah...
Ta-da!!!!!
Blog checking lines:
 Sarah from All Our Fingers in the Pie was our February 
2013 Daring Bakers' host and she challenges us to use our creativity in making 
our own Crisp Flatbreads and Crackers! 


for the


Daring Baker Again- Seedy Raincoast Crisps and more...


you need
1 cup flour
1 tsp  baking soda-bicarb of soda
1/2 tsp salt
1 cup butter milk(I added 1 tsp vinegar to 1 cup milk)
1/8 cup packed brown sugar-I used gur ki shakker
1/8 cup honey
1/2 cup raisins
1/ 4cup chopped pecans-I didn't use any...walnuts were an option ,but I decided against
1/4 roasted pumpkin seeds-I used watermelon seeds
1/8 cup ground flax seeds
1/8 cup roasted sesame seeds
1 tbsp fresh rosemary-I used dried rosemary
Preheat the oven to 180C/350F...and grease a loaf pan lightly-8 inches by 4 inches...
I started just before dinner that day, as the crisps had to be baked as a loaf and then cooled and sliced and re baked...
So one day was not possible...
These are the watermelon seeds roasting-also called MAGAJ.
A little heat and they begin to pop and smell heavenly...
done!
Do the sesame seeds too...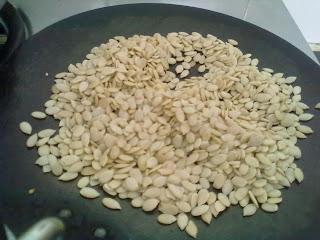 Into a bowl all the seeds and stuff...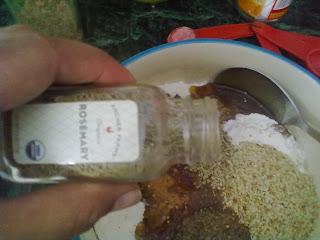 And the popped seeds...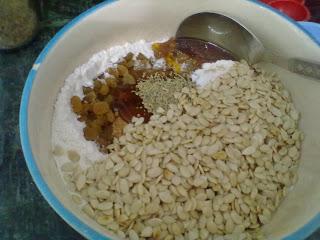 And lastly the butter milk mixed in...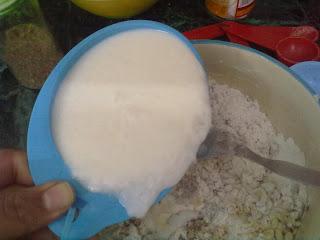 Mix and pour into the tin...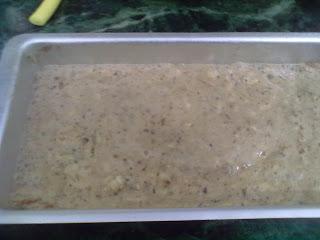 Done in about 40 minutes...needed no poking as the sides gave way...so I knew it was cooked.
10 minutes later, turned out of the pan...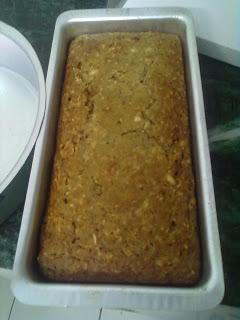 I wrapped this in a kitchen towel and in the bread box and left it to cool overnight...
Next day...
Filigree thin slices-2mm maybe 3 mm thick...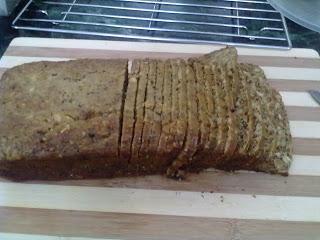 On two cookie sheets...the best investment made for my Morphy Richards oven...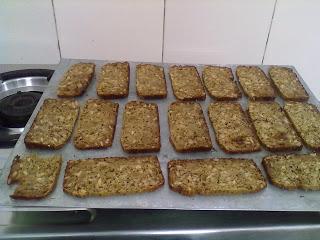 Baked at 150C or 300F for 15 minutes on each side...
I managed to burn a few..
So you need to be careful...
But the crunch and the aroma of the seeds and rosemary baking was awesome...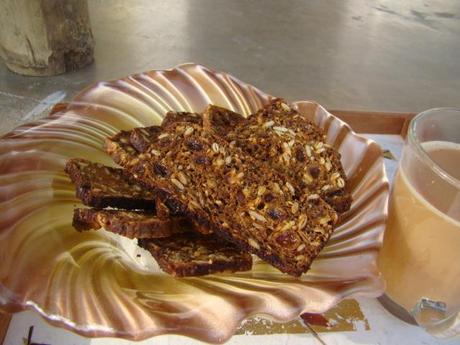 Along with a cup of coffee... Caramelised Raisins... Crisp seeds... Yumm!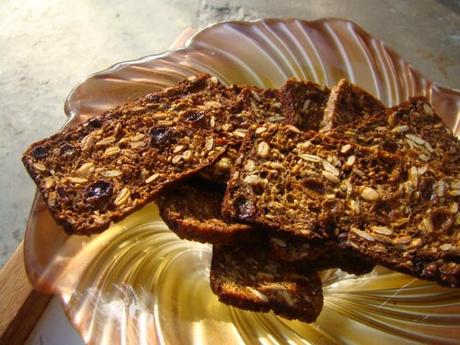 I'm crunching through these raincoast crackers (hmm why raincoast??) carefully...my root canal treatment has left the right side of my face a little numb... After two lidocaine injections...just opening my mouth is a pain...thank god these crisps are slim! Slim... The prospects of them staying in the jar for too long... Slim... Dreams...
Back sooner than you think...
Take the chance and try out for 5 free Tandoor Chef coupons  ,wont you???


So what are you baking today???