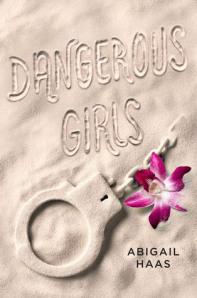 What's it all about?:
It's Spring Break of senior year. Anna, her boyfriend Tate, her best friend Elise, and a few other close friends are off to a debaucherous trip to Aruba that promises to be the time of their lives. But when Elise is found brutally murdered, Anna finds herself trapped in a country not her own, fighting against vile and contemptuous accusations. 
As Anna sets out to find her friend's killer; she discovers hard truths about her friendships, the slippery nature of truth, and the ache of young love.
As she awaits the judge's decree, it becomes clear that everyone around her thinks she is not just guilty, but dangerous. When the truth comes out, it is more shocking than one could ever imagine…
What did I think?:
This book was recommended to me by my sister and fellow blogger Chrissi Reads who claimed that it "messed with her head," so obviously I had to check it out for myself after such a statement! The author name Abigail Haas is a pseudonym for British writer Abby McDonald who primarily writes Young Adult novels and is the author of titles "Sophomore Switch," "Boys, Bears and a Serious Pair of Hiking Boots," "The Anti-Prom," "Getting Over Garrett Delaney," and "Jane Austen Goes To Hollywood."
Dangerous Girls is the authors first YA thriller and is both a compelling and riveting read. The story involves a group of teenagers on a Spring Break trip to Aruba where they plan to drink and dance the night away before completing their senior year at school. Ominously though the novel opens with the news that one of the girls, Elise has been found brutally murdered in her room, and her best friend Anna and her boyfriend Tate find themselves under suspicion as they are unable to provide concrete alibis for the time when Elise was killed. To add to Anna's troubles, her boyfriends wealthy family are able to post bail for him while Anna herself being slightly less well-off, must remain behind bars while the rest of her group of friends are able to leave the country.
The novel switches between various time frames i.e. pre-Aruba to the days leading up to the murder, and the present day where Anna is suffering in prison. The reader is provided with court transcripts, recordings of police interviews and pieces of inocuous evidence which are presented in court and highlight the ease in which parts of your life that you may label as completely irrelevant or innocent can come back to incriminate you. For example, there is a photo of Anna, Elise and Tate dressed up for a Halloween party where Anna is brandishing a knife against Elises's neck. When this is dredged up in court, the media have a field day as you can imagine and pull apart Anna's motive for murder and general character to shreds.
I really enjoyed that the author gave us the complete back story of the friendship between Anna and Elise, from its miserable beginnings where Elise provided a lifeline for Anna who had previously been bullied and classed as a loner. We see how the friendship develops in intensity like so many intimate teenage girl relationships and changes in status when Anna begins a relationship with Tate. Everything about being a typical teenager is wrapped up beautifully for our reading pleasure - hurt, confusion, betrayal and being in love for the first time. There are a number of complex characters in the frame that could have the motive for murder, and the author keeps us guessing right until the deadly and shocking conclusion. This is a fantastic read from a talented writer that fully deserves a five star review.
Would I recommend it?:
But of course!
Star rating (out of 5):