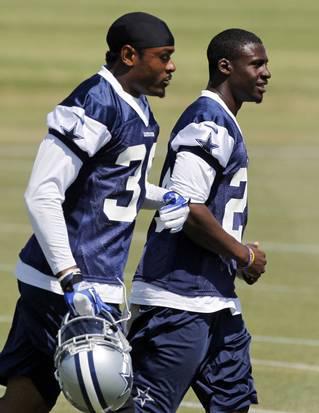 Photo: Louis DeLuca - Associated Press
- Adam Parker
In part two of our two-part series where we pick a dark horse team to represent each conference in Super Bowl XLVII, we'll be talking some Dallas Cowboys football.
You've got to be kidding me, Adam.
The Dallas 'Cowgirls'!? Really!?
Is this the same Dallas Cowboys team that always looks unstoppable on paper but then every year always finds away to inexplicably choke the season away?
How can I honestly think the Cowboys can put it all together and go all the way this year to represent the NFC on the biggest of stages?
Well, there are a few reasons for my choice, most notably the additions made in the secondary.
The Cowboys have been a borderline dominate defensive team since Rob Ryan took the reins at defensive coordinator. Last season was no different. They limited their opponents to 99.1 yards on the ground, which ranked seventh in the league.
Well, it looks like Dallas is a shoe-in for a Super Bowl appearance with that stat, right? After all if you can run the football effectively (Dallas ranked 18th with 112.9 yards per game on the ground) in what has become a predominantly pass-heavy league as well as stop the run, you already have the blueprint for success, right?
Wrong. Pass defense, not rush defense, is priority numero uno in today's NFL. We had three quarterbacks reach the 5,000-yard benchmark last season. That's right — 5,000.
No doubt the Cowboys were a big proponent of helping Detroit's Matthew Stafford and New England's Tom Brady to reach that historical milestone. At many times last season, you have to believe that many Cowboys fans were at home cursing at the television and exclaiming, "I could cover that guy better than those scrubs," or "Even I could go out there and tear our secondary to shreds," or something to that effect.
It's true. Dallas' Achilles' heel, and what likely cost them so many games last year, was their pathetic pass defense. Dallas surrendered 244.1 yards a game through the air, which ranked 23rd in the league. For a team with talented guys (at least on paper) like Terence Newman, Mike Jenkins and others, you'd expect better.
Needless to say, with a 2011 record of (8-8), the Cowboys didn't end up where they wanted. Jerry Jones made a statement this off-season to "fix" the secondary, adding former Chiefs' cornerback Brandon Carr via free agency and snagging stud LSU cornerback Morris Claiborne in the draft.
That's quite a haul, Jerry. Hopefully, with the addition of those two, the rest of the defense led by All-Pro linebacker DeMarcus Ware can get back on track. This is completely unrelated, but I also
love
 the addition of Dan Connor to pair with Sean Lee at middle linebacker in Dallas' 3-4 defense. Two 'heady' guys like these former Penn State-rs should help keep this defense as mistake-free as possible.
Now as for the offense, let me start off with this. Tony Romo to Jason Witten is one of the deadliest connections in the NFL, and has been for over the last half decade.
That being said, it might be time to cut down on chucking the ball around, even if just a little, and give the young running backs in Felix Jones and DeMarco Murray a few more carries. After all, when you have young horses like those two, the plan should be simple — ride them until the wheels fall off.
Running the ball more should also help Romo's jersey a little cleaner (he was sacked 36 times in 2011 and seemed like he was
always
 under pressure), which is never a bad thing seeing as how, when crunch time rolls around, the Cowboys will look to their veteran quarterback to make something happen.
He'll have a better chance of doing that if he's not having to pull clumps of grass out of his helmet. The offensive line still isn't great, so running the ball more to keep Romo upright and healthy should be near the top of the to-do list in Big D this season.
If they can stop the pass and protect Romo better, whose to say the Cowboys won't end up in New Orleans for the Super Bowl?
Be sure to follow Beard And Stache on Twitter 
@BeardAndStache
, and also Adam 
@Adam_Parker43
, Like our Facebook page 
HERE!