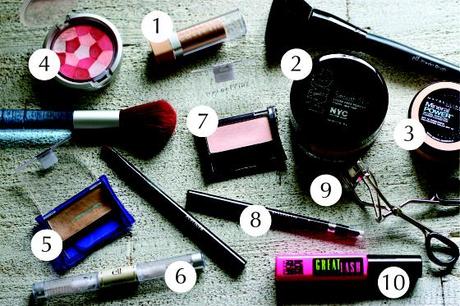 Happy Friday, friends! The weather here has been cool and rainy – not so crazy that you can't run out and do anything, but just rainy enough to walk around with an umbrella and sport a cute jacket (and for the record, I love it)! :) This morning I had an amazing photo session with Nicole Anderson of Sorella Muse Photography and am absolutely beaming from the whole experience (can't wait to show you what she's been working on)! While in preparation for our meeting, I thought it would be fun to show you what's in my makeup bag lately and give an insider's peek at my morning beauty routine.
1. Maybelline's Cover Stick concealer – After moisturizing, I start off by dabbing a little concealer under my eyes and around any blemishes with my ring finger. You can also apply the stick directly to your face, which works well for areas that need more coverage.
2. NYC (New York Color)'s Smooth Skin Loose Face Powder – Following concealer, I lightly dust my entire face with this as a base for foundation. It's inexpensive and lasts forever; plus, it's perfect for touching up throughout the day (I prefer it over a compact powder and apply it with e.l.f.'s Powder Brush: super soft and only $3 bucks)!
3. Maybelline's Mineral Power Natural Perfecting Powder Foundation with SPF 18 – I gave up on the whole liquid foundation thing a long time ago, and tossed out the idea of professional powders (i.e. BareMinerals, which was awesome, but too expensive to maintain). This works just as well and costs half the price, plus it can be found at any discounter or drugstore instead of having to head to the mall every time you run out.
4. Physician's Formula Powder Palette Multi-Colored Blush in Blushing Berry – A leftover from my Physician's Formula days, I dust this on the apples of my cheeks and usually rub off a bit with a tissue afterward to make it more natural. It's the first blush I purchased from them and it's still going strong!
5. Maybelline's Ultra-Brow Brush on Color in Light Brown – I have really fine eyebrows and always feel more put together when I fill them in a little. Using an angled eyeliner brush, I dab this powder into my brows and extend the ends just slightly. The shadow is way easier to control than a pencil and has a softer appeal.
6. e.l.f. (Eyes, Lips, Face) Wet Gloss Lash & Brow Clear Mascara – By far the best way to keep eyebrows groomed and shaped; this wand is the perfect steal at only $1 (Target).
7. Maybelline's Perfect Pastels eyeshadow in Pink Petal – While I'm not accustomed to wearing a lot of eyeshadow, I do like having something on my lids to keep them from feeling oily and to set the base for my eyeliner. This shade is romantic, neutral and perfect for everyday (I've also been meaning to try the more nude version, Silken Taupe).
8. Rimmel London's Exaggerate Waterproof Eye Definer in 261 Noir – With a foam smudging tip and retracting applicator, this eyeliner goes on smoothly and can be really dramatic if you want. I will usually top it off with a thin layer of eyeshadow to keep it in place and to soften the look once finished.
9. Sephora's eyelash curler – Never used a different brand! If you can handle the inevitable freak out every once in awhile (translation: my hands totally forgot how to use one of these contraptions and I just lost 3 eyelashes), it's the perfect prep before your mascara. My short eyelashes normally need a boost, and this tool helps curl them into place.
10. Maybelline's Great Lash mascara in Blackest Black – Though I've tried every mascara imaginable, I always come back to this one. It's affordable and always an easy decision!
Do you use any of the same products in your daily makeup routine? What are some of your favorites? Anything I should try?
Have a great weekend!