A rose by any other name is still a rose. This is one quote that is always appropriate for Indian food…so many similarities and so many differences...You can call them Dahi Bhalla or Dahi Vada..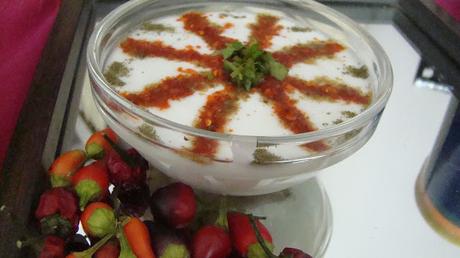 Either way they taste of sugar and spice, hot and cold, smooth and chunky...soothing down your throat...yum yum yum!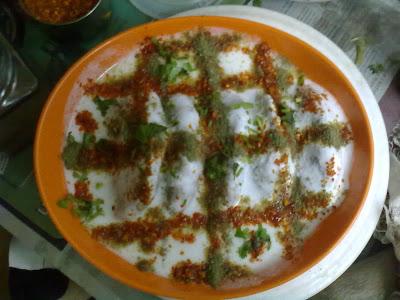 Simple fried dumplings of Dal-urad soaked in hot water and then doused with thick yogurt. Never cease to make your day. Dal –urad  is almost a staple of the Indians,used to make probably a gazillion dishes and every region will have a different offering for your palette.
Good food, great textures great contrast of flavors and a wonderful taste. Ubiquitous, You'll find these everywhere, in every corner of the country …all roadsides have their own chaat waala.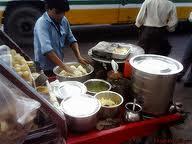 No ,we don't eat from places or people like this...that's why, I, blog !
Every self respecting homemaker will have her own version…this is mine.in north India these fried dumplings of Dal are called "bada/bade" and in the south "vada/vadai", the dunking in dahi/yogurt is the north Indian contribution. Somehow they never taste the same south Indian style.
The first time I made then…they came out fantastic and I'm proud to say that they always come out good. Out of whatever badas I make…only half are generally destined for the dahi or yogurt…the rest disappear from sight as soon as they come out of the hot oil.
My favorite dahi bhallas are the ones sold at Natraj,Chandani Chowk…just as you come out of the metro station. He has the softest bhallas,the thickest sweet yogurt,his masala is just right and his chutneys are just amazing.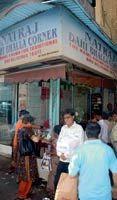 Summer or winter you wouldn't want to miss them.
Seem to be complicated, but are not so.
Fun thing to make and eat.
Sweet child loves dahi bhallas…and the pakoras that you can make with the left over batter.
This is my version…
Soft and yummy ,the key to fantastic dahi bhallas is fresh thick yogurt and fresh spices.
To top it all ,tangy chutneys…
For my version of the
Dahi Bhalla,Dahi Bhalle/Bade Or Dahi Vade...
You need for 8 bade
1 cup dal urad husked or split or use a mix of both
1 inch piece ginger
3-4 green chillies
1 tsp zeera or cumin seeds
chopped coriander
700 mils oil to deep fry
1 liter hot water =1 tsp salt to soak the bhallas in
500 mils thick yogurt
1 tsp 
black salt
3-4 tsp sugar or to taste
Tamarind chutney,green mint chutney, ginger juliennes, chopped coriander,red chilli powder,cumin seed powder, nylon sev, pomegranate seeds, papri... whatever you choose to serve
Soak the dals in water for at least half an hour. The husk covered dal has to be washed after rubbing vigorously between the palms of your hands.
You'll be able to wash away almost all the black skins.
The rest only adds a little bit of flavor.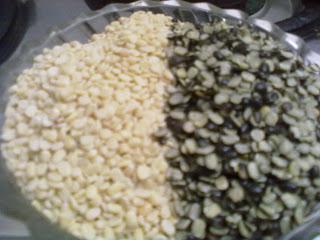 Place the drained dal and ginger and green chillies in the wet grinder of the mixer.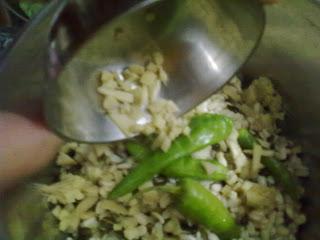 As far as possible, use absolutely the least amount of water to grind the dal. You may add a teaspoon or so of water. Make sure you stop and stir ever so often till you get a smooth paste.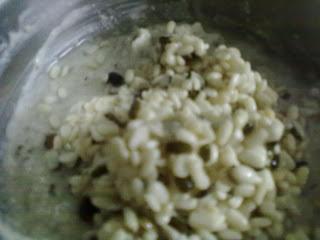 Like so...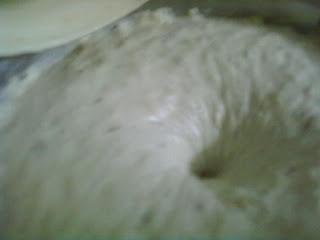 Now pour out into a bowl.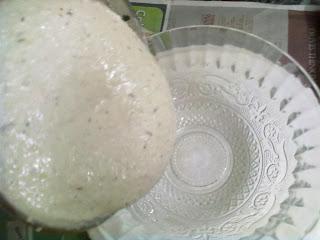 Now mix in the cumin seeds and chopped coriander. Hubby dear loves the taste of a wee bit of black pepper that I add at this stage. Mix  well to keep the batter aerated.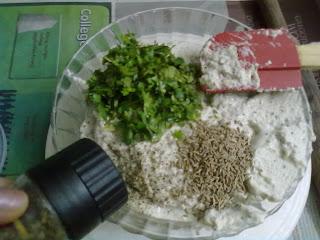 To test, drop a tiny amount into a bowl of water. Voila....it floats.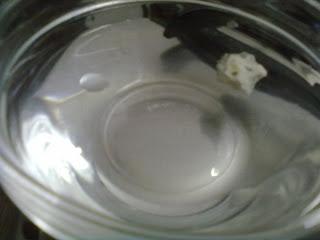 Place your vegetable oil in a deep pan to heat and wait for the temp to reach approx 150-180 C.
Place a bowl of water next to the batter and wet both your hands. I started by washing my hands with soap and water...so my hands are Clean.
With wet fingers pick up some of the batter like so...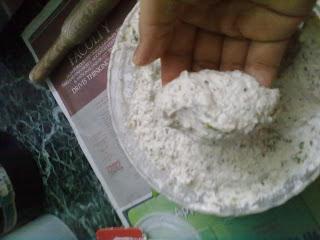 And transfer to the other wet hand shaping the batter to a Circle about a cm thick.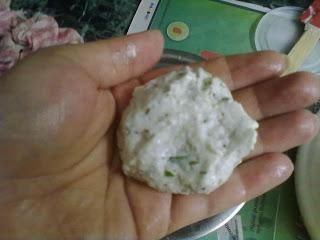 Use your wet thumb to make a hole that allows for even cooking...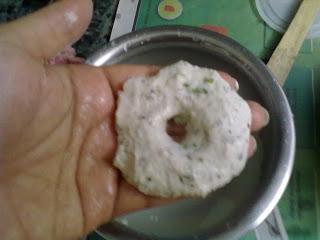 And from  your wet left hand transfer to your wet right hand, reshaping the bhalla. Slide into the wet oil on a slant...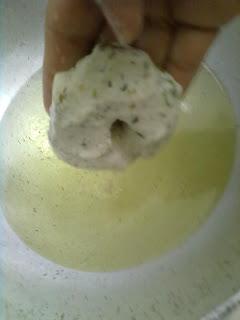 And allow it to sink. Similarly do 2 more. Only three at a time. the badas will rise to the top on their own...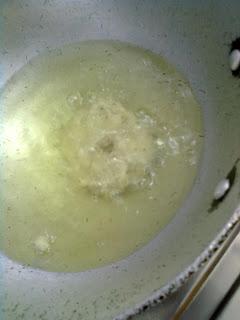 Like so and only then you must flip them once. Remember ,if the oil is not hot enough, they will stick to the bottom of the fry pan or wok and make a mess of your oil.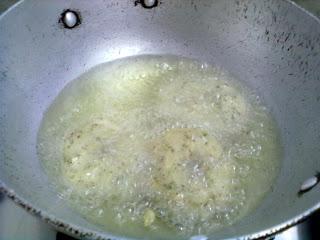 Once the badas are nice and crisp... drain them on kitchen paper and then place them in hot salted water.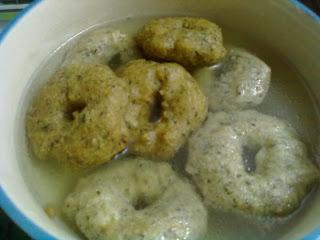 Once the water becomes cold...place the bhallas between your palms and squeeze out all the water. this is why we never added any salt to the batter and because it absorbs excess oil while frying if we do.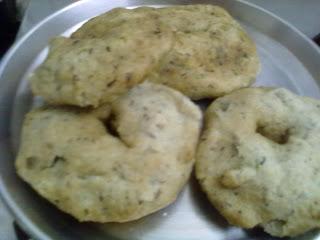 Squeezed, arrange on your serving platter.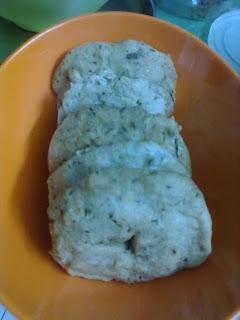 The thick yogurt must be salted with black salt and sugar must be added and made smooth so that no lumps remain.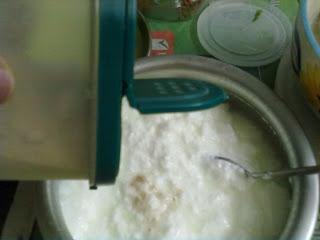 Pour over the bhallas generously. They will absorb a little and generously get dunked.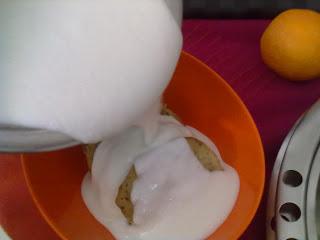 Use ground cumin powder and red chili powder to decorate this now.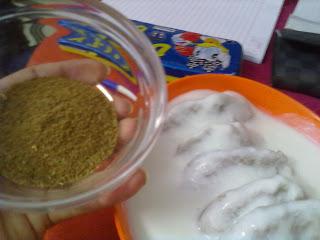 In a steady stream or...just sprinkle it all over...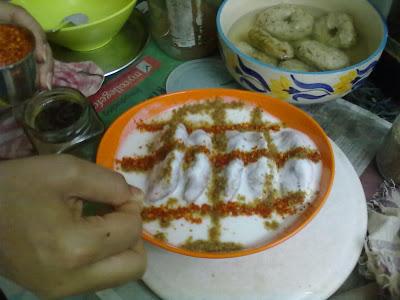 Some green coriander,ginger juliennes to top it all...
Served with Sonth or Tamarind chutney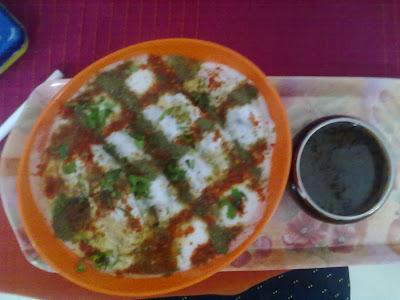 Single serving...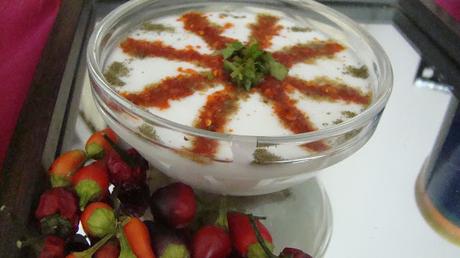 Something that has been made again and again...
Repeat bhallas here...different serving options...Nylon sev,pomegranate seeds...whatever.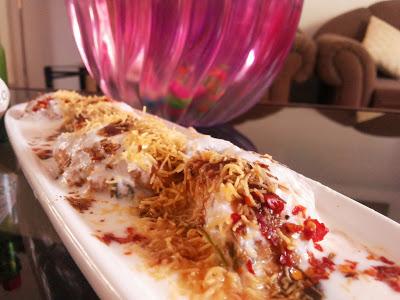 Tabasco is a favorite too...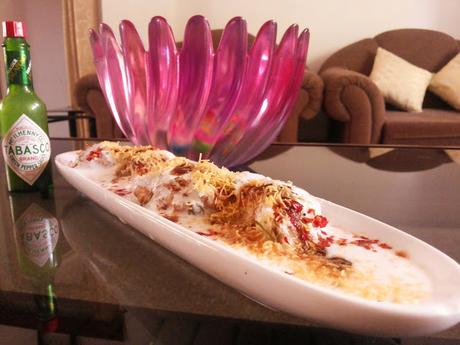 Serve Chilled.
This is something I have tried to bake,but to no avail. Somethings are better left fried.
So what are you baking today???