I usually have a few posts written ready to go at any one time but when another blogger writes about somewhere I have in the sidelines I throw a grumpy scowl at the computer and ditch the post for fear of being repetitive. This happened recently with my review of Da Mimmo but after a bit of thinking and some very good advice from a friend I decided, with a few tweeks, to publish it anyway. I just felt I had something else to add to the pile!
Despite working and living not far from Da Mimmo and it being open for three years I can't believe I managed to miss it for so long. Every time we'd walk past we'd say we must visit and then promptly forget. Thankfully that situation has now been rectified and if you, like me, are trying to economize this January then this is the place to go!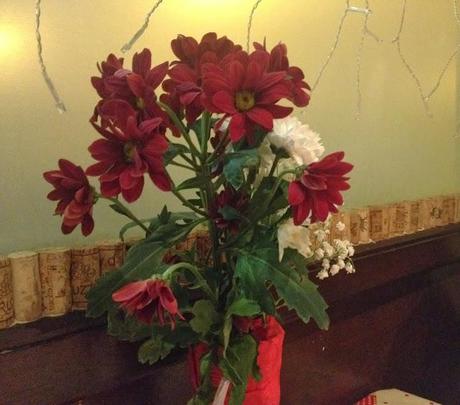 Da Mimmos is not a fancy restaurant, the best way I can describe it is canteen rustic! 
For some reason I really wanted to like Da Mimmo so when we walked in and found a small crowded dining room with oil clothes on the tables instead of linen I didn't care. The fact that our table was right by the door and also in the kitchen didn't bother me either. To be fair all the tables here are practically in the kitchen and next to the door, the place is that small! Tino ran through the menu with us and pointed out the specials, I don't want to sound stereotypical but there was a lot of hand gestures and shoulder shrugging, I got the impression that any particular dish I desired could be created provided they had the ingredients!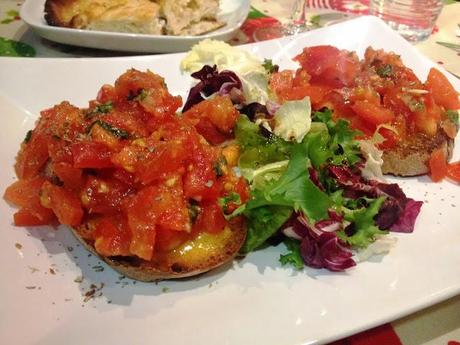 Generous tomato bruschetta on crispy sourdough with lashings of garlic!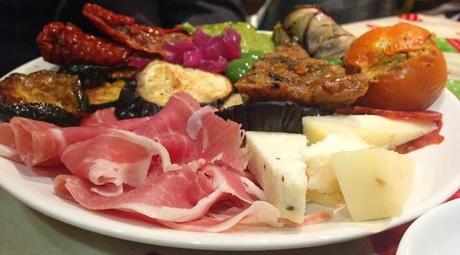 This whopper is actually the small antipasti plate! 
I didn't invent my own dish there being plenty on the menu already! We opted to share a small antipasti (€8) and a tomato bruschetta (€4.95) to start. Both were super and really generous, there's no food provenance on the menu but you don't really need to be told where all the ingredients came from they are so obviously Italian. Accompanying our starters was some of the finest focaccia I have ever tasted. I'm a real salt fiend, while I try to avoid it, when I find it encrusted in my bread I'm overjoyed!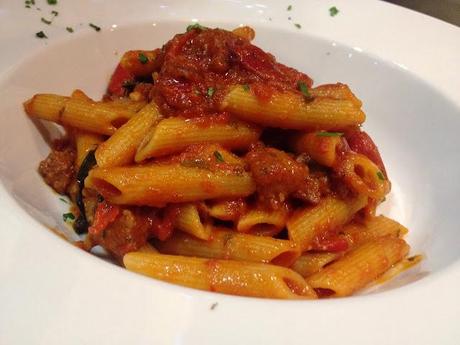 Penne con Salsiccia e Pepperoni
Far mains I ordered the Penne con Salsiccia e Pepperoni (€10) penne in a tomato sauce with sausages and peppers. It was divine. There was a delicate balance of flavours between the rich chunky tomato and pepper sauce and the small little balls of sausage meat. The penne of course was cooked al dente. It was a really wonderful dish, very simple but perfect.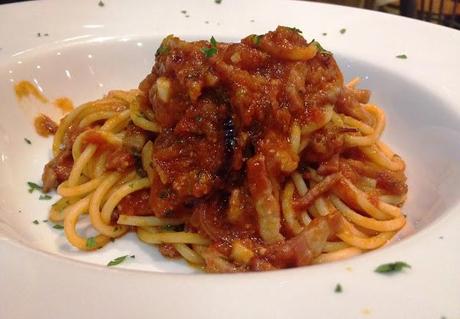 Spaghetti Alla Matriciana
Himself went for an old favourite, Spaghetti Alla Matriciana (€11) which consists of smoked Italian bacon in a rich fiery tomato sauce.  He's had this many times with varying degrees of success. This one was pretty amazing. There was a generous amount of good quality salty bacon in a sauce that clung nicely to the spaghetti.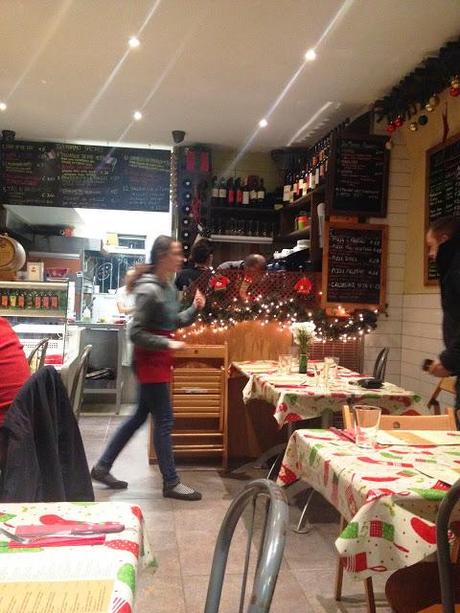 Da Mimmo can only be described as intimate... very, very intimate! 
We pondered dessert but were stuffed! The chalk board still called to me though offering the likes of tiramisu and ice cream for under €5. We contented ourselves with finishing our bottle of Gavi (€19.50) and a few espressos (€1.80) The final bill came to a very moderate €57.05. I can't remember the last time I have eaten so well for so little! It probably wasn't in Ireland!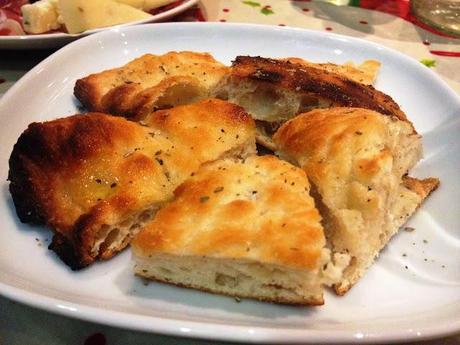 One final shot of that perfect salty focaccia! 
Finally a word on the area the restaurant is located in. It's one of Dublin's grittier areas but having worked around the corner for over eight years and lived close by for five I have to say I've felt nothing but safe the whole time I've been here. I've noticed people love to take pot shots at the north inner city and have a few cheap laughs at our expense, this has to stop. Despite what people think there's a vibrant community of wonderful people here. Don't prejudge us, come visit and definitely stop into Da Mimmo.
Da Mimmo
143 North Strand
Dublin 3
01 856 1714
Website