Well hello!
So, today is 28th February and I am officially 40 weeks pregnant and today is my due date.
I cannot believe this day has come around at last. It was mine and Darren's 2 year wedding anniversary yesterday, and I was thoroughly spoilt by Darren. I received a beautiful bunch of Jane Packer flowers (colour co-ordinated with the flowers we had for our wedding), a Kindle Fire and was taken to one of my favorite restaurants in Crouch End.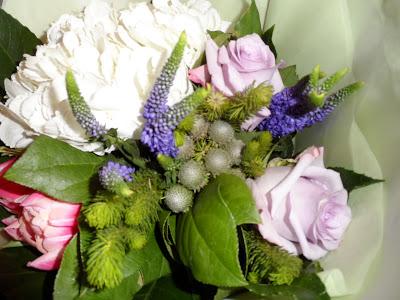 my beautiful anniversary flowers
So, although it is the due date, there is no sign of Titch just yet. Realistically it could be another 2 weeks, but I don't think we'll be waiting that long. I can't believe 40 weeks are now complete and any day, we are going to become parents! Eek! I definitely don't feel old enough or mature enough to be a mama, but I am so excited to finally meet Titch and Darren and I can start our little family.
Sorry this is a bit of a random post and nothing to do with my usual content, but I just wanted to mark the D-Day occasion!
To make it a little more fashiony, here is what I wore for our special anniversary dinner last night. I've managed to go 40 weeks without buying maternity clothes (apart from one dress) and last night I wore a gorgeous one sleeve dress from COS, which I bought a couple of years ago, and actually looks really nice with my big bump. I teamed it with my new Claire Belle necklace (see post below) and my River Island ankle boots.
What do you think of my 40 week preggo look? x