One of the best things about traveling is the new experiences it opens up and the freedom it allows. When I'm on holidays, especially if I'm away from home, I love to be active and to get moving whether it be on foot, bike or even hopping on and off a tourist bus.It's about exploring; soaking up the beauty and atmosphere around me and discovering the history and stories behind each new location.One of my favorite ways to explore a new city is by bicycle and if given a choice between a bike tour and any other kind of tour, I'll always opt for two wheels. Unless it's raining, of course, or hilly—in which case, I certainly prefer four wheels and a roof!Naturally, when I landed in New York City two years ago, doing a bike tour was on my hastily scribbled bucket list. But with just five days and a hit list longer than my arm, I wasn't sure I'd have time.That was until I made the spontaneous decision to postpone my flights home (and skip the Las Vegas leg of my trip) because I was high on love. Suddenly I had an extra week up my sleeve and each day I set off on a new adventure as I worked my way through my bucket list. I headed downtown to try a Grey's Papaya hot dog which had scored a notable mention in the movie Fool's Rush In (overrated). I walked the Chelsea Highline (a must do) and I took myself on a date to the movies off Times Square (Pitch Perfect … loved it!). I also spent a few hours riding a bike through the lower half of Central Park, taking in the sights and trying to pretend I wasn't a tourist (even though my hire bike, constant look of wonder and giant SLR camera sticking out of my bag probably gave me away).Time Magazine named Central Park as their number one thing to do in New York City (beating Grimaldi's Pizzeria (4), Empire State Building (5), Bergdorf Goodman (8) and Grand Central Station(10), recommending that tourists head down anytime after 6am to
rent a bike
 ($20 for two hours) or join a
bike tour
 ($64 per person for two hours) which run hourly from 9am—and I was keen to hit the bike paths and explore as much as I could.Easily one of the world's most famous parks, Central Park is romantic, intimidating and just a little awe-inspiring. It holds a special place in the hearts of almost all who have wandered along it's winding paths and, with more than 25 million visitors a year, that's a lot of love.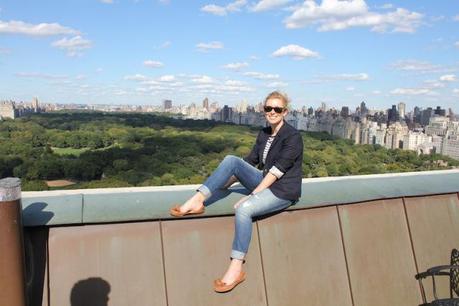 A view of Central Park from the New York Athletic Club.
"I just want to go through Central Park and watch folks passing by. Spend the whole day watching people. I miss that." —President Barack Obama—
Given the vast expanse of the park—which spans 843 acres and is roughly the same size as 16 billion New York apartments and larger than the principality of Monaco*—one of the best, and easiest, ways to get around is by bicycle.
After handing over my Australian drivers license and $20 in exchange for a set of wheels, I headed off on my 'make-your-own-adventure', hoping that I wouldn't end up face first into a shrub, which happened when I rode a bike around the island of Lido in Venice. (I blame the old set of brakes rather than a vodkas I'd consumed.) Like much of the world, my fascination and love for Central Park was based in movies and TV shows and I was surprised to discover it has been more than 100 years since the first movie—the American version of Romeo and Juliet—was filmed on location in Central Park in 1908.Since then, more than 300 movies have been filmed within the park—making it the most filmed location in the world.Flicks filmed there include Eat Pray Love, Friends with Benefits, Bride Wars, 27 Dresses, Serendipity, The Devil Wears Prada, Vanilla Sky, Almost Famous, Cruel Intentions, The Devil's Advocate, Die Hard with a Vengence, Home Alone 2, Wall Street, Three Men and a Baby, Ghostbusters, Beaches, When Harry Met Sally and, of course, Breakfast at Tiffany's. And don't forget TV shows like Sex and the City and Gossip Girl.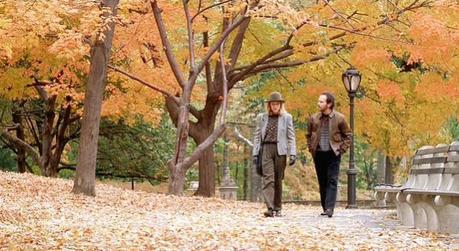 When Harry Met Sally.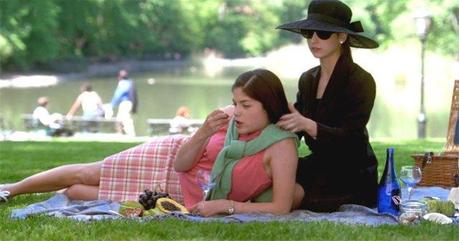 Selma Blair and Sarah Michelle Geller in Cruel Intentions.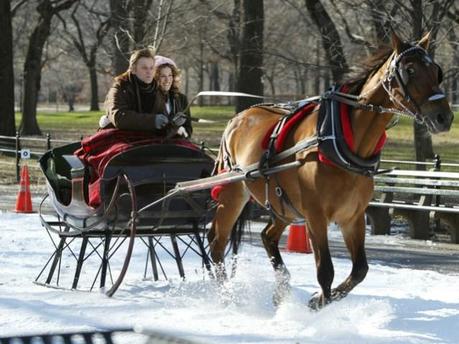 Mikhail Baryshnikov and Sarah Jessica Parker in Sex and the City.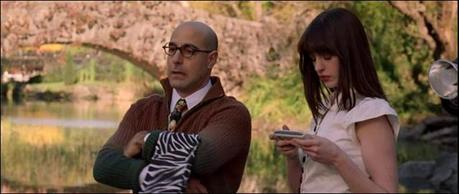 Stanley Tucci and Anne Hathaway in The Devil Wears Prada.
It almost makes you want to have a Central Park inspired movie marathon, doesn't it? (new bucket list item!)
I started my ride at Central Park South and made my way along winding paths until I found a number of key locations including Bethesda Fountain, Strawberry Fields, Belvedere Castle and The Boat House.One of the added bonuses for cyclists is that cars are banned from driving through Central Park on weekends. The ban was established by Mayor (and avid cyclist) John V Lindsay in 1966 and the policy still remains today.Because I was so focused on enjoying my ride and the scenery around me (and remaining upright on my bike), I didn't take too many photos. But here's a few that weren't too bad: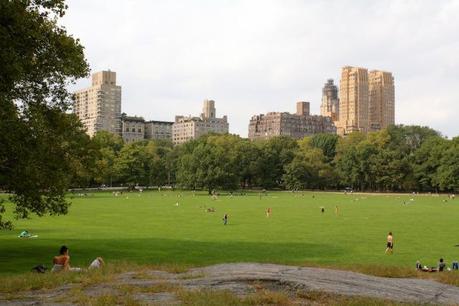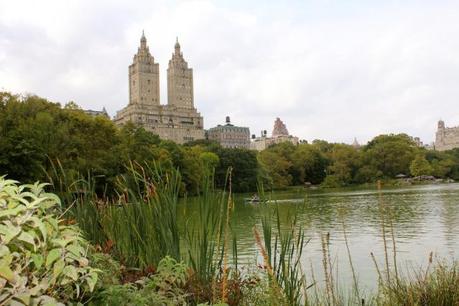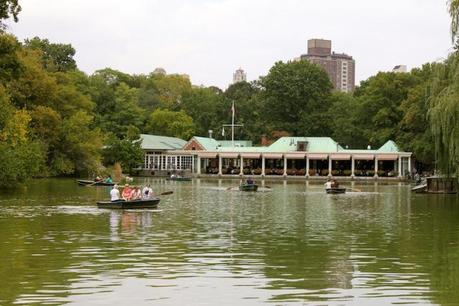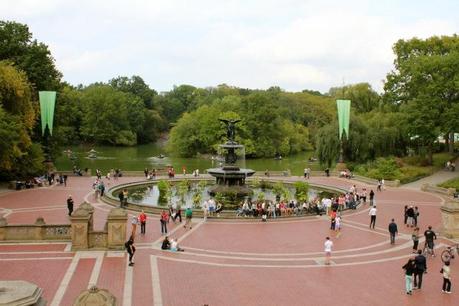 Bethesda Foundation.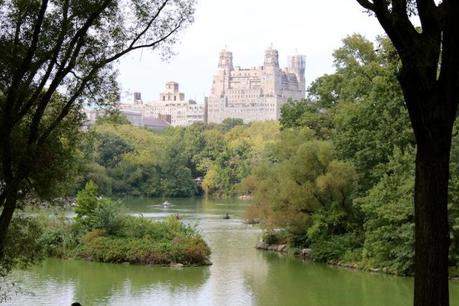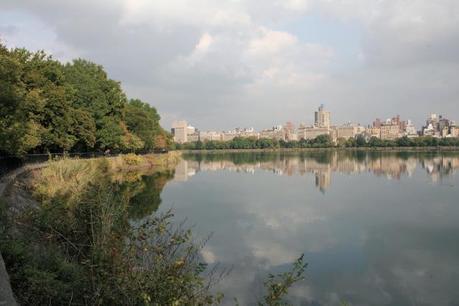 When it was time for a break and a drink, I dismounted at Conservatory Water pond, which is nestled between the Alice in Wonderland statue and a sculpture of author Hans Christian Anderson (near 72nd Street). It's a popular spot for people to sail model sailboats.While cooling down, I turned my attention to the history of Central Park and discovered that after the land for the park was purchased by the City of New York in the mid 1850′s, there was a competition held to create the design for the land which contained colonists, quarries, pig farms and swamps.The winning design featured an English style landscape with large meadows, several lakes and hills—netting the designers, Frederic Law Olmsted and Calvert Vaux, $2000.Winding pedestrian roads were separated from main roads and the huge number of trees ensured the city's buildings were not visible from within the park.During the park's ensuing construction millions of cartloads of dirt and topsoil were shifted to build the terrain and more than 5,000,000 trees and shrubs planted.The completed Central Park officially opened in 1876, and it is still considered one of the greatest achievements in 'artificial' landscaping.Almost a century after its opening, Central Park was designated a National Historic Landmark and was placed under the care of the Central Park Conservancy, whose crews care for 250 acres of lawns, 24,000 trees, 150 acres of lakes and streams and 130 acres of woodlands; install hundreds of thousands of plantings annually, including bulbs, shrubs, flowers and trees; maintain 9,000 benches, 26 ballfields and 21 playgrounds; preserve 55 sculptures and monuments, as well as 36 bridges; remove graffiti within 24 hours; collect over 5 million pounds of trash a year; and provide horticultural support to City parks.With my legs heavy from cycling and having worked up a bit of a thirst, I returned my bike to the hire company and headed off to the Time Warner Centre at Columbus Circle to rest my weary bones the best way I knew how … stretching them out while trying on shoes at J.Crew!