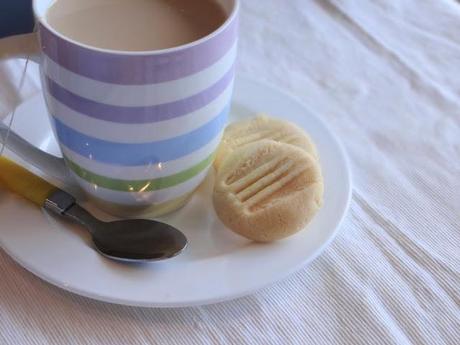 I wasn't going to bake anything for Easter this year because this month has already been pretty full of sweet things. Except, well, I can't quite pass up an opportunity to bake on a long weekend. So here are some last minute cookies to sweeten up your Easter holiday!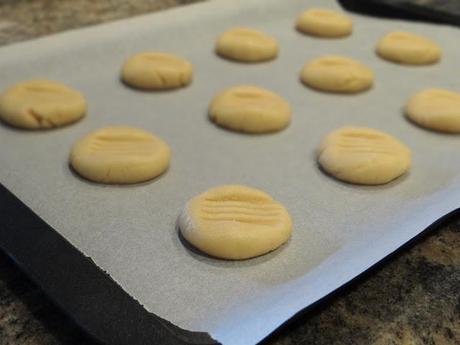 Strictly speaking these aren't really specifically for Easter. But they are egg-less and dairy-free, so if you're looking for a (very) last minute Passover addition these could work. If you're Vegan, these would be perfect for you.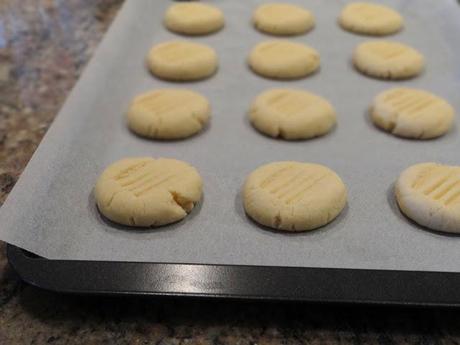 Oil replaces butter in these cookies, but the amazing thing about them is that they still have that melt in your mouth quality that you usually only get with butter-based cookies. This is probably due to the custard powder, which also make these taste similar to melting moments. Added bonus? These are super quick - the dough is mixed up in less than 5 minutes, takes 5 minutes to portion out the dough and they take exactly 10 minutes to bake, so if you head to your kitchen now you'll have freshly baked cookies in 20 minutes.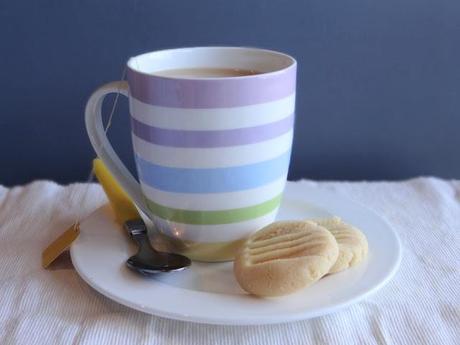 One thing about these cookies, though, is that they are very sweet, since the custard powder also has sugar in it. I forgot to reduce the sugar, but the next time I make these I'd probably cut the sugar down by half. Other than that, these are great with a cup of tea or coffee, enjoyed on a lazy afternoon.
I love long weekends.  Happy Easter (and happy baking)!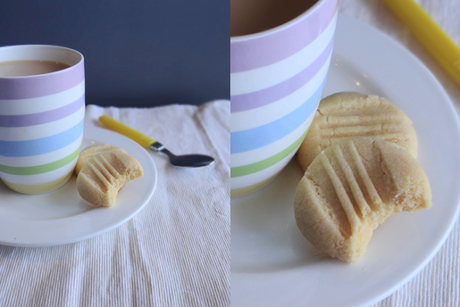 Custard Powder Cookies Adapted from Jeyashri's Kitchen Makes about 20 cookies (I got 17)
Note: I halved the original recipe.  To make washing up a breeze, just measure everything with a 1/4 cup measure.  I forgot to reduce the sugar as I usually do and these came out a bit sweet, so if you like your cookies on the less sweeter side then reduce it to 1/4-1/3 cup.
1 cup plain flour 1/4 cup custard powder 1/4 tsp baking powder 1/4 tsp baking soda 1/2 cup caster sugar 1/2 cup oil 1/2 tsp vanilla extract (optional, if you're using vanilla-flavored custard powder)
Preheat your oven to 170C/340F.  Line a baking sheet with baking paper.
In a medium bowl, whisk together flour, custard powder, baking powder and baking soda.  Set aside.
In a measuring jug or a small bowl, combine sugar, oil and vanilla extract (if using) and whisk until thick and well combined, about a minute.  Pour the wet into the dry ingredients and stir until it forms a smooth dough.
Scoop out about one tablespoon-sized portions of dough and roll them into a ball.  Place it onto the baking sheet spaced about an inch about and flatten it slightly with the palm of your hand.  Using a fork, gently imprint lines onto the surface of your cookie.
Bake for 10 minutes (do not overbake!).  The cookies should still be pale when they come out of the oven and feel slightly soft, they'll firm up as they cool.