I thought I would share with you the things I am currently using in my skincare regimes. Most of these products I have only been using for a little while so this is more of a first thoughts post. I will come back to individual products in more detail later on.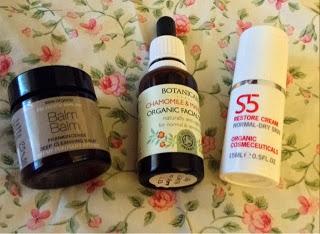 These are my morning skin care. As you can see I like to keep things quick and easy. I have enough trouble preventing world war 3 erupting over the breakfast table and so really don't want a complicated routine.
 First is Frankincense Deep Cleansing Balm by BalmBalm This is an absolute snip at the price of £7.99. It's lovely and gentle, but very effective. Nice and quick to use, I am really enjoying this.
Botanicals Chamomile & Mandarin Facial Serum is a lovely and light serum. Absorbs quickly and good for when time is short.
Restore Cream by S5 Skincare is my current daytime moisturiser. I love the smell of this. Again this absorbs quickly but is moisturising enough to cope with my dry skin. I have been really impressed with everything I have tried from S5 skincare so far.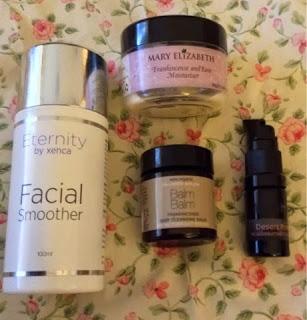 Onto my night time product. This is when I tend to favour richer products and tend to spend a bit more time. I already mentioned my cleanser, I do try and stick to just one cleanser on the go at once.  I use an exfoliator twice a week and this Eternity Facial Smoother by Xenca (PR sample) suits my skin perfectly. I love the way it brightens my skin.  I tend to favour an oil at night rather than a serum. I am really enjoying Bodhi Desert Rose Rejuvenating Face Oil This has been on my wish list for quite some time and I can whole heartedly say it deserves the love it receives. It smells divine, makes my skin look plumped and refreshed. I will be repurchasing this.  My final product is my Mary Elizabeth Frankincense and Rose Moisturiser which I love and reviewed recently.