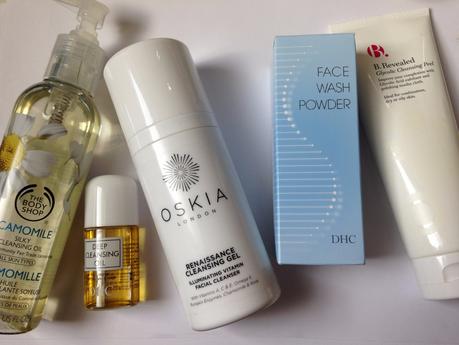 I seem to have an obsession with cleansers at the moment and because my skin is combination I like to have various different cleansers for my skins different needs. I am using a few different ones at the moment and thought I would share my views on them.
The Body Shop Camomile Silky Cleansing Oil (£10) has been my got to make up remover for a couple of months now. This is a great oil that is gentle yet effective and removes all traces of makeup, even tough mascara. One I would pick up again.
Another oil cleanser I have been enjoying recently is the DHC Deep Cleansing Oil (From £4.50) which I use either as a make up remover or just a general cleanser. It leaves my skin feeling clean yet hydrated and doesn't leave any residue.
Another DHC product that I have recently discovered is the Face Wash Powder* (£9.50). This is a really unique product as it is a powder form but once mixed with water it turns into a slightly foaming face wash.
I use this on my more oily days as this can be a little drying but it makes your skin feel fresh and clean.
For my morning cleanse I am still loving the Oskia Renaissance Cleansing Gel (£28) which is more of a balm cleanser than a gel. This is packed full of amazing ingredients and leaves the skin feeling so smooth and plump after use.
Finally once a week I use the B.Revealed Glycolic Cleansing Peel (£7.99). This is kind of a cleanser but also more of a treatment for the skin. It is a balm consistency that you apply to the skin and you can leave it on for a few minutes if you wish. The Glycolic Acid gently exfoliates the skin and leaves it feeling so so smooth. I also find that my serum and moisturiser sinks in a lot quicker after using this.
What is your current favorite cleanser?


*PR Sample.