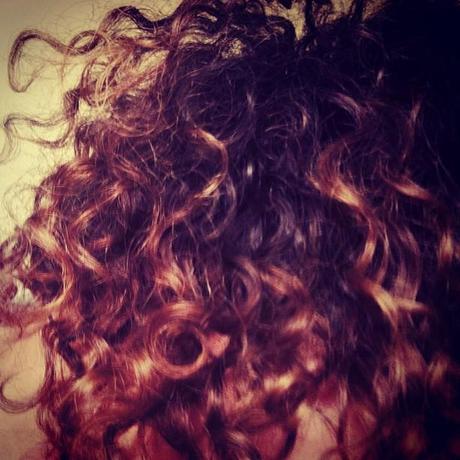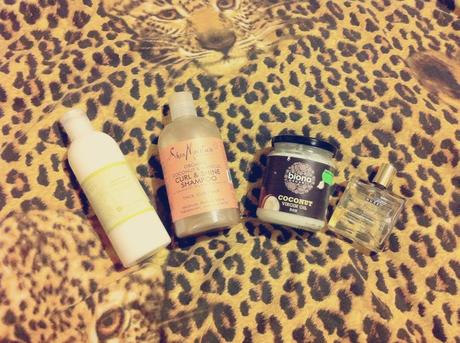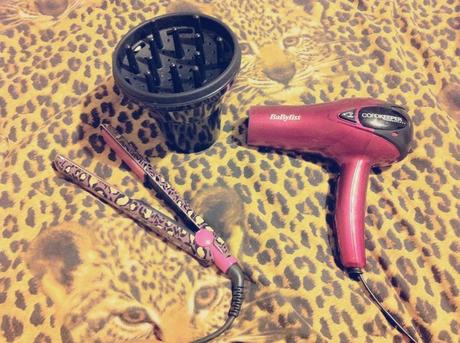 Although I usually wear my hair straight, I love to let my curls loose and show them off.
It took ages for me to figure out how to look after and style my hair, and even today I am still on a journey to find the perfect products for me, so here are few things that I have discovered along the way:

WASHING
SHAMPOO
Use a shampoo free of Sodium Laureth Sulfate (check the ingredients at the back) it  is a definite no no for curly girls because it drys out the hair, causing brittleness and breakage. 
Look for shampoos that are rich in natural ingredients, our hair needs nourishment! Your local wholefoods shop should stock some good hair products at affordable prices.
CONDITIONER
I like to use leave in conditioners as opposed to rinse out ones because I find that they stop the hair from feeling too soft or becoming fluffy after drying. Conditioners are there to provide the nourishment hair needs after washing, so try to go for products that don't contain a lot of chemicals.
You can deep condition your hair once a week to improve the overall appearance. Look for deep conditioners that are aimed at damaged or frizzy hair types. Even though our hair can appear thick, the individual hair strands are very thin and can break easily from everyday blow drying or straightening.
Avoid conditioners that use silicones (any word ending in cone, -conol or xane in the ingredients list is a silicone.) These are used in many hair products to coat the hair giving it a shiny appearance and also help conceal split ends by 'glueing' them together. Unfortunately silicones block moisture and natural oils leaving our hair extremely dry.
IN-BETWEEN DAYS
In the morning if my curls needs refreshing, I simply wet it in the shower without shampooing and just brush it through whilst it's wet. Next I find my parting and scrunch the hair to remove excess water and redefine the curls. Once my hair is semi dry but still mainly damp, I'll then add my leave in conditioner and get ready for styling.
Water is your best friend when it comes to curly hair, as this is the main thing that will keep your hair hydrated preventing frizzy spells. Use a little bit of coconut oil, or almond oil to lock in moisture.
STYLING
DRYING
Drying curly hair is easy as long as you have the right tools. Make sure that your hair is fully combed through, parted, and scrunched then use a Diffuser attachment on the end of your hair dryer to aid curl formation.
Diffusers usually come with most hair dryers, but if you don't have one you can find attachments that fit most modern hair dryers on eBay. This simple addition to your 

hair dryer

 can make an amazing difference to the end result. Simply dry you hair in sections using the diffuser as a kind of bowl for your curls to sit in. This ensures that your curls remain separated for more volume and movement.
If you have time try to let your hair dry naturally after showers. your hair will absorb more water and thank you for it if you do this regularly.
STRAIGHTENING
Heat damage is inevitable when using straighteners, but if you keep the temperature down to near 180c and use a good heat protector it can be avoided . My favourite one is the CHI Silk Infusion as it is a leave in treatment that protects against heat and also adds a really nice gloss to my hair. 
MAINTENANCE
GET A GOOD HAIRCUT
Getting a good hair cut once every few months I gives me the best results. A lot of you will find that you hair grows in different curl patterns and lengths all around your head, so getting it cut to maintain length or for a new style can help your hair become easier to manage.
HAIR OILS
Using oils on curly hair is the best way to add shine and nutrition that will make your curls really stand out, lock in moisture, and improve your hair quality. I love using Nuxe Huile Prodigieuse every day on my hair, it's my favourite oil  at the moment(review coming soon!) but there are tons of options around. Coconut oil is also fantastic for sealing the ends of your hair to prevent splitting.
The British Curlies website is a great place to find more information on how to care for curly hair, and also has a fantastic shop where you can buy and read reviews on all sorts of wonderful elixirs.
I hope this post has been helpful! Let me know if you have any other tips or product suggestions :-)

This entry was posted on and is filed under 3c,beauty,conditioner,curly hair,frizzy hair,mixed race,oils,shampoo,tips. You can follow any responses to this entry through the RSS 2.0. You can leave a response.