Boy2 said yesterday that his favorite places were Edinburgh and Paris, which sounds very cosmopolitan for a 4 year old, but confused us somewhat, given that he's never visited the French capital. "You know, we have ice-cream there" he said, "In the park.". Turns out he was thinking of Crystal Palace - which is also one of my favorite places locally,  though we have different priorities, mine being less ice-cream based [although if I can combine a trawl of the second hand shops with a '99, all the better]
There are actually not as many charity shops as there once were, but I've chosen the Crystal Palace 'triangle' to focus on, as there are several options for treasure hunting - including a flea market, a dress agency, some fantastic vintage clothing shops, retro furniture stores and and an antiques warehouse. So, something for all budgets and all tastes. I visited this morning, so this is an up to the minute taste of what's available for savvy second-hand shoppers.
Starting at the bottom of Westow Rd, we'll follow the triangle of roads in a clockwise direction, ending at The White Hart pub. 
Et Pourquoi Pas?At number 45 Westow Road is a great dress agency Et Pourquoi Pas? (and why not?) which sells very nearly new designer and high street clothes. Some agencies are snooty about the high street - but owner Fabrice is happy to accept garments from Oasis etc as long as they are in excellent condition. When I visited there was a lot of Monsoon in stock, along with Reiss, the odd bit of vintage, and designer names such as Mulberry (denim jacket, size 10, £30). There is currently a sale rail with  50% off the already reasonable prices - and it's not unwearable (or tiny) stuff either. In the interests of research *cough* I bought a black linen dress from Armani Collezioni for £15 (originally marked at £45, then down to £30, then on the half price rail), and a completely unworn pair of Mary Jane style purple heels from Jones the Bootmaker. These were complete with box and spare heel tips, and down to £12. Ladies' clothing on the left, men's on the right.open daily. hours here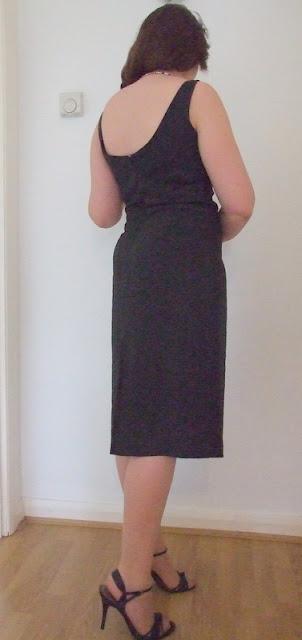 Lakota in no makeup shock![and £15 Armani dress]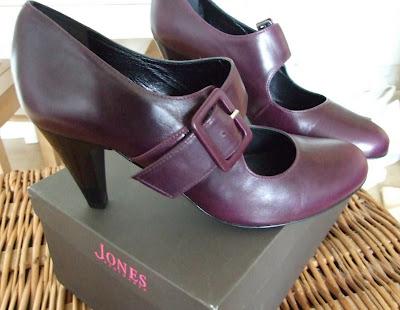 New shoes
[Do not be the person who enquires what a mother of two small sticky children needs with a linen dress. I live in a secret dream world where I do not crease]
Cross over again, and take a left down unassuming looking street Haynes Lane  to ensure you don't miss one of South London's best kept secrets.
Haynes Lane MarketA proper ramshackle flea-market (and one of South London's best kept secrets) where you can find everything imaginable - vintage clothes, china, bric-a-brac, collectible toys (Corgi etc), records, second-hand books, kitchenalia, sewing notions etc etc. Various sellers on two floors. Some stalls arranged rather precariously - probably best not to take your rambunctious offspring with you if you can help it. Besides, you could be in here hours. open Tuesdays, Fridays, Saturdays and Sundays - 11am - 5pm (6pm on Saturdays)
Continuing along Westow Street, you come to the first charity shop.
Mind Enterprise ShopFairly small and standard charity shop which has fairly recently opened up a back room for furniture and books. There was a vintage metal and glass hostess/cocktail trolley for a fiver (although it would need new glass for the bottom shelf), an 80s Berketex dress for £4, and some Jones black court shoes (size 5) for £5. Not much in the way of china and glass unless you count some really hideous animal ornaments (and I don't mean in a cute kitsch way). The shop dressing is a bit ropey, but it did amuse me the way they'd attempted   a (vaguely) nautical outfit, and juxtaposed it with this leering (and rather weather-beaten) ceramic pirate.
Open 10 -4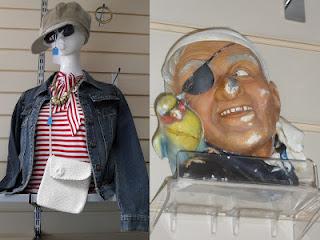 Argh! Ye needs a new accessories adviser! But I'd still board ye!

Turn right at the top of the road, and head onto the second side of the triangle - Westow Hill. On the right is another charity shop.
Cancer Research
These are never my favorite to visit because of the amount of new 'pink ribbon' type goods they sell (I know it's a worthy cause, I just don't like the nasty handbags etc), but there didn't seem to be quite such an in your face display of this type of thing as usual. It's not the cheapest either, but it does get some nice donations from time to time. Remember that mad 80s flamenco style dress I got? That came from here. Usually has a good selection of books. Today there were some KG Kurt Geiger wedges on offer for £7, and I picked up an unusual spiked necklace for a couple of quid.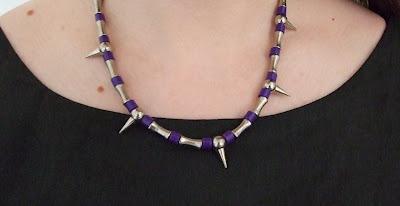 You could make a slight detour at this point and head down Jasper Road on the left. Here you'll find another hidden gem.
Crystal Palace Antiques Market
I didn't go in today as I didn't have enough time, but if you are looking for larger items there are numerous dealers over 4 floors to be found inside, whether you're looking for traditional Victorian furniture or mid-century classics. Last time I visited I was very taken with the vintage Czech circus posters.
On to the shabbiest but most interesting side of the triangle - Church Road. This has a variety of vintage and junk type emporiums, and I'll give a quick run down of the most interesting.
Crazy Man Crazy
The guys are often neglected when it comes to vintage clothes shopping, but this is a shop just for the guys. Selling 'Gentlemen's Vintage and retro clothing', you can drop the boyfriend here and hope he comes out as Don Draper.
Bambino / Bambino Volcano
Bambino is a Church Road stalwart, having been open 20 years. It's a real rummager's paradise, with all kinds of dusty (and rarely priced) stuff piled up and spilling out on to the pavement. The owner Andy is very friendly and happy to chat, and he's known for the leather jackets he's accumulated over the past 35 years. Croydon's very own Kate Moss was photographed for Vogue in a jacket borrowed from his personal collection - whilst that one is not for sale - many of them are. When I visited he was just putting out an electric parrot toy dispenser - does anyone else remember these from childhood holidays by the seaside? You'd put in your 20p and get a plastic egg containing some kind of shabby yet thrilling toy.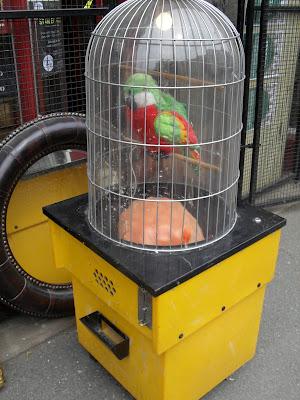 I got very excited and he kindly switched it on so I could hear it squawk "I love the sound of your money!" . Sadly I'd have needed to give Andy £175 of my money to take to give it a home. Perhaps for the best.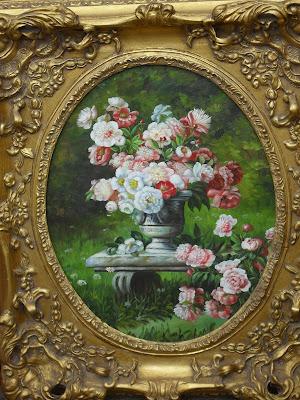 Ornate framed flower painting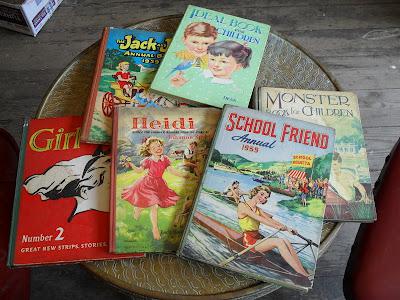 Vintage children's books I dug out from the shelves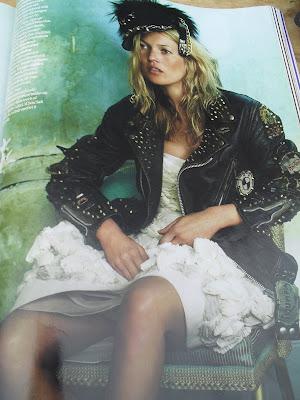 Kate Moss in Andy's jacketPhoto credit Mario Testino for Vogue!
The other great thing about Bambino's is that it features a boutique coffee bar - Bambino Volcano - so when you need a break from fossicking about you can grab a coffee and slice of cake. Australian barrista Anthony is just as friendly and approachable, and combines obvious passion for coffee (organic, and locally grown and roasted - who knew?) with being a handy font of 'what's on' knowledge. The flat white is the house special - I can confirm it is indeed volcanic!
Belle Coco
Stylish (and less dusty) neighbor to Bambino, this is a carefully curated shop with particular emphasis on retro lighting, glass and clocks. Really really beautiful things where I could do some serious credit card damage.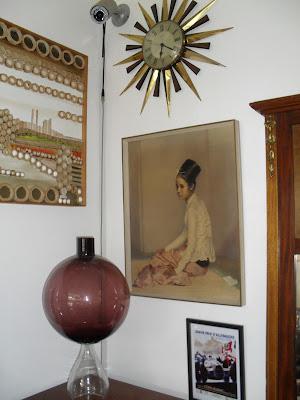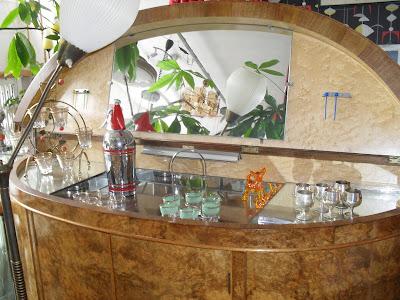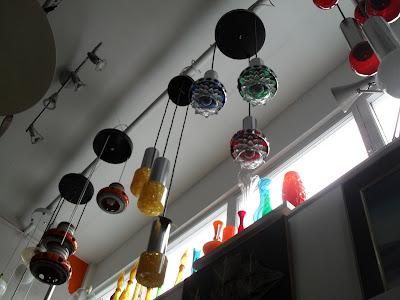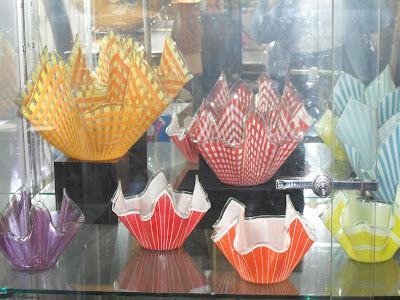 Open Weds to Sun hours here
A little further down and you come to another charity shop.
LWS - Living Water Satisfies
This place is the cheapest charity shop in the area - although you need to get in quick, as the current sale is to clear stock for a change of direction. Apparently the plan is to be a specialist second-hand bookshop, with coffee shop. Books are currently 50p paperback and £1 hardback, and the volunteer told me they hope to keep the prices low. I picked up this 80s Vogue style manual for £1.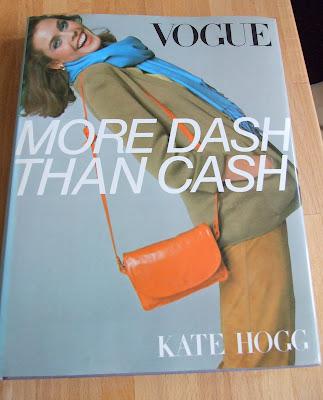 Vien
Was closed today, but I've visited before and bought a great 70s dress. They also had some modern gifts and accessories. Worth a look.
Back at the point of the triangle is The White Hart, where you can get a well deserved pint. But what's this? There's also a VINTAGE SHOP IN THE PUB!
Vintage Hart
Did you hear that people? You can get from the bar to a tiny but perfectly formed vintage store while your husband is still ordering the crisps! How bloody amazing is that?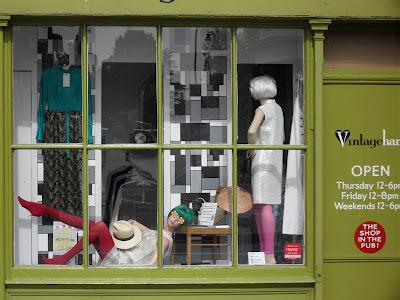 Highlights today were an 80s cocktail dress by Zandra Rhodes and a 60s mini dress by Miss Carnaby.See photo for opening hours
There's currently a charity shop hop - or #charityhop - going on over at Lulastic and the Hippyshake, where everyone is linking up their best guides to charity shopping in their local area.I'm a bit late (due to actually doing some hardcore shopping before getting round to writing this) but do go over and check out the other posts. Lucy has an awesome guide to the charity shop mecca that is Streatham. I've also linked up my post from when I visited Limerick last year.Go - and add your own thrifty wisdom if you can!
Lakota x