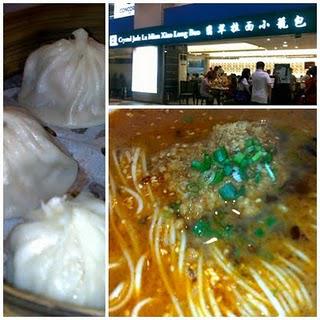 I had been hearing a lot of good stuff about 
Crystal Jade
 since they opened a branch here in Metro Manila less than a year ago. Since then, I never had a chance to try it out so when M & I spotted 
Crystal Jade La Mian Xiao Long Bao
on our way home Saturday evening, we just had to give it a shot.  We were excited about having their Xiao Long Bao more than anything else! hahahha M had a chance to spend over a week in Taiwan last year and had been constantly craving for dimsum.  Plus we couldn't get enough of
Shi Lin's
(located in Podium) which we thought was the best we've had so far.
We weren't really hungry that night so we only ordered the 
Xiao Long Bao
 (of course!) , 
Noodle with Dried Shrimp and Peanut in Spicy Sauce
 and a serving of 
Beijing Pork Dumpling 
to share.
We first tried the noodles, which was yummy peanut-y and not oily. The noodles were cooked perfectly too. Halfway through the meal though, we felt that the dish was too filling, the sauce too thick and was lacking on spiciness.  We couldn't help but compare it to Shi Lin's Noodles with Spicy Sesame and Peanut Sauce which we thought was better because it was more spicy and the sauce was less
creamy
.
The Xiao Long Bao was perfect though!  We enjoyed it so much. M was amused that the skin didn't give in when lifting it off the bamboo tray. It would have been better if it's a bit warmer when they served it.  The pork dumplings were also as good!  I was really set on ordering dessert but was too full to even move so we skipped it all together.
I enjoyed my dinner so much that I'm thinking of bringing my family there soon.  :)
Crystal Jade La Mian Xiao Long Bao
Unit 117-121, Virra Mall, Greenhills Shopping Center,Greenhills, San Juan City
COPYRIGHT © 2011 JuanaTravels.