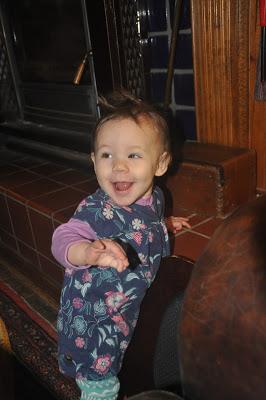 On the days I keep Josie, using a crock pot means I can put something together in the morning before Josie's driver delivers her and then have dinner ready soon after her driver calls for her in the evening.
Yesterday I made turkey thighs with beer and onions. We could smell it for most of the day and when we finally ate it, it was excellent. The gravy is rich and delicious and doesn't really taste like beer. I served it over rice but I think I'll use the leftover half as the base for a cottage pie.
The recipe I used is HERE at Dad Cooks Dinner. (For once, I followed it exactly -- given a choice of amber lager, brown ale, oAr porter, I used porter.)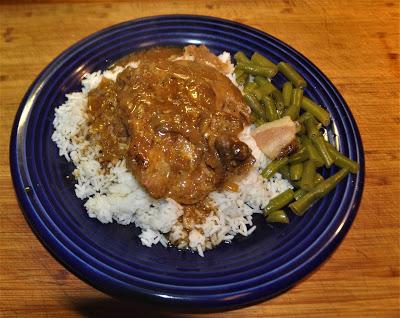 A few days ago I made a kind of Pork Chili Verde/Posole --
We had the remnants of a pork tenderloin in the freezer and I cubed it up and browned the cubes in olive oil. Tossed the meat into the slow cooker, along with some salt, and in the same pan, sautéed a couple of chopped onions, some cut -up peppers (the mini red, yellow, and orange ones -- if I'd had some jalapenos, I'd have added them,) and some chopped garlic.
When the onion was translucent, I added the vegetables to the meat in the slow cooker, dumped in a jar of salsa verde, a little cayenne, and some cumin, and some chicken broth because it seemed to need more liquid. I let it cook all day on low. About a half an hour before dinner, I stirred in a can of hominy for the Posole effect.
We had this with a green salad with mango slices and corn tortilla quesadillas on the side. (Note: the tenderloin I used was fattier than most -- which was a good thing in this recipe. Pork shoulder would also work well.)
I have a feeling there's more crock potting in my future.