I've been in a bit of a recipe rut lately.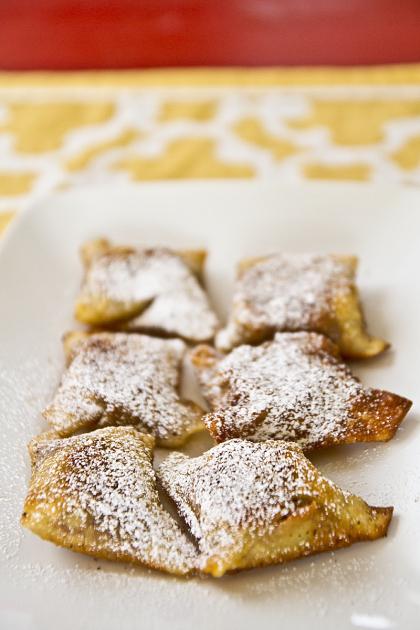 In fact, as Andy and I were compiling our grocery list this morning, it became painfully apparent that we are currently stagnating in the tepid waters of the culinary doldrums. I mean, once you buy a certain number of tortillas, you're forced to admit to yourself that you have a problem.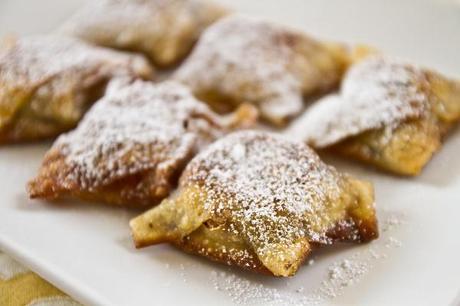 While brainstorming potential weeknight dinners that wouldn't involve copious quantities of rice, pasta, and bread, I recalled that I still had a package of wonton wrappers left over from WAAAAAAY back when I made potstickers during Andy's stint in London.
Andy was not quite sold. "What would we put in them?"
"You can put anything in wontons. Vegetables, beans, meaty bits. But they don't have to be savory. You can even put –"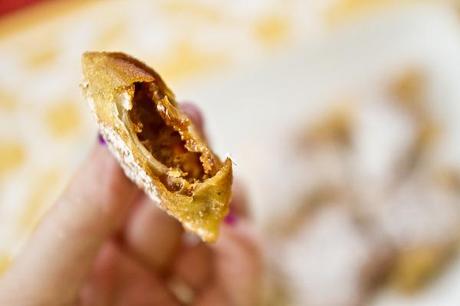 DING DING DING!
Since I had quasi-impulse-purchased a jar of Trader Joe's speculoos cookie butter the day before, I already had biscoff on the brain. But when the sudden and unbidden image of crispy wonton pillows filled with creamy, biscoffy goodness entered my mind, there was practically an audible angel choir moment.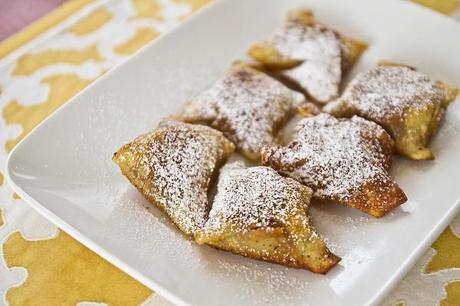 Healthy dinner fare these are not, but I do have them to thank for wrenching me from my recipe rut. These guys are easy to make and frighteningly addictive — Andy and I might have gone through a dozen of them in a <8 hour period. Not a fan of biscoff? Try subbing your favorite nut or seed butter!
ingredients
1 pkg wonton wrappers *
Biscoff butter/Speculoos butter/Trader Joe's cookie butter
water
canola oil, for frying
powdered sugar, for dusting
directions
1. In a medium skillet, heat a thin (1/4″) layer of oil over medium heat.
2. To make your wontons, drop a scant tablespoon of Biscoff butter into the center of the wrapper. Wet your fingers and moisten the entire perimeter of the wrapper. How you fold the wonton is up to you — I folded mine into a square to keep them flat for easy frying, but you can experiment until you find a method you like. To make a square, pinch the edges of two adjoining sides together, and fold them over. Then do the same with the opposite edges, making sure the Biscoff butter is securely sealed in — you don't want its guts to explode everywhere!
3. Gently set the wontons in the hot oil and fry for 30-45 seconds. They will brown very quickly. Carefully flip and fry for another 30 seconds, then transfer to a plate lined with a paper towel to cool.
4. Dust with powdered sugar and serve!
* Many brands of wonton wrappers contain eggs, so be sure to double-check the ingredients if eggs are on your no-fly list.