Confession time: I'm not Jewish.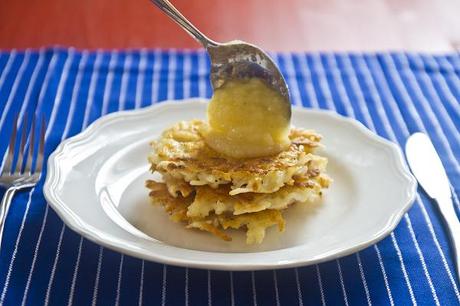 Not remotely. In fact, my nuclear family is about as WASP as they come. So I'm not exactly sure from whence our infatuation with Hanukkah stems. Would it not mean I was resorting to stereotypes, I might speculate that it shares a common source with our love of Broadway musicals and coupon codes.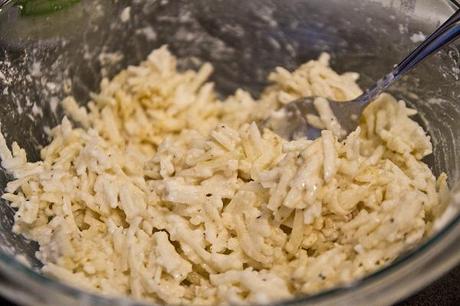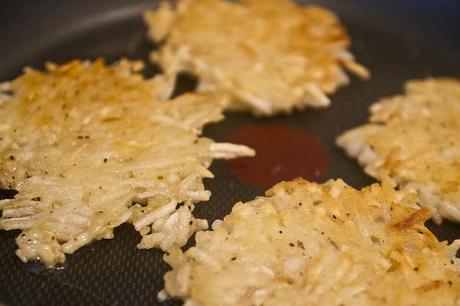 That aside, we've been faithfully celebrating Hanukkah for the entirety of my recent memory. And now that Andy and I are [FINALLY] spending our first holiday season together, it's time to let her in on this somewhat incongruous tradition.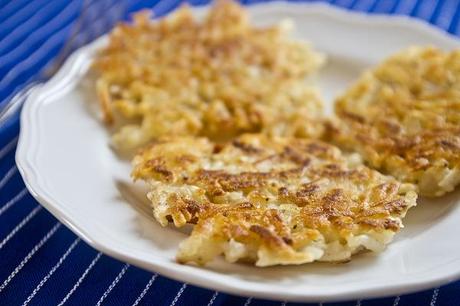 So far, I think she's okay with it. In her eyes, latkes are essentially large, glorified french fries. And who could argue with that?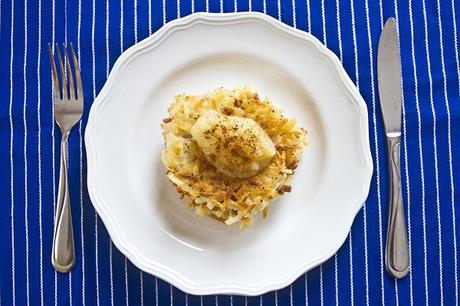 Recently, Andy and I have been getting more and more in the holiday spirit (or more, I've been coaxing her into the holiday spirit), although I'm sure there's something more than a little ironic about making latkes and picking out a Christmas tree in the same weekend. And while we're both used to green Christmases, having the local temperature hover in the mid-to-upper sixties doesn't do much to prompt our internal clocks to signal the impending arrival of Yuletide. We're kind of going on faith in the Gregorian calendar for that one.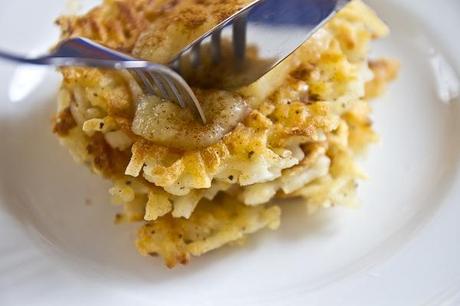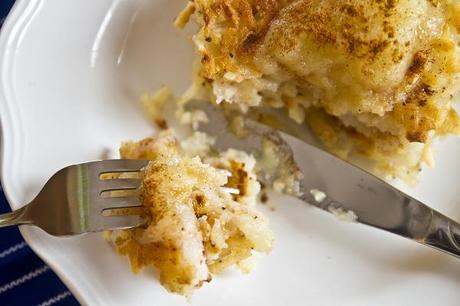 Those of you who are latke aficionados can consider this a redux on an old classic, though I should also encourage the Gentile crowd to give these latkes a try  — who knows, you might even consider adding a new tradition to the holiday lineup. Besides, whether you're gearing up for the start of Hanukkah this weekend, or you've still got a few more weeks to snag all your Christmas presents, latkes are ALWAYS an appropriate response to peri-holiday stress, regardless of your ethnoreligious leanings!
ingredients
1/2 pkg frozen hash browns (15oz) *
1/4 c rice flour
1/4 c cornstarch
1 tsp salt
1 tsp seasoned salt
1/4 tsp black pepper
1/4 tsp garlic salt
pinch cinnamon
1 c shredded carrots (optional)
coconut or canola oil for frying
directions
1. Thoroughly thaw hash browns by placing them in a colander and running room-temperature water over them until soft. Transfer the thawed hash browns to a large bowl — they should still be a bit soggy.
2. Add dry ingredients (rice flour, cornstarch, seasoning, and shredded carrots if using) and mix until thoroughly combined and somewhat doughy.
3. Coat a large skillet with oil and heat to medium-high. Use a 1/3 cup measure to drop latke mixture into the skillet, using the back of the measure or a spatula to flatten it into a patty. Cook for 5-7 minutes on each side, or until brown and crispy.
4. Transfer to a paper towel to cool and blot before serving. If you're making a large batch, keep on a tray in a warm oven until all the latkes are ready. Serve with applesauce, your preferred equivalent of sour cream, or Andy's personal favorite — ketchup!
*You'll want to double this recipe and use the entire package if you're making these for a family or large group. Andy and I can get 6-7 latkes out of a half-package.