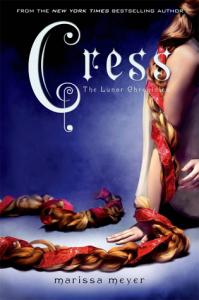 What's it all about?:
In this third book in Marissa Meyer's bestselling Lunar Chronicles series, Cinder and Captain Thorne are fugitives on the run, now with Scarlet and Wolf in tow. Together, they're plotting to overthrow Queen Levana and prevent her army from invading Earth.
Their best hope lies with Cress, a girl trapped on a satellite since childhood who's only ever had her netscreens as company. All that screen time has made Cress an excellent hacker. Unfortunately, she's being forced to work for Queen Levana, and she's just received orders to track down Cinder and her handsome accomplice.
When a daring rescue of Cress goes awry, the group is splintered. Cress finally has her freedom, but it comes at a higher price than she'd ever expected. Meanwhile, Queen Levana will let nothing prevent her marriage to Emperor Kai, especially the cyborg mechanic. Cress, Scarlet, and Cinder may not have signed up to save the world, but they may be the only hope the world has.
What did I think?:
Isn't it strange how your opinion on a series can change so much from the first book? Mine certainly has. Not saying I didn't enjoy Cinder, the first book in the Lunar Chronicles but it wasn't a series I saw myself continuing. If it wasn't for my sister and fellow blogger Chrissi Reads assuring me how great the second book, Scarlet was, I probably wouldn't have carried on! I'm ever so glad I did, because the world that Marissa Meyer has created is truly magical and each book in the series just keeps getting better and better.
Each book is loosely based on a fairy tale (and has the most fabulous covers known to man). So, with the first book it was Cinderella quite obviously, the second Little Red Riding Hood and in this third offering, Cress could otherwise be known as Rapunzel. She is an employee of Queen Levana, villain extraordinaire and a talented hacker for Luna. Levana has kept her isolated on a satellite for her entire life with her only point of human contact being Sybil, Levana's head thaumaturge/flunkey. As a result, Cress is incredibly naive, quite socially awkward and desperately in need of friends and her freedom.
See where I'm going with this? Cinder, Captain Thorne, Scarlet, Wolf and Iko are all rattling around in a spaceship on the run from the evil Queen Levana and her dastardly plans (which I'm not saying anything about for fear of spoiling the series for anyone who hasn't started it yet!). They immediately mount a mission to rescue Cress from her lonely, humdrum existence, guessing that her talents with I.T. could make her quite valuable to them in the future… Of course, this wouldn't be an adventure if things didn't go slightly haywire along the way and they do, for a number of our characters which could affect the whole game plan of overthrowing Queen Levana, preventing her hideous marriage to the wonderful Prince Kai and clearing the way for the rightful ruler of Luna to take the throne.
This book is quite a hefty, meaty read at nearly 600 pages but please don't let the size put you off, it was so action-packed that I seemed to read it in no time at all. I'm loving the mixture of characters that the author is producing, they're all so endearing in their own ways and I'm beginning to appreciate each one for what they bring to the narrative: Cinder and her burgeoning leadership skills, Thorne with his wicked sense of humour, Scarlet for her fiesty attitude and Cress for her sweet innocence. Then BAM! right at the end, we get introduced to a new character that will play a prominent role in the next novel – Princess Winter who appears to be all kinds of crazy but utterly bewitching. I literally cannot wait to see how this series is going to pan out.
Would I recommend it?:
But of course!
Star rating (out of 5):