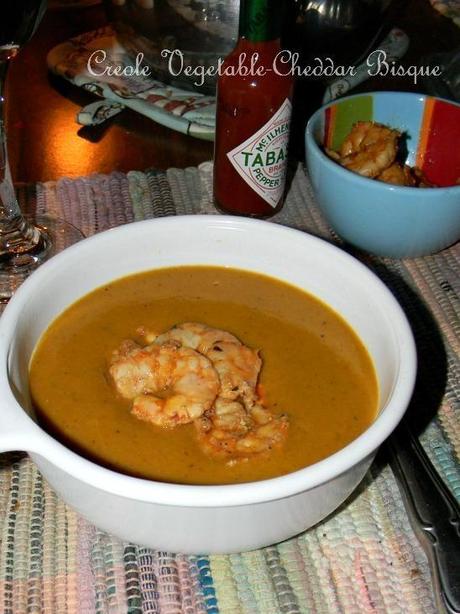 Even though my original plan was to lighten up a favorite but quite fattening soup, Broccoli Cheddar, I rarely stick to my original plan and depending on what's in my fridge will often dictate which direction I inevitably head in.
Since I knew that whatever direction I did go, I would be using vegetables, and vegetables I had. Eight bags filled with just about every root and winter vegetable out there. All that good stuff was going to make this yummy. Since most of the vegetables used are labeled aromatics and my homemade veggie stock is also heavy on the aromatics, the end result, after pureeing was a naturally sweet soup. What do you do when it's tilted to one side of the 4 senses? You even out the playing field.
I dropped in 1 tablespoon of Taco seasoning and 1 teaspoon of Herbs d' Province but I wasn't done.
Right before the cheese I added 10 shakes of Tobasco sauce and a few dashes of Worcestershire sauce and then the cheese.
Turns out I rode right into Louisiana and created a Creole Vegetable-Cheddar Bisque. Weeeeyo this was good.
Most think bisque's are cream based but a long long time ago in a kitchen far-far away they used rice for the starch and scooped it out (oh those French) but I think in NOLA the rice was too precious to throw away so they left it in.....hence, the rice in Gumbo (sometimes I amaze myself).
It is not the prettiest of colors but if you close your eyes, you would swear you were eating a smooth Gumbo and since Gumbo is brown you are allowed to eat this with eyes wide open. If your family requires more to their soup, throw in some Andouille or Garlic Sausage coins and in the middle, a scoop of rice (there's that rice again).
Of course all that will change the nutritionals but you could set your bowl of just the soup and shrimp aside and serve the family the jazzed up version.
Leftover soup? Not in this kitchen but in yours just freeze for later and plan a pasta fagiole night. Oh, yum. That would be spectacular.
The Nudge told me it was right up there with the Seven Onion Soup he adores.
Creole Vegetable-Cheddar Bisque with Roasted Shrimp
makes 4 servings
Shrimp:
8-10 X-large shrimp, peeled and veined
Creole Seasoning (Emeril's, K-Paul orTony Chachere)
Olive Oil
1. Generously sprinkle shrimp with seasonings and drizzle with olive oil. Using your fingers, mix well.
2. Preheat oven to 400° and bake for 8 minutes. Remove and cool.
3. Slice in half horizontally.
Soup:
1/2 cup chopped onion
1/2 cup carrots and parsnips
1/4 cup celery
1/2 cup green pepper
1/4 cup red pepper
1/2 cup cauliflower
1/2 cup peas
1 tablespoon olive oil
1 quart of vegetable stock (can use chicken but that will change the taste)
1 bay leaf
3 cloves of garlic
4oz of aged cheddar cheese
1 tablespoon creole seasoning
1 teaspoon herbs d' Province
salt & pepper
Worcestershire Sauce
Tobasco sauce
1. Roast the vegetables (including the garlic) when the shrimp are done, in the same oven for 40 minutes.
2. Add them to a heavy stockpot along with the seasonings, herbs, bay leaf and stock. Simmer for 20 minutes until the vegetables are soft. Puree and strain the soup. Adjust the seasonings and the Tobasco and  Worcestershire to taste.
3. Cut the cheese into 1/2" dice and melt in the soup, stirring over a low heat so not to scorch the cheese.
4. Ladle the soup into a bowl, top with 5-6 pieces of shrimp and a drizzle of olive oil.
Soup Label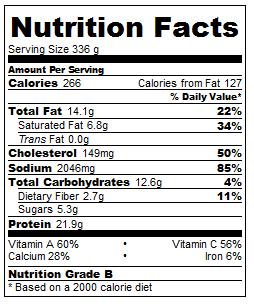 If you were ever looking for something to use when you find you have an over abundance of green peppers, this is the soup for you. We determined it was the infusion of green peppers (which I rarely use) that gave it the Creole/Cajun taste. I now understand the holy trinity and how it has influenced their cooking to make it stand out from all the rest.
Week One - Day Three nutrition label. Another good day with room for rice or bread with the soup. I had a glass of red wine and still was under 1500 calories for the day.
Soups and salads are a great way to fill your belly and allows for little (and I mean little) splurges.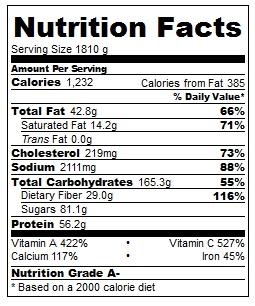 href
="http://pinterest.com/wishuponadish/"><img src="http://passets-cdn.pinterest.com/images/about/buttons/pinterest-button.png" width="80" height="28" alt="Follow Me on Pinterest" />