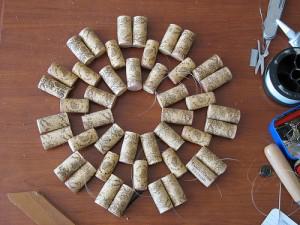 People often look at cork like it's some kind of endangered species. Not only is it alive and well, but it is entirely renewable and aids the environment by promoting vegetation. It is just not being produced as much since the wine industry has turned to metal and plastic caps.
So, let's keep it alive by buying and consuming those wines that still use cork, and then doing some fun things with those corks.
Stopper: The rough surface makes a cork an ideal stopper. Cut it into slices of about a quarter inch and make mini discs. You can then affix these discs onto the bottom of anything that you want to remain stationary, such as pottery, furniture, or those large potted plants out by the garage door.
Trivet: Because of its inherent heat resistance, a cork makes an ideal trivet. A cork trivet is simple to make, especially if cutting and slicing are not your forte. Take the wooden frame from an old picture frame and attach it to a section of cardboard (the back flap of a notebook works great). Then start gluing your corks into any pattern you desire.
Cork Jewelry: There are numerous ways to create jewelry from cork. If you're short on time, string some colorful beads together with cork to make a basic bracelet, using fishing line and a needle.Cork also makes a great backing for an earring. You will never lose that earring again!
Recycle: Don't have the patience for fishing line, knives, and glue guns? No problem, just recycle your cork. Cork is naturally renewable and biodegradable. Portugal's Amorim and Irmaos, the largest producer of cork in the world, has teamed with ReCork America to make cork recycling easy. If you can't make it to one of their participating wineries and restaurants, you can recycle your cork at any of their collection locations.
Cork Handles: Cork is highly resistant to heat, making it ideal as a pan or pot handle. You can also use it as a handle for other things, like drawers or cabinet doors. Add some flair to it by painting the cork before putting it on.
Home Decorations: Ever seen a bead curtain? They are a very stylish and cool curtain or room divider. Well, you can do the same thing with cork by stringing them together and hanging them vertically.
Corkcan also be used as a Christmas tree decoration. String some cork with a few random pieces of popcorn throughout for a unique decoration.
Water Toys: It is cork after all, so water toys are a natural fit. You could make an entire raft out of cork, or just a few swimming noodles. Check out these guys who made an entire cork boat and sailed throughPortugal with it.
Lastly, how about the easiest and most obvious use for cork—a cork board!
Join in the discussion in the comments below and/or share the piece.
Photo credit: 



 Some rights reserved by Reclamation Revolution