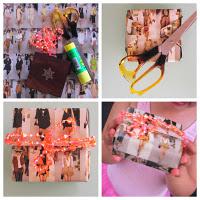 It's no secret that most of us go to more parties than we host.  My girls and I recently went to a
fairy party
, and we're off tomorrow to a fun-park party.  For every party there's presents to buy.  For every purchase is the dilemma of how much to spend, what to buy, and how to wrap it.  I'm still figuring out answers to the first two problems, but for the latter I have many ideas.
I love that the word 'present' has so many meanings; it's a gift, it's right now, and it's a means of delivery.  The word is so wonderful and one little wrapped spectacular handed over with great love encapsulates all three meanings; "here is a gift for you, delivered with all my love, to celebrate this special moment of right now."
Things I try to do when wrapping a present is to think of ways to suit the person I'm giving the present to, use unusual materials, and salvage things that might otherwise be thrown out.
 Personal favourites include; large pages from glossy magazines; broken jewelry such as beads, necklaces or single earrings; doilies;
paper flowers made from cupcake liners
; and of course items from my party printables.
My top tip for wrapping presents is to use clear sticky dots or glue to hold the paper in place rather than sticky tape; it makes for a neater looking present... oh and use square presents wherever possible!
And while I'm on the topic of gifts - for those of you who are new to reading this blog - welcome!  Feel free to help yourself to my free party planning e book filled with ideas on how to host a themed party, free art and craft ideas for kids based on famous works of art (such as Da Vinci's Mona Lisa, Monet's Waterlilies, and Dali's Surrealist Landscapes) and don't forget to subscribe so that you can receive a monthly newsletter and free printables (December's presents will include gift tags in 3 color-ways as well as snow-dome and bauble collage projects).  Most of all, explore, look around, pick up some ideas, drop on a comment, or send me an email.