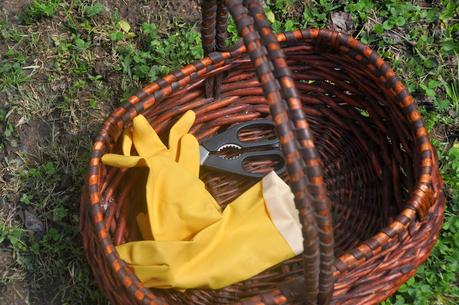 First get a pair of gloves. These dish washing gloves are perfect as they come up a ways on my arms and will protect me from being stung. Because stinging nettles are the backbone of this soup. (Of course you can substitute spinach but there's something kind of magical about nettles -- and they're free and amazingly good for you. )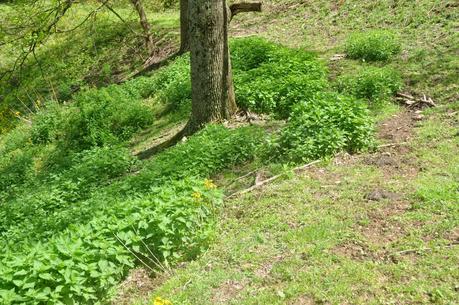 For better or for worse, we have lots of them. And now, while they're young and tender and before they bloom, is the time to harvest them for a tasty soup that is the very essence of Spring.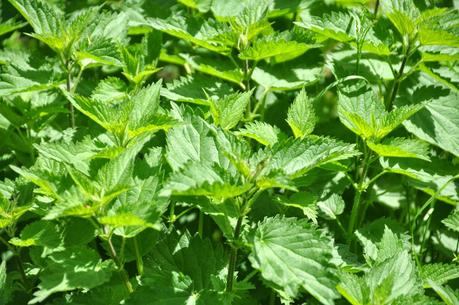 I used scissors to snip off just the tender tops. The gloves kept me safe from the stingers.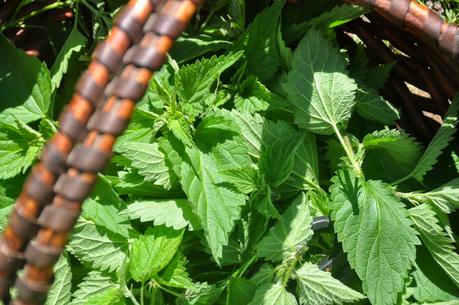 I took what I estimated to be about a pound of leaves -- maybe enough to fill half a large paper grocery bag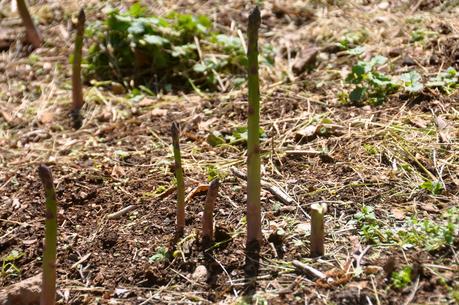 Our asparagus has just begun to emerge and I broke off all the stalks that seemed ready. 
Back at the house, I found a half-dry shitake mushroom, the last from our logs. (I'd had a look in the orchard, hoping there might be morels but no luck.)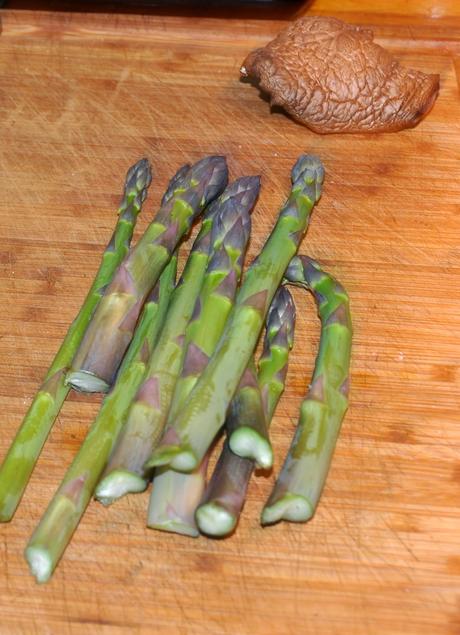 The next step was to bring a large pot of lightly salted water to a boil and plunge in the nettle leaves. Two minutes in the boiling water is supposed to neutralize the sting . . .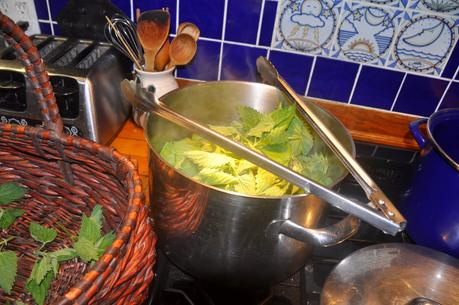 And, by golly, it did! With my bare fingers, I pulled the leaves off the stalks. Some recipes don't include this step and it's probably not necessary as it's all going to get pureed eventually.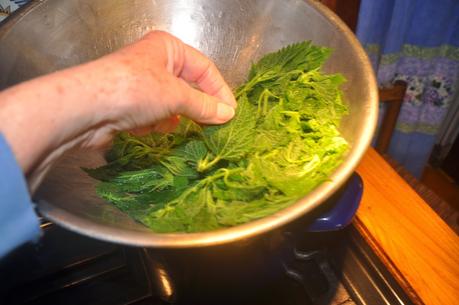 At this point I thought of another spring green that could go in the soup and stepped outside to my little ramp patch behind the house.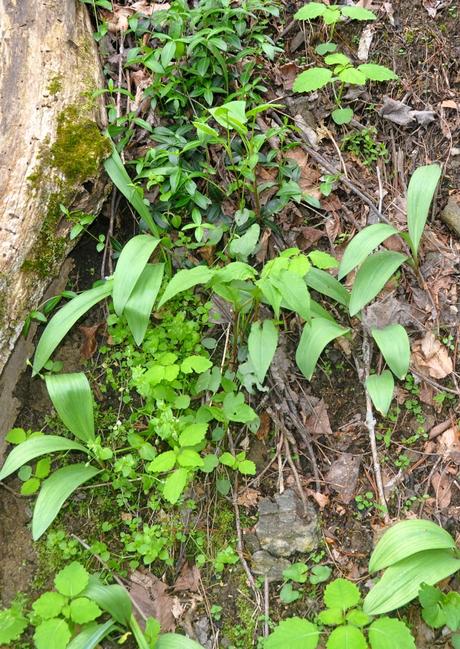 These are ramps I've planted and they are finally beginning to multiply but I'm not ready to pull any up just yet. So I just cut off a bit of a few leaves, hoping that the garlicky flavor would add to my soup.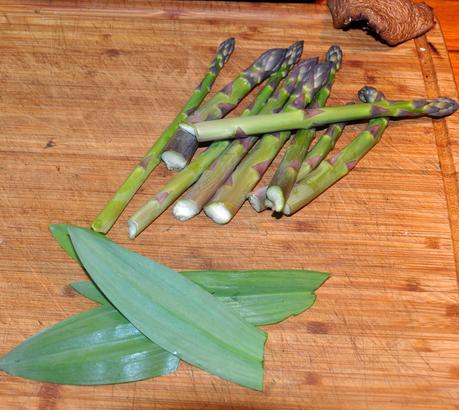 While I was out  I picked a few sprigs of thyme too. Then I chopped up the asparagus, saving the tips to add in after the pureeing. I also chopped up an onion and the shitake  and sauteed it all in a little butter and olive oil.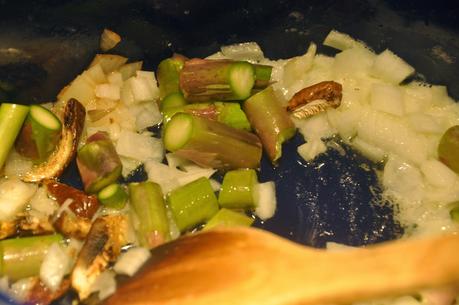 The RECIPE I was using as a guideline would have had me chop up and saute some potato right now, but I had a bit of leftover cooked potatoes (and peas, but what the hell, they're green too. Live dangerously!)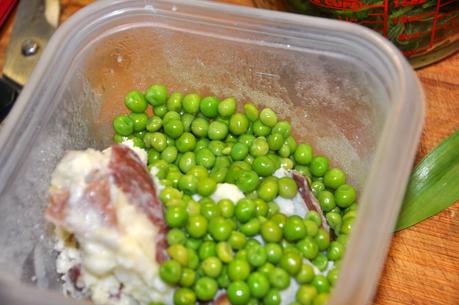 So in went the thyme and the potatoes and peas -- I saved the ramp blades to add during the pureeing process -- and then added a quart of chicken broth.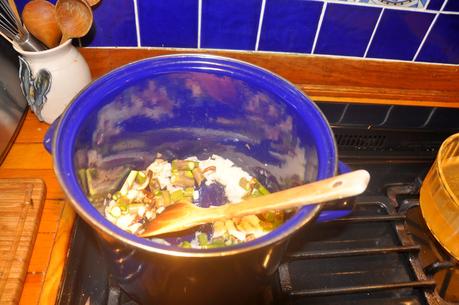 When it had all simmered a bit, I added a little garlic salt and  some Ras el Hanout -- a Moroccan inspired spice blend (see HERE.) that I really love. ( But the soup would be fine without it.)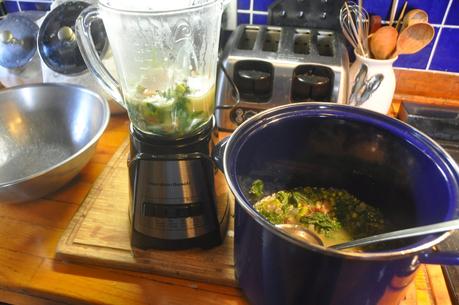 Then I added the ramp leaves, cut in strips, and pureed it all (working in batches.) If I owned an immersion blender, it would have been easier. When the puree was back in the pot, I added the asparagus tips, a cup of cream, and the juice of half a lemon. A little tasting, a little more salt and Ras el Hanout and it was good to go.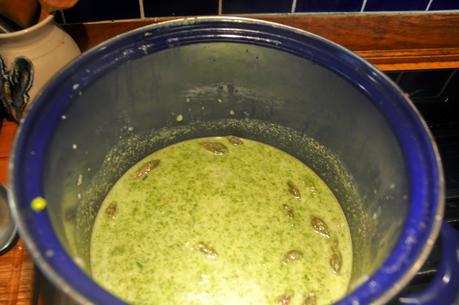 The soup was delicious. We added some homemade bread and a mango and spinach salad for a perfect spring evening meal.
I think I'll go pick some more nettles.  Nettle Spanokopita could be next!