There was a buzz in the air that day. Actually it sounded as though it was all in his head . As he buckled his helmet and adjusted his knee cap over his Jodhpurs , he felt as though the match would result like his life ...a total loss.He had been trying to cozy up to Sue for almost a month now. She was trying to be as indomitable as K2 , the worst was that he was unable to divert his attentions to more available female company.His eyes kept seeing Sue's Lipstick less lips and he was becoming obsessed with her tongue...The six chukkas were going to be hellish.Tughlaq ,his steed could sense his disinterest in the game of Polo that had been his life till now. Vicky knew it in his bones, his mount didn't approve of this new found indifference.He had tried his luck ,but Sue evaded his touch. She mocked his desire- though he was sure he had seen passion in her eyes too.She scoffed at his wealth , his royal lineage and his traditions...She even refused that BlueStone diamond solitaire that had bought for her...she was just interested in keeping up a friendship. Vicky knew he was  chauvinistic, but he did have feelings, and his feelings for Sue were pretty intense.Vicky hated this new age freedom and her refusal to be his wife.Resigning to this turn of events, he picked up his mallet and moved out of the dressing room towards Tughlaq and his team.His eyes searched out for her...unconsciously, in the snazziliy turned out crowd. His eyes zeroed in on her small hand waving for his attention.  She was happy...Wtf! She was in those tiny shorts again(If you could call them shorts#*/#$). Before Vicky could move the whistle had blown for the first chukka.Thanking his stars, he was Number two,he used all his aggression and anger to attack and wallop the ball with all the force he could muster.How he made it through three chukkkas...Was a blur...Finally the whistle blew for half time ,the ladies all dropped their heels and walked onto the field to stomp on the divots.Hey...Wtf ???What was she doing??Wasn't that Sue??She was going to be the death of him...He could hear her call out to him and saw her run towards him..."Vicky ,Vicky....listen to me!"Wtf...she was unbuttoning her shirt...He almost fell of Tughlaq...He had heard of girls flashing their assets to grab eyeballs-but in all his years he never thought he'd fall for a woman like that.And then the last button was off and the shirt fell off her shoulders...to reveal-a red tank top that had a message emblazoned on it.As she screamed for his attention-attention-his frozen brain registered the words "Crazy for You" across her chest...What was that she was screaming? And why was every one staring at them and clapping? Oh she said something like "Vikram Singh Chauhan, I am crazy for you.Will you marry me?"The next moment he felt her delicate foot on his right boot as she hauled herself up to sit on his lap...well, almost and kissed him .Sue pulled out her thin gold chain from her tank top and showed him a gold band.With am impish grin she said,"Will you marry me?"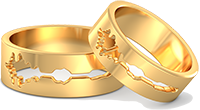 I had hardly recovered from that almost flash episode.
He couldn't but say yes."YESSS!"This was better than his staid, regular ,centuries old ,traditional proposal any day. This was the #SoundOfLove .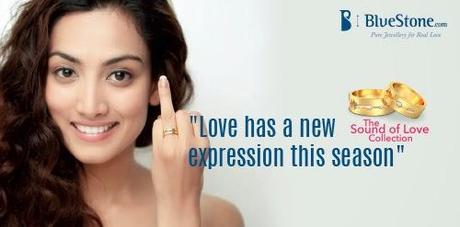 This is a story based on actual events -the names of the two lovers changed to ensure that their offspring don't disinherit them in future. 




"I am participating in the

#SoundOfLove

 activity at 

BlogAdda 

in association with 

Bluestone

"