I've always been a savory cook. I love food and even put myself through culinary school to learn how to cook it better. I learned it all! From stock to pate, you name it we cooked it. I enjoyed every minute and absorbed all I could from those two years of training. However, there was always something nagging at me.. I wanted to bake! Offering little in the way of baking skills to the savory chefs, I finished my degree and left with the desire to learn more about the delectable sweets and baking side of the culinary world. I mean how could you not want to learn more about making sweet deliciousness to share with the world!?
Years went by, jobs came and went, and here I am now (currently unemployed) so I thought that there is no better time than now! I've been spending my mornings baking and testing recipes. My family and boyfriend have been troopers in eating all my creations (both good and not so good). I'm still learning and gaining confidence, but I'm loving it. 
Now to the good stuff! I must admit I wasn't fully prepared to start this blog tonight, so please pardon the not so perfectly taken photo. Anyway, with the holidays coming up there's never a more perfect time than to bake cookies. I have become obsessed with cookies. OBSESSED! Baking a different batch every other day, this will be my first year giving cookies as gifts, so I want them to be perfect. Today was my first time making a chocolate cookie. I will say that I was a little nervous and didn't know what to expect, but let me tell you they were a success!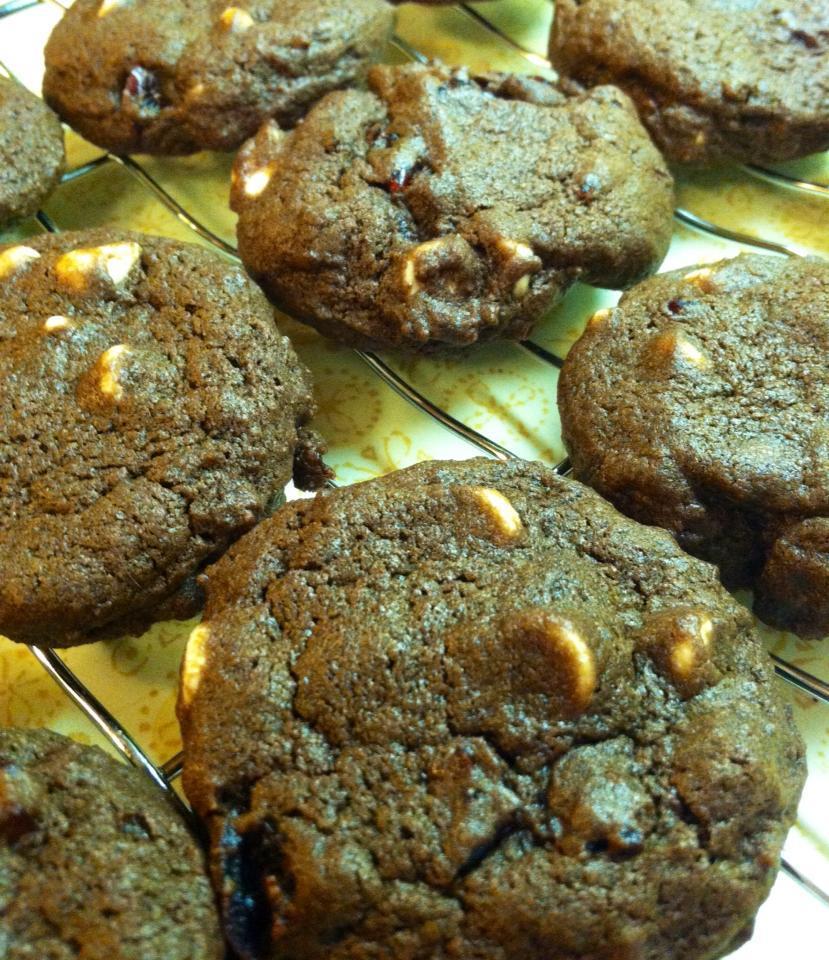 Chocolate Goodness!

 My recipe was adapted from Lovin' From the Oven that I found on Pinterest.com. 
White Chocolate Chip and Dried Cranberry Chocolate Cookies

1 cup salted butter, softened
3/4 cup white sugar
3/4 cup light brown sugar
2 eggs
2 tsp. vanilla extract
2 cups all purpose flour
2/3 cup cocoa powder
3/4 tsp. baking soda
1/4 tsp. salt
2 cups white chocolate chips
1 1/2 cups dried cranberries
1) Preheat your oven to 350 degrees F.
2) In a larger bowl cream your butter, both sugars, eggs and vanilla together until it lightens in color (about 2 minutes).
3) In a separate bowl combine your flour, cocoa powder, baking soda and salt. (You can sift them, but it's not necessary)
4) Combine the dry ingredients with the creamed butter mixture until well blended. Stir in the white chocolate chips and cranberries.
5) Scoop rounded teaspoons onto parchment lined sheet pan, pat the balls a little flat and bake 8-10 minutes. Cool partially on sheet pan then transfer to rack to cool completely. 

Notes:
When combining the dry ingredients with the creamed butter, use a stand or hand mixer. I tried doing it by hand and it was not happening! Also when you put the batter onto the sheet pan I found that patting them flat helped the cookie bake flatter and more uniform. Otherwise they were baking up in the little balls I put onto the pan.  
Enjoy!