Hello again! I'm so excited to know that this week is all about "Hosting". I really love this theme because I love parties and gatherings with close friends and family. With this theme, it is also perfect timing for me to take out my gold utensils and plates to play. Everything goes well with gold. What a perfect excuse right? Hehe. Recently, I've shifted into our new house and boy, I'm really looking forward to host family and friends soon. For now, let me share with you how I used the Gather collection as part of my table styling.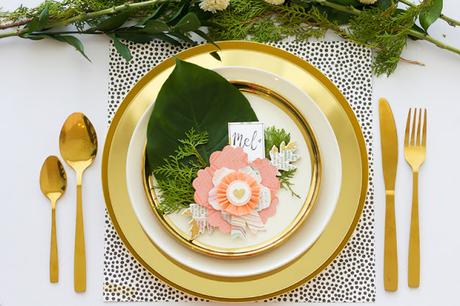 As usual, I will go through the collection to get a rough idea of what I would like to create. After much consideration, I decided to use the Gather collection products for tablemat, plate decoration and also guest place card. 
I really love the color palettes in the Gather collection. The black & white dots patterned paper really captured my attention as it goes pretty well with the gold tableware. With that, I decided it would be great to use as "table mat".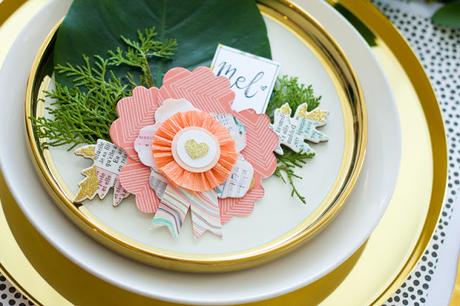 I also chose the red patterned paper and cut it with flower die-cut. The bigger red petals were used at the bottom and layered with the side B pattern for smaller petals. Then I layered the flower rosette at the top to complete it. Isn't the paper flower perfect as part of the deco?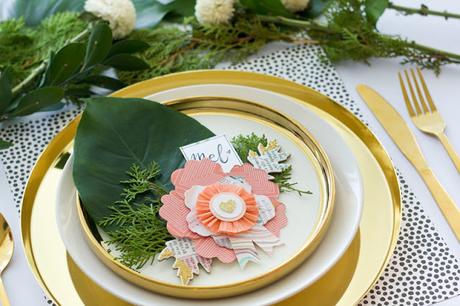 And as addition to the plate deco, I also used 2 chipboard leaves to give more texture to my styling. And placed a handwritten name place card to finish the look. Absolutely love how all the different green leaves gave so much depth and fun to my table set up too! 
Supplies- Maggie Holmes Gather : Moments (375818), Details (375828), Mixed Embellishments (375850), Chipboard Stickers (375840)
Thank you so much for coming by! Hope that you'll have a great crafty week. Xoxo Jessy